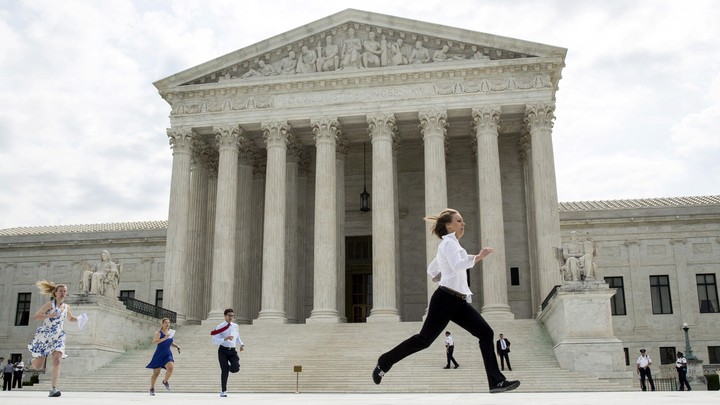 What's Happening: Obamacare's Day in Court
Sometimes the trouble with being a nation of laws are the laws themselves. On Thursday, the Supreme Court decided King v. Burwell, a case that centered on the federal delivery of healthcare subsidies to middle-class Americans across all state lines. Despite its less-than-titillating particulars, the court ruling beat back the second major challenge to the Affordable Care Act. As Olga Khazan writes in The Atlantic, "It's a highly technical difference, but had the decision gone the other way, Obamacare might have unraveled."
Another big ruling: The Supreme Court made another notable decision on Thursday, this one about racial discrimination in housing cases. In an unexpected ruling, the court reaffirmed that people can still claim they are being discriminated against on housing issues, even if the discrimination is unintentional. Noting the surprising decision, Alana Semuels writes in The Atlantic, "In writing the majority opinion, Justice Kennedy acknowledged that the disparate-impact standard has worked to combat systemic discrimination."
The first Charleston funeral: Mourners paid their final respects to 70-year-old Ethel Lance, whose funeral was the first of nine after last week's church shooting in Charleston. Among those in attendance were Governor Nikki Haley and Charleston Mayor Joe Riley, as well as Jesse Jackson and Al Sharpton. On Friday, President Obama will deliver a eulogy for Clementa Pinckney, the reverend and state senator.
---
  Snapshot
---
Quoted
Megan Garber: "Scalia is someone who loves words—not just as sources of literary performance (alliteration! puns! Kulturkampf! argle-bargle!), but also as sources of semantic stability."
Moisés Naím: "I am far more concerned about the cyber threats to my privacy posed by Russia, China, and other authoritarian regimes than the surveillance threats from Washington. You should be too."
Emma Green: "Loneliness. Obsession with technology. Spiritual flatness. These are hefty accusations to lob at the likes of Facebook and Twitter, and in some ways, they may be more connected to [Pope] Francis's age than his stature as a theologian."
---
News Quiz​
1. A study of former Liberian mercenaries showed that a wage boost of as little as__________ a day deterred the men from criminal activities.
(See answer or scroll to the bottom.)
2. Israeli opposition leader Yair Lapid says that Israel cannot absorb _________ million Palestinians and still retain its Jewish and democratic character.
(See answer or scroll to the bottom.)
3. The Houston Rockets, which uses advanced analytical data to determine its team roster, set the NBA all-time record for________this season.
(See answer or scroll to the bottom.)
---
Evening Read
Ana P. Santos writes about her five-year struggle to end her marriage in the Philippines, the only country in the world (other than Vatican City) where divorce is illegal:
I had walked out on my marriage five years earlier and had barely spoken with my daughter's father for just as long, but on paper he was still my husband. I was a single woman, but I was not free. My name was only half mine—all my identification papers remained in my married name. Any major purchase I made would be considered conjugal property. If I got into a new relationship, I risked being charged with adultery and jailed.
---
Verbs
Obama gloats, Pakistan wilts, California vaccines mandated, Paris model protests, Paris taxis protest, and ISIS storms.
---
ANSWERS: 40 CENTS, 3.5, THREE-POINTERS MADE
---
We want to hear what you think about this article. Submit a letter to the editor or write to letters@theatlantic.com.
Adam Chandler
is a former staff writer at
The Atlantic
. He is the author of
Drive-Thru Dreams: A Journey Through the Heart of America's Fast-Food Kingdom
.