The Atlantic Daily: A Greek Drama
Banks close in Athens, lethal injection ruled legal, and more...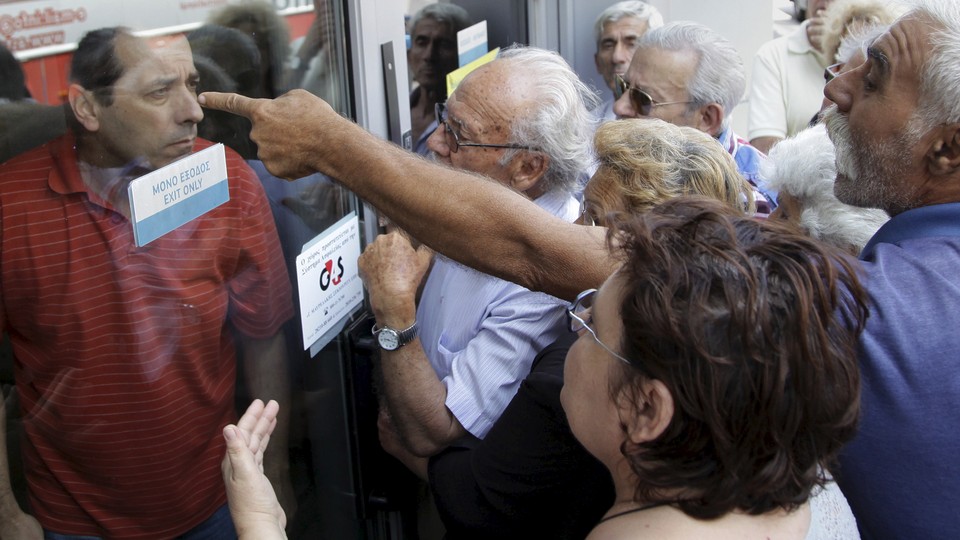 What's Happening: Greece's Debt Crisis Gets Scary
After repayment talks between Greek officials and European lenders unexpectedly broke off this weekend, banks in Greece remained closed on Monday morning. Anyone withdrawing cash from a Greek ATM met a 60-euro limit. With a four-month extension on Greek repayment expiring tomorrow, Greeks will now vote on whether to accept the European creditors' plan in a hastily arranged referendum on Sunday. As stock markets stumbled, the White House sought to assuage domestic fears by explaining that American exposure to Greece's economy is limited.
Lethal injection lives on: The Supreme Court narrowly ruled that the drug cocktail used by Oklahoma for state executions is legal. Several inmates sued, saying that the drug constitutes cruel and unusual punishment because it fails to induce unconsciousness in prisoners. The decision contained high drama as four justices read dueling opinions aloud. Justice Breyer added that both he and Justice Ginsburg want the death penalty to be abolished.
The prison manhunt ends with a bang: David Sweat, the remaining killer who escaped from a New York prison earlier this month, was recaptured on Sunday evening. He was shot and injured by police just miles shy of the Canadian border. According to New York Governor Andrew Cuomo, Sweat split from fellow escapee Richard Matt five days ago because Matt "was slowing him down." The two men were said to be heading to Mexico; Matt died in a shootout with police on Friday.
---
Snapshot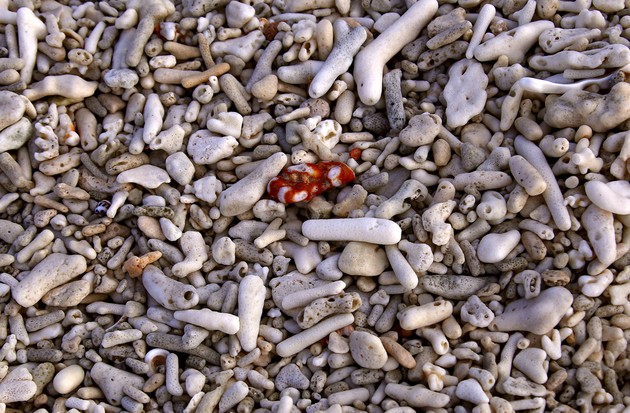 ---
Outstanding Question
What would the perfect Republican candidate look like? Two leading conservatives—The Weekly Standard's Bill Kristol and the American Enterprise Institute's Arthur C. Brooks—took on this question in a panel at the Aspen Ideas Festival. Their answer, according to The Atlantic's Yoni Appelbaum, was a Frankenstein's monster, cobbled together from other candidates. Both men agreed that the candidate would draw together aspects of Marco Rubio, Jeb Bush and Scott Walker. Brooks added Chris Christie to his list; Kristol wanted a dash of John Kasich. One notable absence: Rand Paul.
---
News Quiz
1. About half of all renters in the U.S. are using more than__________of their income to cover housing costs.
(See answer or scroll to the bottom.)
2. According to Senator Amy Klobuchar, the women's restroom reserved for senators now has _______ stalls, double the number it had in 2013.
(See answer or scroll to the bottom.)
3. Some schools and districts in the United States have already done away with giving students_____on their report cards.
(See answer or scroll to the bottom.)
---
Verbs
French Uber managers arrested, Donald Trump fired, Chris Christie desired, stinky wheat fails, and party-crashing bear escapes.
---
ANSWERS: 30 PERCENT, FOUR, Ds