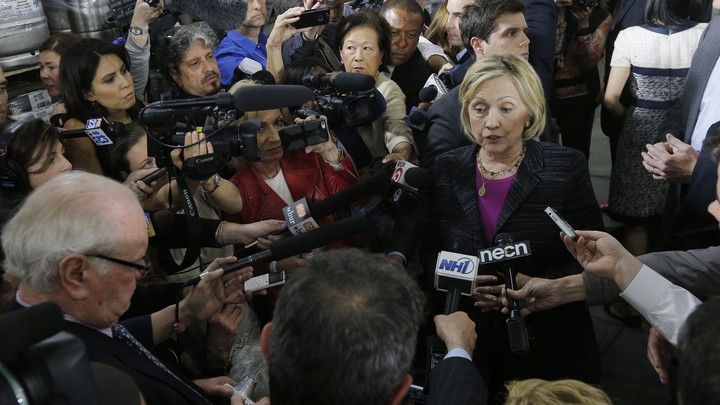 What's Happening: The First Batch of Hillary Emails Drop
It wouldn't be Friday without the release of a huge trove of controversial documents. The State Department made nearly 300 emails public from Hillary Clinton's tenure at Foggy Bottom. It was the first batch of correspondence relating to the 2012 attack on the U.S. Consulate in Benghazi, Libya, which killed four Americans.
What's inside: Nothing that the House Select Committee on Benghazi didn't see several months ago. State Department spokeswoman Marie Harf said the emails don't change "the essential facts or our understanding" of what happened during the 2012 attack. Nevertheless, some hosted "live dives" to see what nuggets surfaced from the now-public documents.
Questions remain: Fulfilling an FBI request, 23 words were redacted from one email, which had been kept unclassified while on Clinton's personal server. House Speaker John Boehner called on an independent party to review the emails.
---
Snapshot
---
Quoted
Christopher Orr: "At its best, '​Tomorrowland,' is a clever, good-natured, PG adventure featuring robots and ray guns, jetpacks and Jules Verne. At its worst ... Well, we'll get to that."
Peter Beinart: "[Hillary Clinton] most effectively humanizes herself by being true to who she is: knowledgeable, passionate, and vaguely obsessive about making government work."
Bourree Lam: "Why should you do more work for the same reward, while your less capable coworker coasts along with lower expectations and work?"
---
Pop Quiz
1. Fox and CNN announced yesterday that they will limit the number of participants in their 2016 GOP debates to _________.
(See answer or scroll to the bottom)
2. According to a paper on farming practices, in the next 50 years the human population will reach ____________. ​
(See answer or scroll to the bottom)
3. Postings for sustainability jobs in U.S. companies have risen from 300 in 2010 to _______ in 2014.
(See answer or scroll to the bottom)
---
Evening Read
In his April 2005 cover story "Host," which we've republished and optimized for the web, legendary writer David Foster Wallace profiles radio host John Ziegler:  
John Ziegler, who is a talk-radio host of unflagging industry, broad general knowledge, mordant wit, and extreme conviction, makes a particular specialty of media criticism. One object of his disgust and contempt in the churn so far has been the U.S. networks' spineless, patronizing decision not to air the Berg videotape and thus to deny Americans "a true and accurate view of the barbarity, the utter depravity, of these people." Even more outrageous, to Mr. Z., is the mainstream media's lack of outrage about Berg's taped murder versus all that same media's hand-wringing and invective over the recent photos of alleged prisoner abuse at Abu Ghraib prison, which he views as a clear indication of the deluded, blame-America-first mentality of the U.S. press.
---
Verbs
D.C. mansion-murder suspect caught, Ireland votes, Saudi Shia mosque bombed, Duggar TLC show pulled, and Korean Air "nut rage" executive freed.
---
ANSWERS: 10, 8.6 BILLION, 700
We want to hear what you think about this article. Submit a letter to the editor or write to letters@theatlantic.com.
David Ludwig
is a former editorial fellow with
The Atlantic
​.
Adam Chandler
is a former staff writer at
The Atlantic
. He is the author of
Drive-Thru Dreams: A Journey Through the Heart of America's Fast-Food Kingdom
.