The Atlantic Daily: Violent Weather Devastates Tornado Alley
Extreme weather turns deadly, attempting to understand why crime declined in America, and more.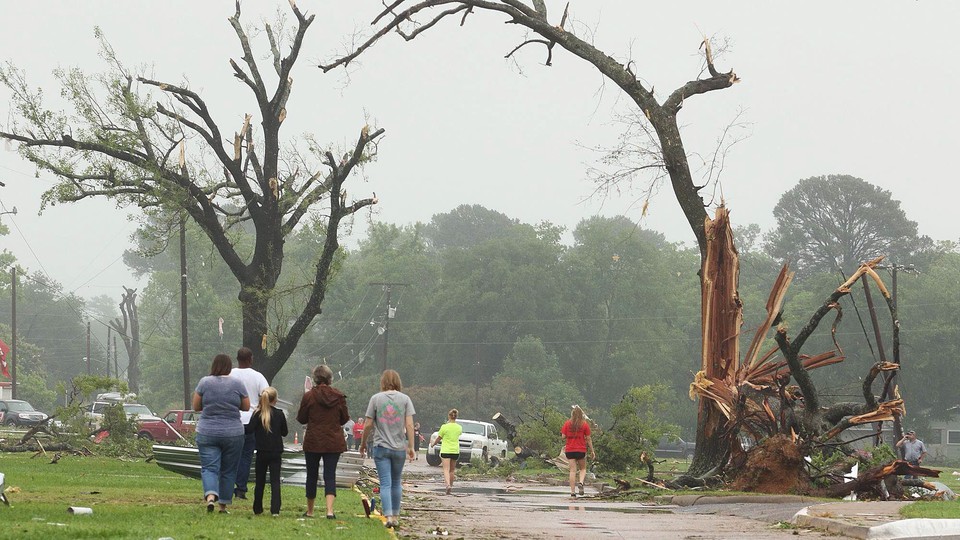 What's Happening: Severe Storms Strike Across the U.S.
Tornado season has begun, as violent storms struck several states in the Midwest and South this weekend. Meanwhile, other parts of the U.S. suffered from flooding, hail, and heavy snowfall.
A Texas town ravaged: In the town of Van, Texas, two people were reported dead and eight people are still unaccounted for after twin tornadoes hit the town and damaged 30 percent of the buildings. Tornadoes also flattened a trailer park in west Arkansas, killing two and injuring dozens more. Power outages have hampered rescue efforts in a handful of communities.
Over 50 million Americans in tornado range: On Monday, the National Weather Service issued a tornado outlook projection that placed over 50 million Americans within low-risk tornados areas. Elsewhere, a tropical depression hit the Carolinas and a number of states saw over a foot of snowfall.
---
Snapshot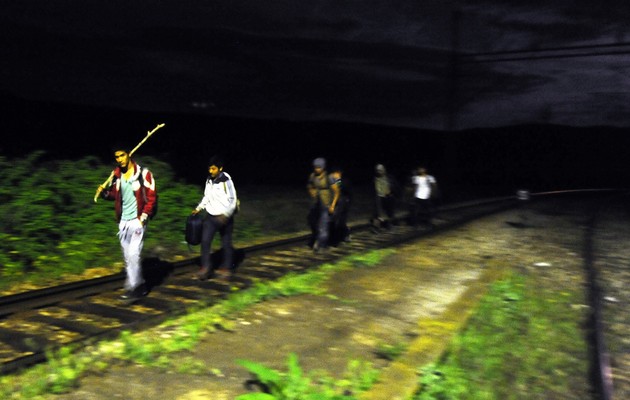 ---
Quoted
Derek Thompson: "In an age of rising income inequality, it's pernicious that states rely on monetizing the desperate hope of its poorest residents. State lotteries take from the poor to spare the rich, all while marching under the banner of voluntary entertainment."
Caroline Framke: "On the Internet, the awkward older sister has quickly emerged as a powerful persona. These figures thrive on YouTube, where twentysomething women post freewheeling vlogs with advice, music videos, and anecdotes that reassure teen girls it's okay to screw up or be a little messy."
David Graham: "Police work today is ever more sophisticated. It's not just walking the beat and having good intuition. Enforcement areas are pinpointed with mathematical precision, officers are redeployed and rearranged by algorithms, and arrest numbers are crunched and analyzed to reveal elaborate trends. The story of Freddie Gray's death is proving a clear demonstration of the limitations of CompStat policing."
---
Pop Quiz
​1.  A Bank of America Merril Lynch report claims that global "vanity" spending on products and services that enhance appearance or prestige comes in at a staggering _________________.
(See answer or scroll to bottom.)
2.​ Only __ percent of college students in America are enrolled in a foreign-language course.
(See answer or scroll to bottom.)
3. In the 2012 presidential elections, super PACs spent $230 million. In 2016, it's estimated they will spend ____________.
(See answer or scroll to bottom.)
---
Evening Read
David Frum examines the baffling decline of crime in America from 1991 onward—and why policymakers should be cautious before moving forward on prison reform:
Yet even if we can't know which factor contributed exactly how much to the drop in crime, what we can say is that a complex of causes taken together has produced a hugely positive result—probably the single most-successful policy outcome in the United States in the past quarter-century. Americans are doing something right, even if they don't precisely know what that something is. And because they don't know what that something is, they had better be very, very careful about any changes it's proposed to make.
---
Verbs
Syrian spy chief arrested, new UK cabinet named, Arctic drilling approved, George Zimmerman shot, Olive Garden goes for it, American Idol muted, and ammo-eating hound healed.
---
Answers: $4.5 Trillion, 7 percent, $5 billion
---