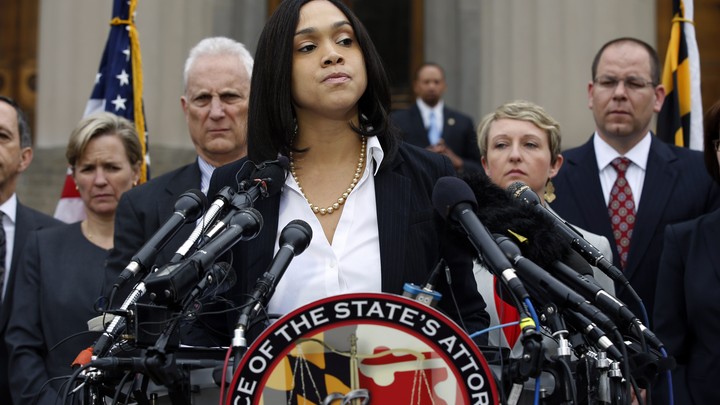 What's Happening: Officers Charged in Freddie Gray Case
On Friday, more than two dozen charges were brought against six Baltimore officers over the death of Freddie Gray. One officer will face second-degree murder charges while two others were charged with manslaughter.
"Mr. Gray's death was a homicide": State's Attorney Marilyn Mosby declared that the actions that led to Gray's death were tantamount to murder and manslaughter. Detailing his doomed ride in a Baltimore police van, she also characterized the arrest of Gray as illegal and blamed the officers for not immediately seeking medical care as he called for help.    
A very quick development: The filing of charges took place just one day after the Baltimore Police Department handed the results of its own investigation to the office of the State's Attorney. The speed with which Mosby acted led one civil-rights attorney to characterize the process as "stunning."
---
Snapshot
---
Quoted
---
Pop Quiz
1. Taser International, though best-known for its stun guns, is reaping major profits thanks to being the major American manufacturer of _____________.
(See answer, or scroll to bottom.)
2. In Japan, there's a growing trend of people gathering together for communal ___________ sessions.
(See answer, or scroll to bottom.)
3. A study found that people with high __________________ were more likely to have publicly embarrassed someone else for self-promotional reasons.
(See answer, or scroll to bottom.)
---
Evening Read
Megan Garber on why prizefighter Floyd Mayweather remains untouched in popular culture, despite being a convicted domestic abuser:
It's about something more than money, though. Mayweather glides through the world with impunity for the same general reason that Mike Tyson, a convicted rapist, is enjoying a second life as a cartoon TV detective; and that Roman Polanski, who raped a 13-year-old, won an Oscar to a standing ovation; and that John Lennon, who admitted to battering women, remains revered as a musician and an artist; and that Jameis Winston just got a job with the Tampa Bay Buccaneers as the NFL's number-one draft pick. We are not good at distinguishing between "actor" and "character." We are not conditioned to see celebrities, in particular, as holistic people, subject to the complicated constellation of entitlements and responsibilities that personhood entails for the rest of us.
---
Verbs
Christie associate pleads guilty, car sales surge, U.S. manufacturing sags, Thai TV station suppressed, Nepali relief efforts falter, semi-legal streaming service shuts down, and bra boosters busted.
---
Answers: Body cameras, crying, emotional Intelligence
We want to hear what you think about this article. Submit a letter to the editor or write to letters@theatlantic.com.
Jake Swearingen
is a former associate editor at
The Atlantic
. He was previously the digital director at
Modern Farmer
.
Adam Chandler
is a former staff writer at
The Atlantic
. He is the author of
Drive-Thru Dreams: A Journey Through the Heart of America's Fast-Food Kingdom
.