The Atlantic Daily: L.A. Hikes Its Minimum Wage to $15 an Hour
Another city changes the way it treats its workers, Jeb Bush's wife reluctantly steps into the spotlight, and more.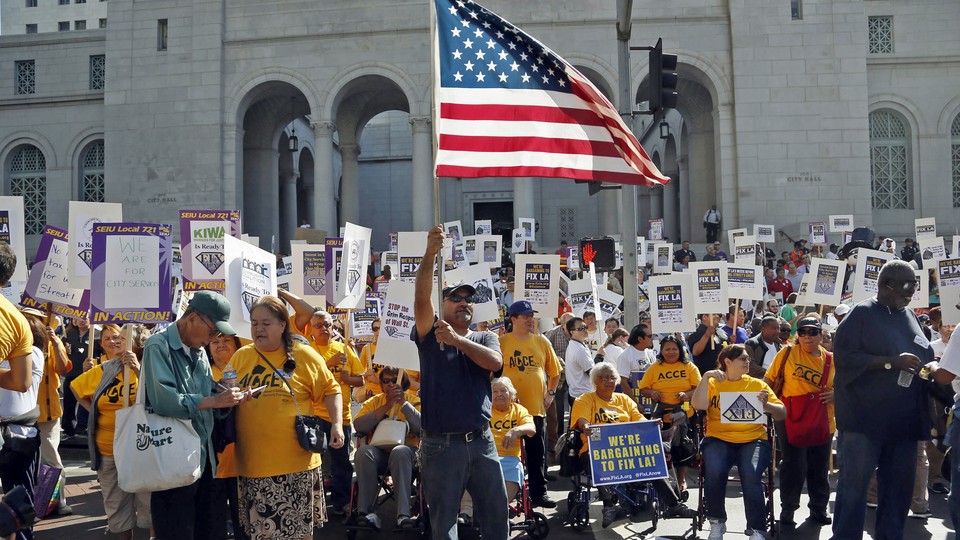 What's Happening: A Pay Raise in Los Angeles
Los Angeles became the latest city in the U.S. to significantly raise its minimum wage. The L.A. City Council today agreed to bump the city's minimum wage to $15 per hour by the year 2020, up from its current floor of $9 per hour.
Minimum wage up in cities, flat elsewhere: Low-wage workers across the U.S. have organized for higher pay, and larger cities seem to be responding. Los Angeles joins San Francisco and Seattle, which recently raised their own minimum wages to $15 per hour, and New York and Chicago are considering similar proposals. Meanwhile, efforts to raise the federal minimum wage to $12 have largely stalled out.
The pushback: In Los Angeles, some predicted that the new measure would cost low-wage workers jobs. "It's simple math," said Ruben Gonzalez of the L.A. Chamber of Commerce, speaking to the Los Angeles Times. "There is simply not enough room, enough margin in these businesses to absorb a 50-plus percent increase in labor costs over a short period of time."
---
Snapshot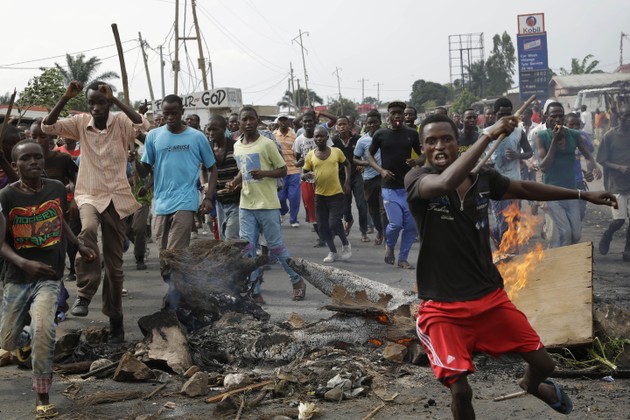 ---
Quoted
Molly Ball: "The crazy-large Republican field seems to be having a snowball effect, where the more candidates enter (six so far, not counting [Lindsey] Graham, with many more signaling their impending entry), the more potential contenders think they may as well give it a try. In a 15-way race, anyone can get lucky, right?"
Anna North: "If you're someone who really loves writing, it can be really hard if you don't listen to that impulse. There could be real-life consequences, at least in terms of you feeling sad."
Emad El-Din Shahin: "The essential conflict in Egypt isn't between the military and the Muslim Brotherhood; it's between military rule and democratic rule."
---
Pop Quiz
1. Prior to his death in 2011, the U.S. had a ________ bounty on Osama bin Laden's head.
(See answer or scroll to the bottom)
2. Approximately _________ percent of Millennials don't have a bachelor's degree.
(See answer or scroll to the bottom)
3. Arizona's first congresswoman, Isabella Greenway, was elected in ________.
(See answer or scroll to the bottom)
---
Evening Read
In our June issue, Hanna Rosin writes about Columba Bush's aversion to the national spotlight—and how she might handle her husband Jeb Bush's presidential campaign:
The role of political spouse always entails sacrifice, but Columba [Bush's] case has been extreme. Jeb's time in office coincided with stretches when Columba was reportedly unhappy, because of his absence or because of troubles with one of their three children or because she herself had landed in the news in ways that mortified her. It was during Jeb Bush's governing years that Columba let it slip to the press how her husband's career had damaged their children, and that she reportedly told Jeb he had ruined her life. During his governorship, which ran from 1999 to 2007, she often retreated to Miami while he was living in Tallahassee.
---
Verbs
Hillary Clinton questioned, Letterman signs off, L.A. minimum wage hiked, Lindsey Graham runs, free-tuition legislation introduced, Palin wedding cancelled, and Cannes high-heel policy criticized.
---
ANSWERS: $25 million, 60 percent, 1932
---