The Atlantic Daily: FIFA Draws a Red Card
Soccer's international governing body gets stung, India's deadly heat wave, and more...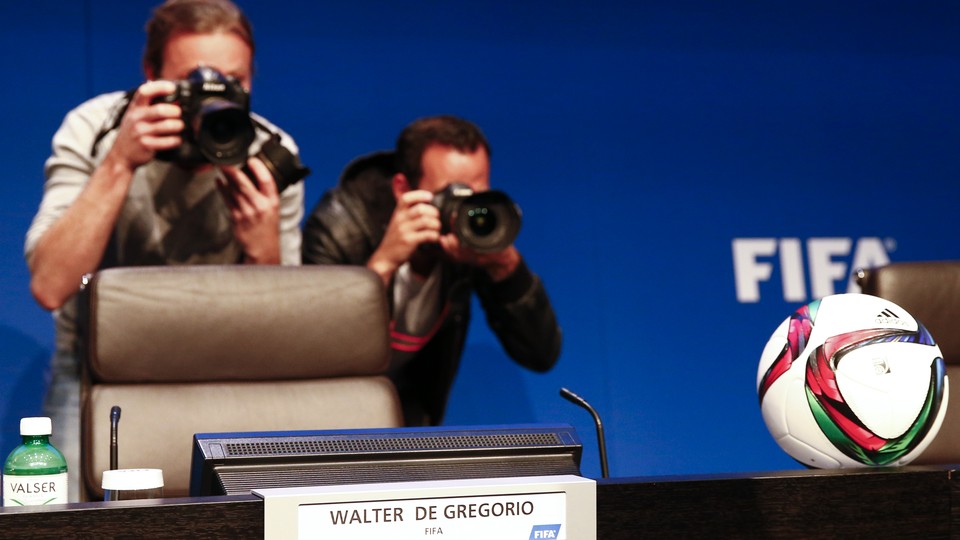 What's Happening: FIFA Draws a Red Card
On Wednesday, the Justice Department confirmed what many suspected all along: FIFA may be rampant with corruption. Following an FBI investigation, 14 FIFA officials and corporate executives were charged on 47 corruption charges.
The penalties: Seven of the men were arrested at a swank hotel in Switzerland and charged with racketeering, wire fraud, and money laundering. At the heart of the matter, an alleged $150 million bribery scheme.
A second investigation: Meanwhile, Swiss authorities have launched a separate criminal investigation. The focus centers on the bids for the 2018 and 2022 FIFA World Cup tournaments, which were won by Russia and Qatar respectively. For Qatar specifically, this controversy is one of many.
---
Snapshot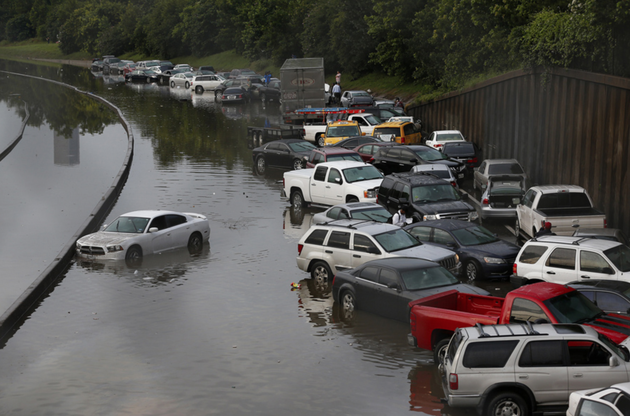 ---
Quoted
Adrienne LaFrance: "It almost looks like a wounded animal. There's that little hop in its gait, the way it looks tentative as it springs forward from its haunches, the not-exactly-straight trajectory of its path. Except this isn't an injured animal. It is a robot."
Joe Pinsker: "How is it that some people remain calm as unread messages trickle into their inboxes and then roost there unattended, while others can't sit still knowing that there are bolded-black emails and red-dotted Slack messages?"
David A. Graham: "As anyone who's ever watched a mob movie knows, even the best-laid schemes eventually hit rocky ground. For FIFA and its boss, Sepp Blatter, that moment came early Wednesday morning in Zurich, where seven top officials were arrested at a five-star hotel with views of Lake Zurich and the Alps."
---
Pop Quiz
1. Earlier this week, temperatures in India reached _________ degrees.
(See answer or scroll to the bottom)
2. Manhattan's new Whitney Museum features a flood door that is 14 feet tall, 27 feet wide, and weighs ___________ pounds.
(See answer or scroll to the bottom)​
3. In America, physician-assisted suicide is legal in _________ states.
(See answer or scroll to the bottom)
---
Evening Read
Alia Wong on the federal government's plan to turn a former leprosy colony in Hawaii into a tourist trap.
Kalaupapa remains eerily sheltered from the rest of the world even today. A common subject of small talk in the village is the one day each year that a barge lands with supplies, including gas and food, when the water is calm enough for it to dock. But Kalaupapa is as breathtaking as it is haunting, marked by white-sand beaches, coral reefs, and tiny bungalows that look as if they're frozen in time. It is, in some ways, a version of the Hawaii that was—pre-Waikiki, pre-World War II, pre-Five-0.
---
Verbs
FIFA officials indicted, India boils, Santorum announces, Obama's immigration policies halted, Taliban travel-ban runs out, and monster fish caught.
---