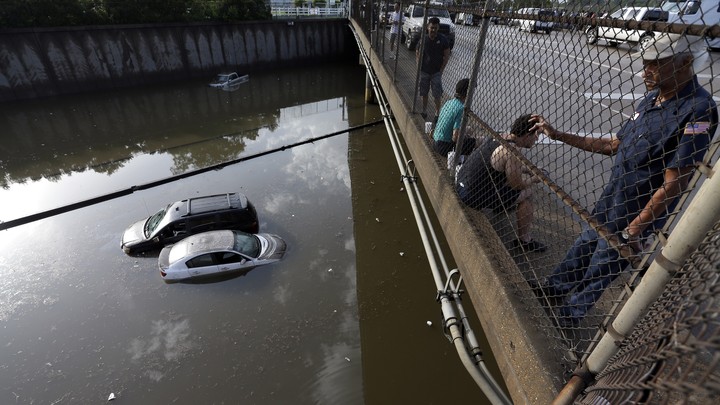 What's Happening: Deadly Storms Strike Texas and Oklahoma
Torrential storms and flooding displaced thousands in Texas and Oklahoma on Tuesday. At least nine people died and dozens more are unaccounted for after extreme weather struck at the end of the long weekend, causing rivers and bayous to overflow.
States of emergency: Texas Governor Greg Abbott has declared a state of emergency in over two dozen counties, where hundreds of cars were submerged on highways and in parking lots. In Oklahoma, 44 counties have been declared disaster areas.
Thousands stranded: Across Houston and other parts of Central Texas, thousands of families had to flee or take refuge in attics and upper floors and on roofs as floodwaters swelled into homes. Hundreds of basketball fans and a few players were stuck for several hours at Houston's Toyota Center following Monday night's NBA playoff game.
---
Snapshot
---
Quoted
Olga Khazan: "At the Planned Parenthood in St. Louis, an abortion costs $545 before 12 weeks of gestation. (I'll assume our person made an appointment almost as soon as she missed a period). Financial assistance is available, but not for everyone."
Peter Beinart: "With any luck, a public divide will break out between candidates who demonize American Muslims and those who defend their rights. In today's GOP, sadly, that would constitute progress."
David A. Graham: "It's a sign of how troubled the Cleveland Police Department really is that amid protests over the acquittal of a police officer in one case, and as anger and anxiety linger over the death of Tamir Rice, the city is at the same time completing a consent decree with the Justice Department over allegations that police have a systemic problem with excessive force."
---
Pop Quiz
1. Adjunct professors earn a median of _________ for a semester-long class.
(See answer or scroll to the bottom)
2. Today, Charter Communications announced that it plans to buy Time Warner Cable for ___________.  
(See answer or scroll to the bottom)
3. Airbnb provides each employee with an annual ________ travel stipend.
(See answer or scroll to the bottom)
---
Evening Read
Amy S.F. Lutz on the future of federally subsidized housing for Americans with intellectual disabilities.
In December 2014, I watched 24-year-old Andrew Parles fit wood shapes into a simple puzzle in the new vocational building at the Bancroft Lakeside Campus, a residential program in New Jersey that serves 47 adults with autism and intellectual disabilities. The task wasn't challenging for Andrew, but his team was taking it slow: Andrew was still recovering from surgery after detaching his own retinas through years of self-injurious behavior. A staff member stood nearby—not hovering, exactly, but close enough to intervene if Andrew suddenly started to hit himself in the head. His mother, Lisa, was hopeful that he'd soon able to participate in the programs he had enjoyed before his surgery: working in Lakeside's greenhouse, painting in the art studio, delivering food for Meals on Wheels.
---
Verbs
Cable titans merge, Bernie launches, reporter's trial begins, Cleveland police reforms, and legendary bluesman's death questioned.
---
ANSWERS:  $2,700, $56.7 BILLION, $2,000
We want to hear what you think about this article. Submit a letter to the editor or write to letters@theatlantic.com.
David Ludwig
is a former editorial fellow with
The Atlantic
​.
Adam Chandler
is a former staff writer at
The Atlantic
. He is the author of
Drive-Thru Dreams: A Journey Through the Heart of America's Fast-Food Kingdom
.