The Atlantic Daily: Passengers Still Missing in Amtrak Disaster
America's aging transit infrastructure leads to disaster in Philadelphia, the disturbing state of modern capital punishment, and more.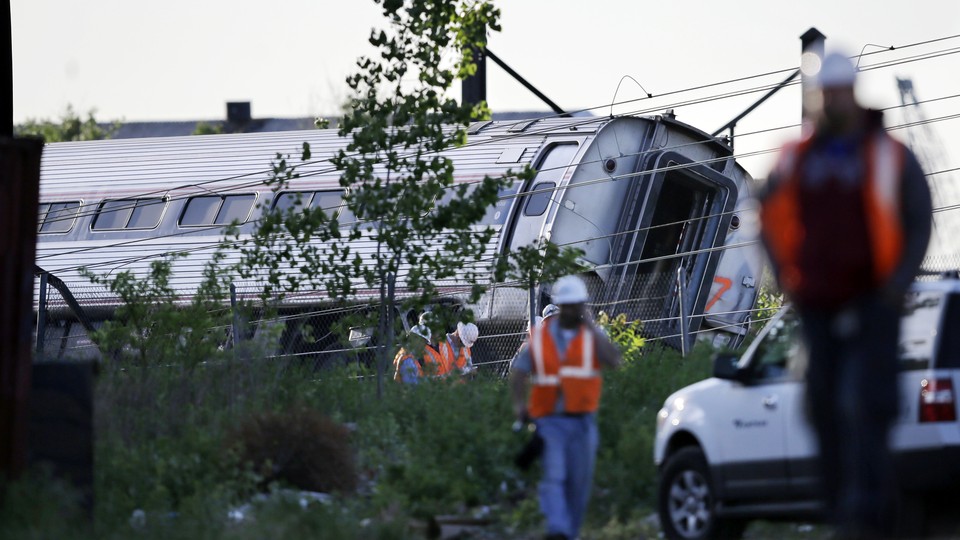 What's Happening: Passengers Still Unaccounted for in Train Derailment
A "normal ride" turned horrific for passengers on a regional Amtrak train from Washington, D.C. to New York City on Tuesday evening. The death toll currently stands at seven after the train derailed outside of Philadelphia. On Wednesday, rescue workers continued to search the wreckage. Earlier in the day, Philadelphia Mayor Michael Nutter told reporters that officials were still trying to locate all known passengers from the train's manifest.
Was speed to blame? Early speculation over how all seven cars of the train managed to derail have led some to suggest that the train was speeding when it hit a turn and jumped the tracks. According to sources close to the investigation, the train may have been traveling twice as fast as it should have been. Investigators hope that an analysis of the train's black box will yield clearer proof of exactly what went wrong.
Response to the crash: As political leaders including President Obama weighed in on the disaster, others pointed to national infrastructure problems as part of the problem. Some noted the specific targeting of Amtrak funds from lawmakers and critics.
---
Snapshot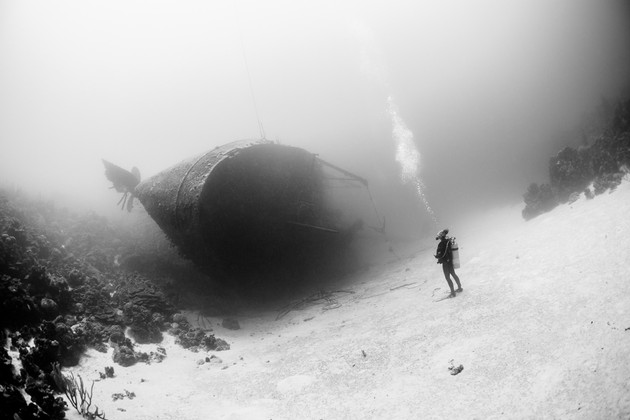 ---
Quoted
Megan Garber: "[Kim Kardashian's] way of beauty, instead, overtly rejects the illusion of "natural"; her way of beauty is messy and smelly and absurdly labor-intensive. It strives."
Bouree Lam: "We systematically make terrible guesses about the future. So we should instead focus on the present, and in tidying, this manifests in the form of using present-day valuations of all of one's belongings. For example, we're wrong that pair of jeans will ever fit again. We're also wrong that we're going to read that book again. These optimistic predictions keep us from getting rid of things we don't need."
Molly Blake: "[Robot salesman Tom] Wyatt and a robot, controlled remotely by Michelle Posey, will head over [to the ice cream shop] together. The sight of a man and robot getting banana walnut fudge together is a stunt that draws lots of attention—exactly what Wyatt wants."
---
Outstanding Question
What does diversity mean anymore? A new study suggests that Millennials take a broader view of diversity than their predecessors. Millennials enter the workplace after growing up generally feeling comfortable with a heterogenous group of peers. As a result, the younger set looks at "diversity" as embodying not just race or gender, but also socioeconomic status. While this sounds nice, as Gillian White reports, it has its downsides. "Diversity becomes defined so broadly that using diversity programs or affirmative action as a way of remedying ongoing historical inequalities can easily become overlooked and dismissed," one professor told her.
---
Pop Quiz
1. A Carnegie Mellon researcher says he's developed a _________ that can identify someone as they glance at their rear-view mirror.
(See answer or scroll to bottom.)
2.  Just __ percent of U.S. philosophy faculty members in 2009 were women.
(See answer or scroll to bottom.)
3. The federal government currently spends $80 billion a year on subsidies for ________________.
(See answer or scroll to bottom.)
---
Evening Read
In our cover story from the June issue, Jeffrey R. Stern looks at the horrifying botched execution of Clayton Lockett in Oklahoma—and the disturbing future of capital punishment in America:
From the viewing area, [reporter] Katie Fretland could see the doctor's face for the first time, and his expression was clear: Oh, fuck. Another witness saw [Clayton] Lockett open his eyes and look right at the doctor, like something out of a horror movie.

The warden glanced under the sheet and noticed what looked like blood and clear liquid pooled around Lockett's groin. She looked up and addressed the witnesses: "We're going to lower the blinds, temporarily."
---
Verbs
Palestinian state recognized, EU asylum plan unveiled, secret Prince Charles letters published, airline CEO steps down, Jimmy Carter recovers, and centenarian matriculates.
---
Answers: retina scanner, 35, higher education
---