The Atlantic Daily: Drone Strikes, Hillary's Campaign, Baltimore Seethes, and More
A look at the top stories from this week
What's Happening: The Week's Big Stories
A tragic intelligence failure in Pakistan: The usually tight-lipped Obama administration got in front of a news story this week, announcing that two Western hostages in Pakistan were accidentally killed by U.S. drones in January. The incident is a blow against Obama's policy of widespread unmanned airstrikes in the Middle East, as well as the U.S.'s longstanding refusal to negotiate for hostages.
Clinton's cash: The first major challenge to Hillary Clinton's campaign came this week, in the form of an upcoming book that lays out conflicts-of-interest between Hillary Clinton and the Clinton Foundation. Particularly troubling is the revelation that Hillary may have helped in a deal that led to a Russian company owning 20 percent of U.S. uranium reserves.
What happened to Freddie Gray? A 25-year-old black man died mysteriously from spinal injuries after being in Baltimore police custody, shining renewed light on a deeply dysfunctional police department. Protestors have been in the streets all week, and have promised to "shut down the city" this weekend.
A cable merger fails: The proposed merger of Comcast and Time Warner Cable is dead, after it was clear government regulators would oppose the two largest cable companies joining forces. Within hours of the news being announced, the fourth-largest U.S. cable company, Charter, said it was mulling a bid to buy Time Warner Cable.
---
Snapshot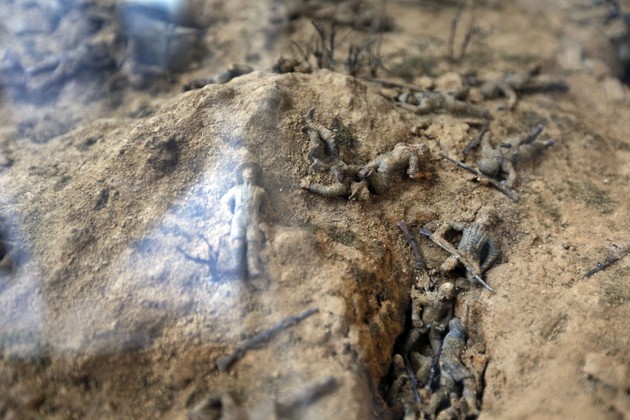 ---
Outstanding Question
Should a city completely shut down after a terrorist attack? As local authorities hunted for the attackers after the bombing at the 2013 Boston Marathon, Massachussetts Governor Deval Patrick shut down all bus and train service in the area and asked residents to "shelter in place." It was the biggest lockdown of a major American city since the Watts Riots in 1965, and it likely cost Boston tens of millions of dollars of economic activity. Did the state go too far in the name of safety, allowing the terrorists to do more damage than they could have on their own?
---
Weekend Reads
Dr. Oz and the Pathology of 'Open-Mindedness':
But despite numerous subsequent think pieces about the man behind the curtain, a crucial question stands out: Why call for Dr. Oz's dismissal, when many medical schools and hospitals endorse the most outlandish of his claims?
How the Media Became One of Putin's Most Powerful Weapons:
Unofficial estimates suggest that the Russian government now spends close to $1 billion on international broadcasting, much of it on RT. [Putin press secretary Dmitry Peskov] called that figure an exaggeration, but added: "As a matter of fact, we would be happy to spend more, and we would be happy to spend billions of dollars, because the whole world is a hostage to information."  
Mixed Signals: Why People Misunderstand Each Other:
Most of the time, [social psychologist Heidi Grant] Halvorson says, people don't realize they are not coming across the way they think they are. "If I ask you," Halvorson told me, "about how you see yourself—what traits you would say describe you—and I ask someone who knows you well to list your traits, the correlation between what you say and what your friend says will be somewhere between 0.2 and 0.5. There's a big gap between how other people see us and how we see ourselves."
The Man Who Blew the Whistle on Halliburton:
Many whistleblowers come undone after they launch their fights. They have trouble keeping their jobs, their marriages, their sobriety. Even friends who are sympathetic often see them as pains in the ass. They are forever marked by a scarlet "W." And while whistleblowers naturally start off more skeptical than the average, the experience pushes some into often justifiable paranoia. If you want to know why whistleblowers can seem a little crazy, it's because anybody who is not a little bit crazy would back away from the ordeal of confronting a corporate behemoth or grinding government bureaucracy.
---
Pop Quiz
1. A prohibition against brewing beer in the summer months in 16th century Germany led to the invention of the _____________.
2. At least three different women have named as the inspiration for _________________.
3. In U.S. marathons, more than 50 percent of male finishers and 40 percent of female finishers are _________________.
---
Verbs
Greece cut off, Christie prepares, Holder departs, Nasdaq soars, al-Qaeda cell raided, statue evacuated, and greatest court document ever filed.
---
Answers: Beer garden, rosie the riveter, over 40