The Atlantic Daily: Nepal Turns to Rescue and Recovery
The aftermath of a cataclysmic earthquake in Nepal, consumers worry about the wrong things, and more.
What's Happening: The Struggle to Recover in Nepal
Scenes of horror and devastation continue to unfold across Nepal today, after a 7.8-magnitude earthquake leveled major cities and killed thousands of people on Saturday. The capital of Kathmandu was badly hit, and at least 18 hikers on Mount Everest are also reported dead. Deadly aftershocks from the quake continue.
A historic pattern: Nepal suffers from massive seismic activity roughly every 70 years, and the last major earthquake was in 1934, 81 years ago. Many within and outside of Nepal predicted the earthquake, but planning and preparation on the ground remained tragically minimal.
Rescue efforts: Rescuers are still largely unable to reach isolated villages in Nepal's mountainous countryside. Infrastructure throughout Nepal remains vulnerable as aftershocks continue to shake the country—aircraft towers at Nepal's international airport were briefly completely unmanned. The death toll, estimated to be at least 4,000, is expected to rise sharply in the coming days.
---
Snapshot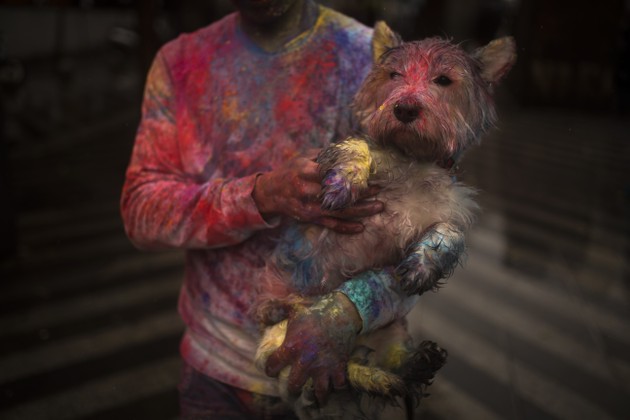 ---
Outstanding Question
Are consumers worried about the right things when it comes to food? PepsiCo will be swapping out the artificial sweetener aspartame for Splenda in Diet Pepsi, due to "consumer worries" that aspartame isn't healthy. Ben & Jerry's and Chipotle, meanwhile, will be ditching all GMO ingredients in their food, largely due to consumer fears. The problem is that these shifts are driven more by marketing than medical science: Aspartame is probably no better and no worse than Splenda, and the scientific consensus is that GMOs are safe, despite widespread consumer anxiety. Meanwhile, the changes needed for healthier packaged food—smaller portion sizes or less marketing to children—are unlikely to lead to greater profits for food companies.
---
Pop Quiz
1. Before becoming the face of Venezuela's opposition, Lilian Tintori was best known for being a competitive ______________.
2. Sex-ed programs were more found to be more effective in preventing STDs and pregnancies when student were also taught about _____________.
3. By the year 2022, the second-largest occupational group in the U.S. will be ______________.
---
Evening Read
After you get done checking your work email for the fourth time tonight, read about why we keep checking for emails from coworkers long after we clock out:
Why do we find ourselves reading emails during vacation or sick days, even when we don't have to? Ian Bogost, a professor of interactive computing at the Georgia Institute of Technology (and an Atlantic contributing editor), says that email sorting is just the default activity when there's nothing else to do. "Email pruning doesn't enact work so much as it simulates work: it's a ritual—like a secular, corporate rosary—which we perform in the hopes that it will somehow help us leave the domain of ineffectual work and re-enter the domain of gratifying productivity," says Bogost.
---
Verbs
Syrian rebels supported, gay marriage case begins, Obama's emails hacked, cheaper cable TV attacked, airline profits soar, and wild geese guided.
---
Answers: Kite Surfer, Gender dynamics, Direct-care workers