The Atlantic Daily: Ta-Nehisi Coates on Baltimore
The day after a long night of rage and chaos in Baltimore
What's Happening: A State of Emergency
It's a sadly common occurrence in modern America: A city erupts in violence after a young black man dies during a run-in with the police. Hours after the funeral of 25-year-old Freddie Gray, rioting and looting in Baltimore saw over 200 people arrested, 15 police officers injured, and 20 businesses torched.

Rough rides: Gray died from a severe spinal injury, seemingly sustained after he was loaded into a police van. Many now believe the practice of "rough rides"—where police transport drivers intentionally bang around a handcuffed suspect without a seatbelt—is to blame, with crowds this weekend chanting, "The police broke his neck!"
The day after: Thousands of National Guard soldiers are now in Baltimore, and a city-wide 10 p.m. curfew is in place. Volunteers have been cleaning up the city, while many public institutions, including Baltimore public schools, shut down for the day. The Baltimore Orioles will play an empty stadium tonight to keep the public away, after canceling their game last night. In a statement this afternoon, President Obama condemned looters while also saying that "we as a country have to do some soul searching. This is not new. It's been going on for decades." Large crowds are gathering again today in Baltimore, with small skirmishes developing between officers and civilians.
---
Snapshot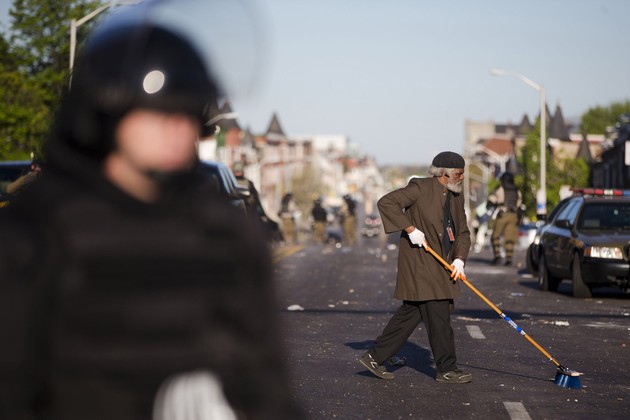 ---
Quoted
Ta-Nehisi Coates: "When nonviolence is preached as an attempt to evade the repercussions of political brutality, it betrays itself. When nonviolence begins halfway through the war with the aggressor calling time out, it exposes itself as a ruse."
Conor Friedersdorf: "A subset of Baltimore police officers has spent years engaged in lawbreaking every bit as flagrant as any teen jumping up and down on a squad car, however invisible it is to CNN. And their unpunished crimes have done more damage to Baltimore than Monday's riots."
David Graham: "This is the paradox at the heart of rioting in Baltimore. Protestors have been in the streets of Charm City for a week to demonstrate against violence by police officers. But when matters started to spin out of control Monday afternoon, the group dispatched to solve the problem was the police."
---
Evening Read
Christopher Wallace writes about coming of age during while living through the 1992 Los Angeles riots:
In fact, it may have been the very moment when "Football" Williams smashed the point of a brick into Reginald Denny's temple that I really turned on as a human being. Before, I'd been nodding in Nintendo-induced apathy, having only seen war on CNN; now, suddenly, we were in the shit. Immediately I wished I hadn't only dozed while my parents, the former flower children, bemoaned the consolidation of wealth under Reagan and then Bush Sr., or blinked, yawning as the pundits railed against the disenfranchisement of the inner cities. With a wince I regretted longing, albeit abstractly, for my own cause, for my generation's Vietnam, a rallying call, as I watched my city burning in slow-mo shots of a man's brains spilling onto Normandie Boulevard.
---
Outstanding Question
Does the state have an interest in "love and commitment"? At the Supreme Court on Tuesday, opponents of same-sex marriage found themselves arguing that marriage isn't really about love. Instead, the solicitor general of Michigan, John J. Bursch, told the justices that the government should only be concerned with keeping heterosexual couples bound to each other and their children. That argument likely didn't win the justices over, but pointing to the centuries-old definition of marriage—a union between a man and a woman—seems to have worked slightly better. In the state's eyes, is the main purpose of marriage simply to link together a man and woman so they might raise offspring? Or is it creating a legally recognized bond between two people in love?
---
Verbs
Nepal death toll rises, crisis in Yemen worsens, embassy attack foiled, NFL's tax-exempt status relinquished, science spending sags, consumer confidence slips, and prestigious pig honored.
---