The Atlantic Daily: A Calmer Day in Baltimore
Calm returns to Baltimore after days of unrest, Millennials aren't having kids, and more.
What's Happening: A Day of Calm in Baltimore
Wednesday turned out to be a much quieter day in Baltimore. Following hours of heavy protests and some violence, a city-wide curfew on Tuesday evening ushered in relative calm with few reported arrests and disturbances.
Quiet streets, empty stadiums: As school reopened and peaceful protests resumed on Wednesday, the Baltimore Orioles scored six runs in the first inning of their home game against the Chicago White Sox. The game had been closed to the public as a precaution, leaving stands empty except for a few reporters.
Why Baltimore is different: While some sought to highlight the similarities between the protests in Baltimore and Ferguson, Missouri, the racial dynamics in the two places are considerably different. One longtime Baltimore reporter notes that, unlike Ferguson, a majority of the city's top leadership and half of its police force are black. Meanwhile, Ferguson suffered through looting, some vandalism, and gunfire as protests over Freddie Gray turned violent Tuesday night.
---
Snapshot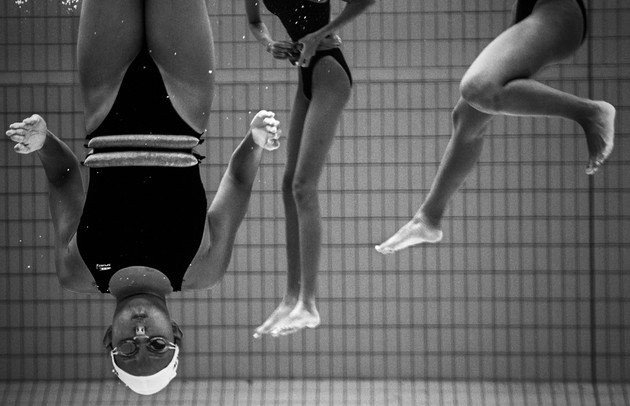 ---
Quoted
Megan Garber: "[Adam] Sandler's comedy is based, above everything else, on entitlement. Even his slapstickiest characters suggest that the sheer fact of wanting—a woman, an inheritance, a trophy—is enough to entitle them to the objects of their desire. They are privileged, like Sandler himself, but they do the worst thing one can do with privilege: They take it for granted."
Bouree Lam: "As they are going about their day, burglars are constantly making mental notes and calculations—marking properties that look vulnerable, considering the hours they'll be empty, and thinking about the potential pay-off. Over time, this process becomes unconscious and automatic."
Cass R. Sunstein: "This is the cruelty of [squash]:  the longer a point goes, the more you have to run, and the more exhausted you get. That creates a perverse incentive. If you hit good shots against a good player, you have to keep running (and your body cries out, 'No!'). But if you miss, or hit a stupid shot, the point is immediately over, and at least for a few seconds, you don't have to run (and your body exclaims, 'Hurray!')."
---
Outstanding Question
Should we worry that Millennials aren't having kids? Twentysomething women have been waiting longer to have children than any previous generation. Unmarried women are having fewer children, and many women are delaying marriage (and childbirth) altogether. The Great Recession may have also played a role—children are expensive. In the near term, this means a dip in the number of very young Americans. In the long term, it could lead to the type of generational imbalances currently plaguing Russia, Japan, and many Western European countries.
---
Pop Quiz
1. The National Park Service has begun a yearlong study to find a site that could work as the U.S.'s first memorial for ___________________.
(See answer, or scroll to the bottom.)
2. In Texas, you'll need 1,500 hours of training in order to become a licensed  ______________.
(See answer, or scroll to the bottom.)
3. The root the controversial word ______ stretches back to 14th century India.
(See answer, or scroll to the bottom.)
---
Evening Read
Jayne Bigelsen  writes about her long struggle with out-of-control daydreaming:
I remember being in grade school and feeling pleased that I no longer needed to wait until I got home to watch my favorite soap opera. If I wanted to see Luke from General Hospital come back from the dead and reunite with his girlfriend, Holly, I could watch that reunion in my head, right there in class, and no one would ever know—unless the tears started to flow, in which case I would look around, anxiously praying that none of my classmates had noticed.
---
Verbs
Nepalese aid efforts drag, Nigerian women rescued, lethal injections debated, Russian spaceship lost, political subway ads banned, Seinfeld will stream, and pizza pilferers popped.
---
Answers: reconstruction, cosmetologist, "thug"