Tillerson Acknowledges 'Differences' With Trump on Iran Deal
But the secretary of state said he was "comfortable" sharing his views with the president.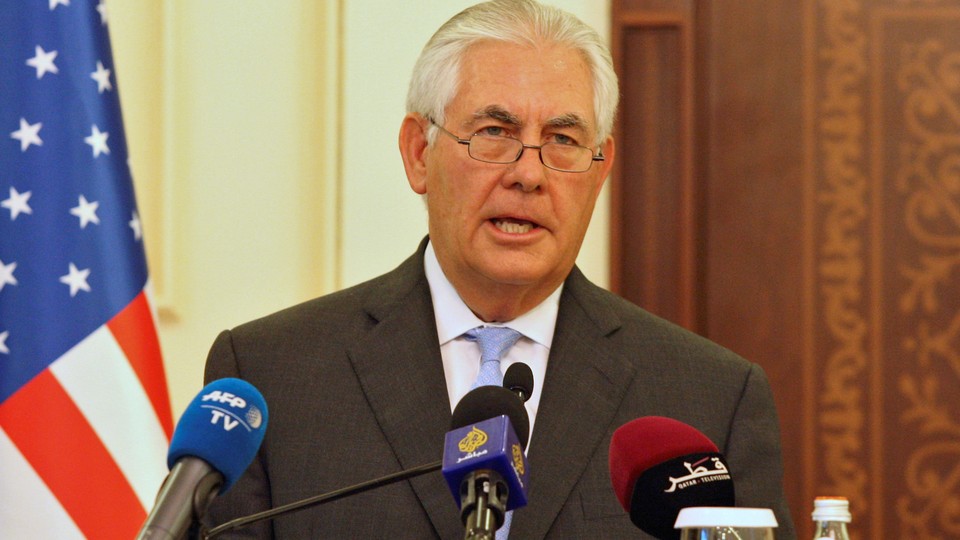 U.S. Secretary of State Rex Tillerson acknowledged Tuesday he and President Trump "have differences" on the nuclear deal with Iran, but said the Islamic republic was violating the spirit of the agreement with its activities, adding the U.S. was working with its allies to ensure Iran's compliance with the deal.
Tillerson, at a news conference at the State Department, described his relationship with Trump as "good" and said he felt "comfortable telling him my views."
"He and I have differences of views on things like JCPOA and how we should use it," he said, referring to the Joint Comprehensive Plan of Action. "But, I think, if we're not having those differences, I'm not sure I'm serving him."
At issue is the deal Iran signed in 2015 with the United States, Britain, China, France, Germany, Russia, and the European Union, under which it agreed to freeze its nuclear program in return for the lifting of some international sanctions. Under U.S. law, the administration must inform Congress every 90 days whether Iran is still complying with the agreement. Trump, who as presidential candidate called the deal "the worst" ever, certified—for the second time—last month that Iran was in compliance. He later told The Wall Street Journal: "If it was up to me, I would have had them noncompliant 180 days ago." Trump added he "would be surprised if they [Iran] were in compliance" in September, the next time he is scheduled to decide on the issue.
But Tillerson, speaking at the State Department, said the U.S. was working with "the other parties to that agreement, our European allies in particular, to ensure we are fully enforcing all aspects of that agreement." He said the JCPOA "dealt with a very small slice" of Iran's actions, and "ignored all of their other detrimental activities in the region," citing the Islamic republic's ballistic-missile program, and its actions in Iraq, Syria, Yemen, and elsewhere. He added Iran was violating the spirit of the agreement through its actions.
"The conversation on Iran does not begin and end with the JCPOA," he said.
Tillerson acknowledged that because Iran had been rewarded upfront for signing the deal, the U.S. had "limited levers available" and was working with its allies to put "collective pressure" on Iran to amend its behavior. "It is important in our view that we keep our allies with us" on the issue, he said.
Returning to the issue of Iran's violation of the "spirit of the agreement," Tillerson said the U.S. would have to decide whether to tear up the deal or stay in it and hold Tehran responsible for its actions.
"I think there are a lot of alternative means by which we use the agreement to advance our policies and the relationship with Iran," Tillerson said. "And that's what the conversation is, generally, with the president as well."