How Motherhood Became an Election Issue in New Zealand
The new head of the Labour Party was asked on TV whether her plan to have children would interfere with her being prime minister.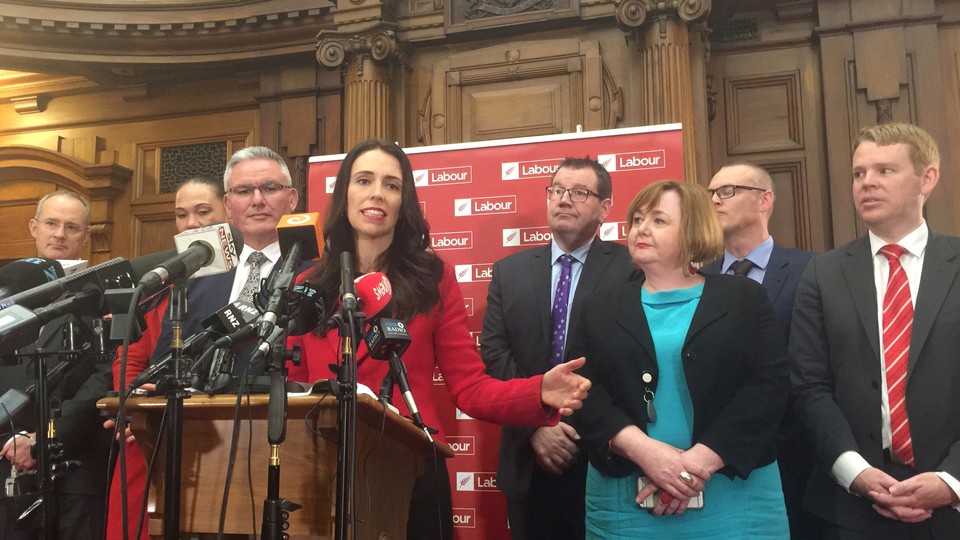 A television host's question on motherhood to the new leader of New Zealand's opposition Labour Party has prompted a row over gender roles in the country that was the first to give women the right to vote.
Jacinda Ardern was elected head of Labour on Tuesday, and at 37 she is the youngest person, and second woman (Helen Clark, the first, was also a prime minister), to lead the party. The headlines about her so far have been enthusiastic. She's being portrayed as "authentic," "powerful, composed, and eloquent"—all traits she'll need when New Zealand votes next month in parliamentary elections. Her party's poor performance in the polls prompted Andrew Little, its leader, to step down. Ardern, who had been spoken of as a future party leader, ascended to the post almost immediately.
But if persuading the electorate that Labour is worth voting for is one battle for Ardern, her other battle was persuading television panelists that her future plans for motherhood was irrelevant to her potential leadership of New Zealand. She and her partner, Clarke Gayford, don't have children, and Ardern has previously discussed how wanting children has made her think about her professional choices. But the questions about parenthood began a few hours after her election Tuesday as Labour's leader.
Ardern appeared on The Project, a current-affairs show, and among the questions she was asked was this one by Jesse Mulligan, one of the show's hosts: "I've got a question and we've been discussing today whether or not I'm allowed to ask it," Mulligan said, appearing hesitant, prompting laughter from his female co-host. "A lot of women in New Zealand feel like they have to make a choice between having babies and having a career, and continuing their career at a certain point in their lives, their late 30s. Is that a decision you feel you have to make or feel you've already made?"
Ardern replied with the poise expected of a leader of a political party.
"Thank you for reminding the New Zealand public about my age," she said, eliciting laughter from the hosts and the audience. "I have no problem with you asking me that question because I have been very open about discussing that dilemma because I think probably lots of women face it.
"For me, my position is no different to the woman who works three jobs, or who might be in a position where they are juggling lots of responsibilities."
You can watch that exchange here:
The question prompted a massive backlash in a country that prides itself on being the first in the world to give women the right to vote (in 1893), one which has one of the lowest gender wage gaps, and a strong legal framework that protects women from discrimination. Critics pointed out that Prime Minister Bill English has never been asked the same question. Indeed, English, the leader of the center-right National Party which will be taking on Ardern's Labour next month, said the Labour leader's plans were "her private business."
Jackie Blue, the head of the Human Rights Commission, wrote on the Spinoff, a local website:
Male hosts … made it very clear to their audiences that they would desperately like to know what Jacinda's intentions for her womb were. One even suggested that all women should be asked the question when applying for a role. And therein lies the problem. Because quite frankly, whether a woman intends on having children or not, is none of their bloody business. Oh, and by the way, it's illegal to ask those questions as they breach the Human Rights Act.
The controversy carried over to Wednesday when Ardern was asked a similar question—this time on The AM Show. The show's hosts were discussing among themselves the questions asked of Ardern the previous day when one of them, Mark Richardson, said: "If you are the employer of a company you need to know that type of thing from the woman you are employing … the question is: Is it OK for a PM to take maternity leave while in office?"
Ardern was asked a version of that question when she appeared on the show. She once again said she didn't think it was an inappropriate question "because I opened myself up to it, but, you," she said, pointing to Richardson, "it is totally unacceptable in 2017 to say that women should have to answer that question in the workplace. It is unacceptable, it is unacceptable."
She pointed out that it was illegal in New Zealand to discriminate against a candidate for a job based on their parental status or wishes.
"It is a woman's decision about when they choose to have children, and it should not predetermine whether or not they are given a job or have job opportunities," she told Richardson. You can watch the exchange here:
When Clark, the former New Zealand prime minister and the first female Labour leader, was asked about her advice to Ardern, she replied:
Ignore the sexist attack is & get on with the job.

— Helen Clark (@HelenClarkNZ) August 2, 2017