What's Behind the Strong Jobs Report?
The U.S. economy added 209,000 jobs last month and the unemployment rate fell to 4.3 percent.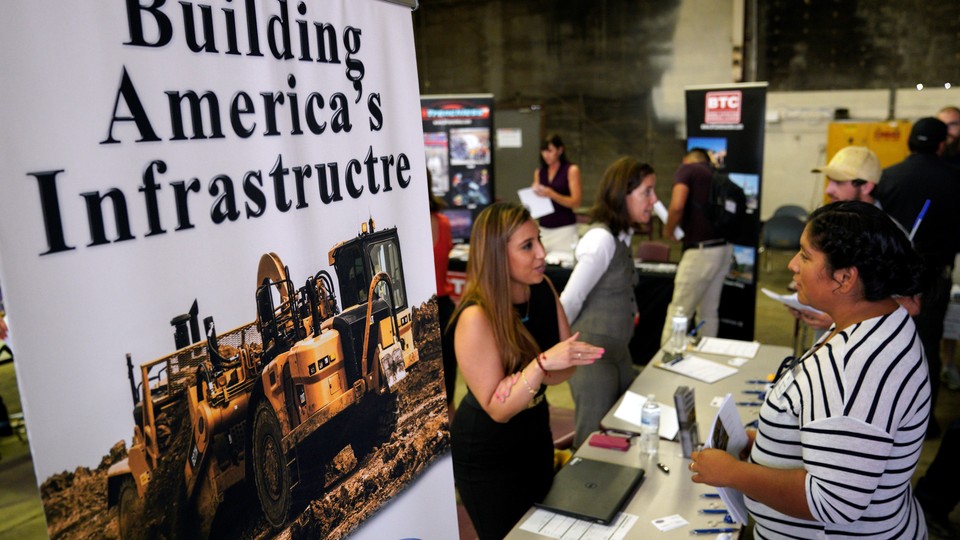 The U.S. economy added 209,000 jobs in July, the Labor Department said Friday, and the unemployment rate fell to 4.3 percent.
The gain in jobs marked the 82nd straight month of U.S. job growth, the longest ever on record, as the U.S. has regained all the jobs lost in the 2008 global economic recession. The 4.3 percent unemployment rate was a return to the level reached in May, the lowest since 2001.
There were plenty of reasons for optimism: Hiring was up across several sectors, including home health-care services and metal-ore mining, which both grew 0.8 percent. But the biggest driver of jobs growth was the hospitality industry, the jobs report said. The sector added 53,000 jobs last month—and has added 313,000 jobs so far this year.
Trump, who has made the return of manufacturing and mining jobs the centerpiece of his economic platform, welcomed Friday's report:
Excellent Jobs Numbers just released - and I have only just begun. Many job stifling regulations continue to fall. Movement back to USA!

— Donald J. Trump (@realDonaldTrump) August 4, 2017
But, as CNBC pointed out, "a more encompassing rate that includes discouraged workers and the underemployed was unchanged at 8.6 percent." The Bureau of Labor Statistics, which releases the jobs report each month, said the number of discouraged workers was unchanged over the year; it stood at 536,000. Here's more from CNBC:
If there was a blemish in the month's numbers, it came from the distribution of jobs to lower-income sectors. Job creation was strongly titled to part-time, which gained 393,000 positions, while full-time fell by 54,000.
Additionally, wage growth has been tepid. Still, Friday's data are likely to be closely watched by the U.S. Federal Reserve as it looks to increase interest rates one more time this year.