7 Million Venezuelans Vote Against Maduro in Referendum
Opposition supporters overwhelmingly said no in a symbolic vote to the president's plan to change the constitution.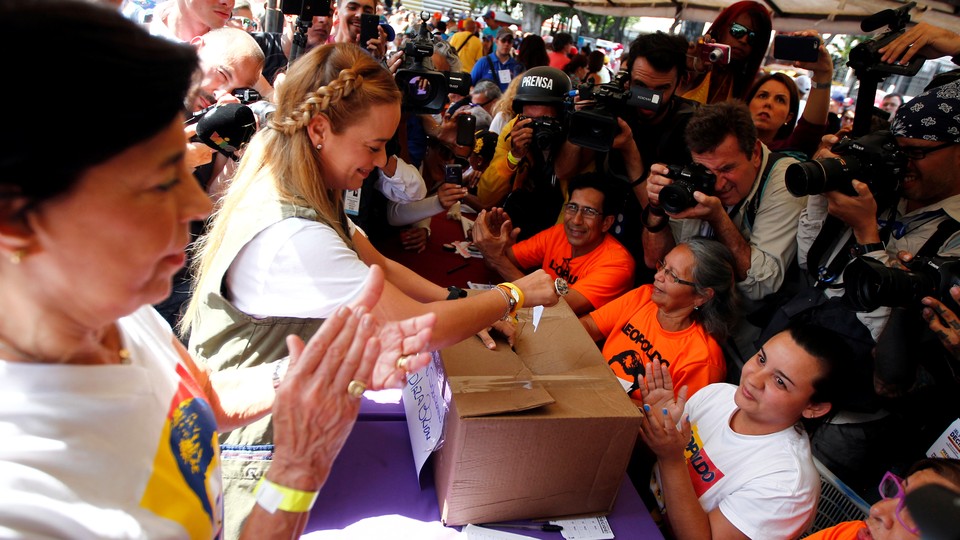 More than 7.1 million Venezuelans participated in a symbolic referendum vote on Sunday to reject President Nicolas Maduro's plan to change the constitution. In two weeks, Maduro plans to reshape the country's political system and stack supporters in the National Assembly, which is now controlled by the opposition, in an effort to give him broad control over the country.
Voters made a strong showing, but it was short of the 7.7 million opposition votes in the legislative elections two years ago, and fewer than the 7.5 million votes that put Maduro in power in 2013. Leaders with the opposition said that was because they were only able to set up 2,000 polling places in a symbolic exercise the government labeled illegitimate. Votes were cast across the country and the world, with expatriates helping to decide yes or no on three key questions: Did they reject the constitutional assembly? Do they want the armed forces to back congress? Do they support the formation of a government comprising both Maduro's backers and opponents? The opposition only released turnout numbers, but it's believed that nearly all people who participated in the referendum voted "yes" in rejecting Maduro's reorganization.
"We don't want to be Cuba," Julio Borges, heads of the National Assembly, said Sunday. "We don't want to be a country without freedom."
Protesters have taken to the streets for months in what have been at times violent rallies against Maduro's socialist government. The opposition is upset about what has become Maduro's increasingly dictatorial rule over a country set up as a democracy in its 1999 constitution. There is also widespread anger about the current economic crisis. Oil revenue accounts for about 95 percent of the country's export revenues, and after oil prices dropped Venezuela fell into ruin, with inflation rising so high that basic food staples and medicine are hard to come by. The vote Sunday was mostly peaceful, but in the past few months more than 90 people have died in clashes with police, with 1,500 wounded and some 500 arrests.
To help ensure the vote proceeded legitimately and peacefully, a group of former Latin American presidents flew to Venezuela to act as observers. One was Vicente Fox, the former Mexican president. Late Sunday night, Venezuelan Foreign Minister Samuel Moncada said Fox had abused the goodwill of the county's people in order to "promote violence and intervention by foreign world powers." Fox was later declared a "persona non grata," and Moncada said he will "never again be able to come back to Venezuela."
El Sr. Fox vino pagado a Venezuela para promover la violencia y la intervención de potencias extranjeras. (3/6).

— Samuel Moncada (@SMoncada_VEN) July 17, 2017
Maduro's government has control and support of the military and nearly all state governorships, but the opposition in congress has been a rare seat of dissent. In March, Venezuela's high court, dominated by Maduro supporters, stripped congress of its powers in a move to consolidate power behind the president. It was a highly controversial move, even among some of Maduro's supporters. It was also widely condemned by the international community. Maduro eventually rescinded the order, and though he is not up for election until 2019, the opposition's call for early elections has only intensified since. Maduro has lost a lot of his base support, and it's believed that if the country held free and fair elections he would be ousted.