Venezuela Endures Partial Shutdown Amid Continued Violence
Two men were killed in clashes between protesters and police forces as millions participated in a nationwide strike.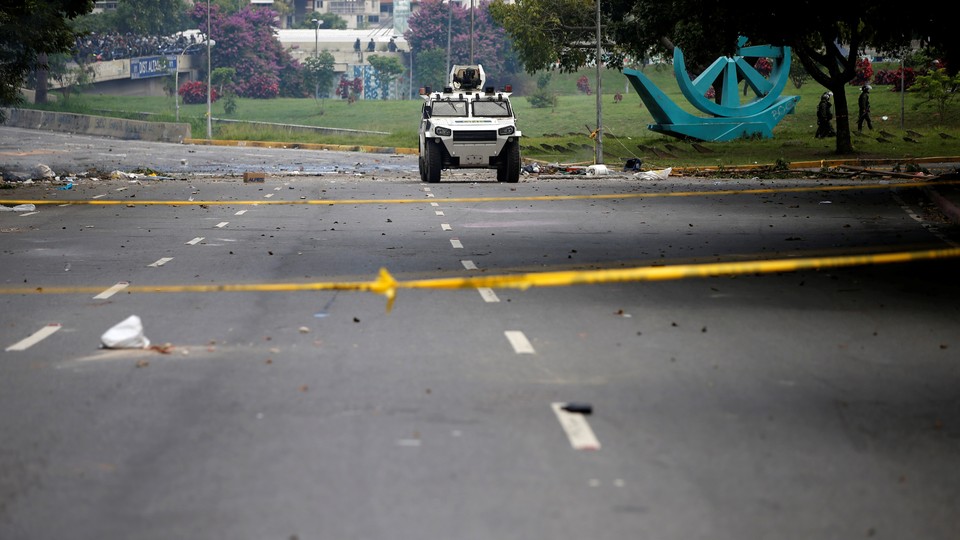 Many roads were deserted and businesses closed in Venezuela on Thursday as members of the nation's opposition party held a 24-hour strike to protest the regime of President Nicolas Maduro. The protest marked Venezuela's first major national strike since 2002, when a countrywide shutdown attempted to overturn the regime of former president Hugo Chavez. Millions participated on Thursday by boycotting Venezuela's public transportation, staying home from work, shutting down private businesses, and ensuring that streets were blocked off. Opposition leaders claim that 85 percent of Venezuela's workers were involved in the strike. Even western Caracas—home to many government loyalists—experienced about half the foot traffic of a normal weekday, the Associated Press reports.
The strike comes just days after 7.5 million Venezuelans participated a symbolic referendum vote to reject Maduro's plan to rewrite the nation's constitution. On July 30, the president intends to hold a special election to select members of a "constituent assembly," which will be capable of dissolving public powers and convening general elections. Many view the decision as a ploy for Maduro to overtake the nation's democratic institutions and retain control of Venezuela following the end of his term in 2019. Even with the majority of Venezuelans—and many foreign nations—opposed to the special election, Maduro said he plans to move forward with the vote.
For months, Venezuela has been stricken by violent protests against Maduro, whom many accuse of carrying out an authoritarian regime. Although large swathes of the country were deserted on Thursday, Caracas saw the same violent expressions of dissent, with opposition protesters shooting fireworks and stones at security forces and setting fire to blockades. In return, police launched tear gas at protesters attempting to barricade the city's streets. "We want liberty. We want democracy. We want everyone to have access to food," one protester told The Washington Post in reference to Venezuela's humanitarian crisis, which has resulted in dire shortages of food and medicine. As the clashes began to wind down, opposition leaders congratulated Venezuelans on a "historic day" and "absolute success."
In a statement on national television, Maduro shared a much different view of the strike, which he said yielded minimal damage. "Today, work triumphed," he said, claiming that the nation's "700 most important businesses" were "100 percent working." Maduro also threatened to jail the strike's leaders, announcing that he'd "ordered the capture of all the fascist terrorists." By Thursday evening, a local rights group estimated that more than 170 people had been arrested. The strike also resulted in the deaths of two protesters—24-year-old Ronney Tejera and 23-year-old Andres Uzcategui—who were shot in separate areas of Caracas.
Since April, nearly 100 people have been killed in escalating conflicts between protesters and police forces, while thousands more have been jailed. On Thursday, however, some Venezuelans felt restricted not by government forces, but by members of the opposition. Many were angry over the disruption of their day, while others said they couldn't afford to lose their jobs or miss out on work. In a statement to the AP, 24-year-old medical secretary Maria Sandoval summed up her frustration: "It's unfair," she said. "The government jails the people who protest and those who are protesting are caging the rest of us."