Venezuela Bans Protests as Death Toll Rises
Violence has escalated ahead of Sunday's referendum, prompting the U.S. State Department to issue a travel warning.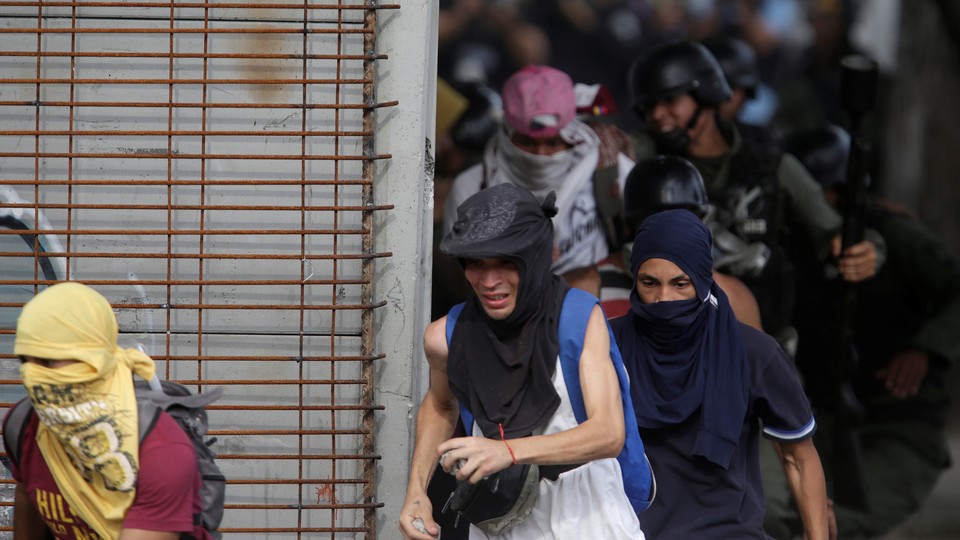 The Venezuelan government banned nationwide protests on Thursday, just days before a referendum to elect a constituent assembly capable of rewriting the nation's constitution. The ban, which begins Friday and lasts through Tuesday, was announced toward the end of a 48-hour strike conducted by the nation's opposition members, who are rallying against the regime of Venezuelan President Nicolas Maduro. On Thursday, the nation's interior minister, Nestor Reverol, expressly prohibited "all public meetings and demonstrations, gatherings, and other similar acts that might disturb the electoral process" on Sunday. Those who defy the ban face a jail sentence of five to ten years.
Despite these new regulations, opposition leaders have said a large anti-government protest will take place Friday, as planned, in the Venezuelan capital of Caracas and continue through Sunday. "We will not kneel. We will not fail. We will fight," Freddy Guevara, the vice president of Venezuela's democratically-elected National Assembly, told reporters. Since April, anti-government protests in Venezuela have resulted in violent clashes between demonstrators and police forces. The state prosecutor's office, which opposes Maduro, has charged security forces with numerous human rights violations, including the use of torture and excessive force.
On Thursday, the Associated Press estimated that the death toll resulting from the unrest had surpassed 100, with the majority of the deceased identified as young men killed by gunfire. The attorney general's office has placed the toll even higher, claiming that 111 people have been killed and more than 1,900 have been injured. While police forces or armed government supporters known as "colectivos" have been largely responsible for the violence, the AP finds that officers and civilians have also been killed during strikes and demonstrations.
As animosity between government forces and opposition members continues to mount, the U.S. State Department issued a travel warning Thursday evening, citing concern over "social unrest, violent crime, and pervasive food and medicine shortages." The warning specifically ordered the family members of those staffed at the U.S. embassy in Caracas to leave the country. U.S. government employees were also required to secure approval for travel outside of Caracas. Although Maduro has accused the U.S. for months of backing an opposition-led coup against his government, tensions between the U.S. and Venezuela have escalated even further ahead of the upcoming election.
On Wednesday, President Trump followed through on his threat to impose "strong and swift economic actions" on Venezuela in response to the referendum. That day, the administration unveiled a new round of sanctions that targeted 13 top Venezuelan officials, including the national police director, national elections director, and former vice president. Many U.S. officials speculate that the sanctions prefigure even an greater set of economic penalties targeting the very heart of Venezuela's economy: its energy sector. While Trump has insisted he won't "stand by as Venezuela crumbles," Maduro has fired back, saying he "won't be intimidated" by international pressure.