U.S. Navy Fires Warning Shots at Iranian Ship
The U.S.S. Thunderbolt issued a rare response on Tuesday as an Iranian military vessel repeatedly ignored its signals.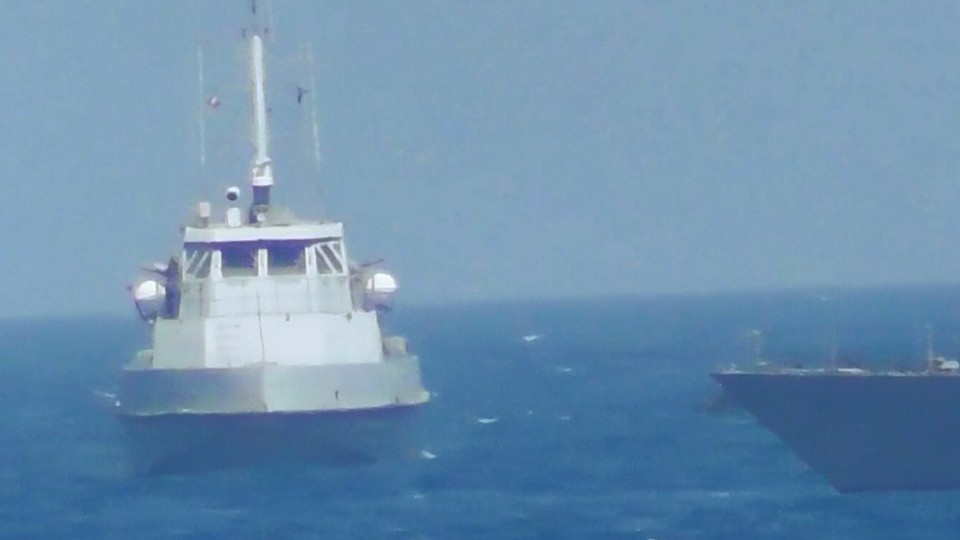 A U.S. Navy patrol ship known as the U.S.S. Thunderbolt fired warning shots at an armed Iranian vessel after the vessel came within 150 yards of it on Tuesday. Both boats were stationed in the northern end of the Persian Gulf, according to U.S. defense officials, who said the Iranian vessel ignored repeated warnings from the U.S. As the Iranian ship advanced toward the Thunderbolt at a high speed, the Navy issued radio communications, flares, and five blasts from their ship's whistle, signaling that the boats were headed toward a collision. But U.S. officials claim that the Iranian ship, which belongs to the nation's military, only halted its approach after the Navy fired two warning shots into the air at around 3 p.m. local time on Tuesday.
The Navy has since described the incident as "an unsafe and unprofessional interaction," arguing that the Iranian vessel ignored the "rules of the road" and created "a risk for collision." The Iranian military provided a much different account to its state news agency on Tuesday, where it claimed to have "foiled the U.S. warship's provocative move." The statement added that the warning shots from the U.S. aimed "to instigate and frighten the Iranian boat," which "continued its mission" before leaving the zone.
While it's common for U.S. and Iranian ships to come within close proximity of one another in the Persian Gulf, it's far less common for the U.S. to issue a warning shot. In April, an Iranian military ship that came within 1,000 yards of the U.S.S. Mahan was accused of "unprofessional" and "provocative" conduct, but did not elicit any fire from the U.S. Aside from Tuesday, the last major conflict between U.S. and Iranian ships occurred in January, when the Mahan fired three warning shots at an approaching fleet of Iranian vessels. Before that, the U.S.S. Squall fired multiple warning shots into the water after an Iranian boat came within 200 yards of it in August 2016.
Tuesday's incident marks the closest encounter between a U.S. ship and Iranian vessel in the Persian Gulf in at least a year. The incident comes a week after the U.S. slapped a new round of sanctions on Iran over its ballistic-missile program. A day before the sanctions, President Trump certified that Iran was in compliance with a 2015 nuclear agreement with the U.S. and other world powers. Under the agreement, the U.S. administration must inform Congress of the status of Iran's nuclear program every 90 days. Trump has previously called the deal "the worst" ever and expressed doubts over whether Iran will continue to comply.
At a Tuesday night speech in Youngstown, Ohio, Trump warned Iran that it could face "big, big problems" if it failed to conform to the terms of the deal. Telling the crowd that Iran had become "emboldened" by the agreement, Trump repeated a pattern of issuing advisories to Iran at his rallies. At a campaign event last year in Pensacola, Florida, Trump directly referenced the close encounters between U.S. and Iranian ships in the Persian Gulf, telling supporters that when the Iranian military "circle[s] our beautiful destroyers with their little boats … they will be shot out of the water."