Turkish Police Detain Activists on Suspicion of Terrorist Affiliations
Eight human-rights activists, including the local director of Amnesty International, are being held at police stations across Istanbul.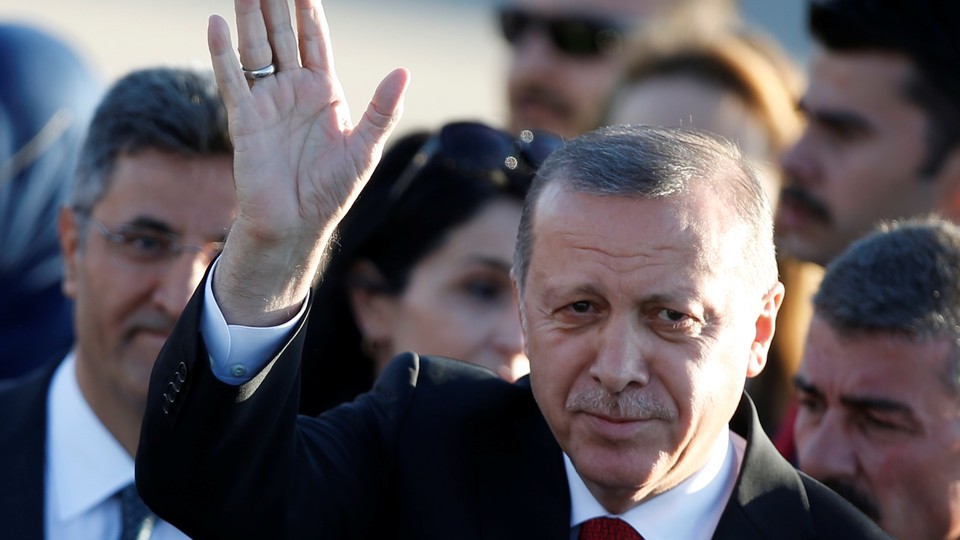 Ten people, including the local director of Amnesty International, are being detained across various police stations in Istanbul after Turkish police forcibly removed them from a human-rights workshop on Wednesday morning. The workshop, which took place at a hotel in Buyukada, an island south of Istanbul, was scheduled to discuss digital security and information management. Turkish police now say they are investigating the detainees as potential members of an "armed terrorist organization." A lawyer for some of the detainees said an explanation for the arrests could come as early as Friday, when the detainees are transferred to Istanbul's police headquarters.
In total, eight of those arrested—including Amnesty International's Turkey Director, Idil Eser—were human-rights activists. The other two were foreign trainers, with one hailing from Germany and the other from Sweden. Amnesty International reports that all ten detainees were unable to speak to a lawyer for more than 28 hours—a direct contradiction of Turkish law, which states that prosecutors can deny immediate access to a lawyer for up to 24 hours. The organization also reports that detainees were forbidden from contacting family members.
As of Thursday, seven of the detainees had obtained access to legal representation. Turkish authorities also refrained from disclosing the location of the detainees until Thursday afternoon. Because Turkey is still under a state of emergency, individuals can be detained for seven days before being charged, with prosecutors capable of extending the detention sentence for another seven days.
On Thursday, Amnesty International's Secretary General, Salil Shetty, called the sudden detention of activists a "grotesque abuse of power." "The absurdity of these accusations against Idil Eser and the nine others cannot disguise the very grave nature of this attack on some of the most prominent civil society organizations in Turkey," he said. "If anyone was still in doubt of the endgame of Turkey's post-coup crackdown, they should not be now. There is to be no civil society, no criticism, and no accountability in [President Tayyip] Erdogan's Turkey."
Following a 2016 coup on the Turkish government, which killed more than 240 people, increased security measures have led to the suspension or dismissal of around 150,000 people and the jailing of more than 50,000 in Turkey. Many have since accused President Erdogan of using the crackdown as an excuse to jail opposition members. In the wake of the coup, tens of thousands of civil servants have been fired or suspended. Recent arrests have also targeted court officials, police officers, teachers, journalists, and military personnel.
Less than a month ago, the chairman of Amnesty International's Turkey branch, Taner Kilic, was arrested for his suspected ties to Fethullah Gulen, a Turkish preacher whom the government accuses of instigating the 2016 coup. Kilic is current awaiting trial from jail. On Thursday, Shetty said it was the first time in his organization's history that a director and a chair from the same country were both behind bars.
Later that afternoon, Heather Nauert, a spokeswoman for the U.S. State Department, said the U.S. was "deeply concerned" over the latest round of detentions. "As with past arrests of prominent human-rights defenders, journalists, academics, and activists, we underscore the importance of respecting due process and individual rights, as enshrined in the Turkish Constitution, and consistent with Turkey's own international commitments," Nauert said, adding that "more voices, not fewer, are necessary in challenging times."