Turkish Court Jails Human-Rights Activists
The activists were detained earlier this month on suspicion of terrorist affiliations.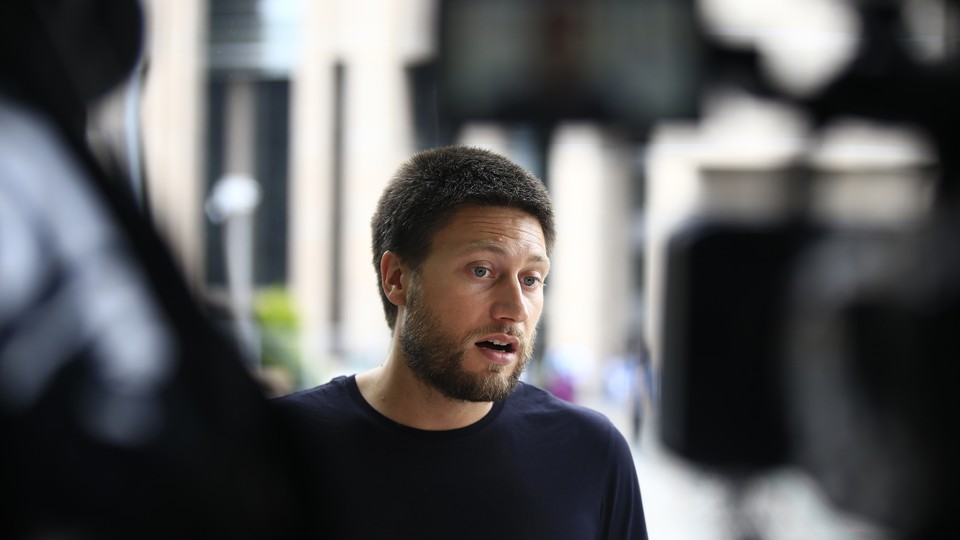 Six human rights activists, including the local director of Amnesty International, were jailed by a Turkish court on Tuesday for allegedly aiding an armed terror group—a common charge brought against dissidents in Turkey, where the government has instated a nationwide crackdown following a failed coup attempt last year. Earlier this month, ten activists, including the six prisoners, were forcibly removed from a digital security workshop and detained across various police stations in Istanbul. The remaining four activists—who hail from the Citizen's Assembly, Women's Coalition, Equal Rights Watch Association, and Rights Initiative—have been released on bail, though they still await a trial and are forbidden from traveling abroad.
Citing information from Amnesty International, The Guardian reports that it could take four to six months for the prisoners to receive a judicial hearing, and another six to 12 months for their trials to take place. Meanwhile, Turkey's opposition party has expressed doubts over whether the activists will receive a fair trial. Recent estimates suggest that around one-third of Turkey's 12,000 judges and prosecutors have been dismissed from their posts during the nation's post-coup crackdown. The head of Turkey's judges' union, Mustafa Karadag, further claims that the government has re-staffed these positions with its own loyalists.
"Today's decision shows that truth and justice have become total strangers in Turkey," the secretary general of Amnesty International, Salil Shetty, said following the arrests. "This is not a legitimate prosecution," he added. "This is a politically motivated persecution that charts a frightening future for rights in Turkey." In a statement released Tuesday, Amnesty called the accusations of terrorist affiliations "bizarre." The organization added that its Turkey director, Idil Eser, is accused of having ties to "three unrelated and opposing" terrorist organizations. According to the group's latest statement, the Turkish court cited two Amnesty International campaigns as grounds for Eser's arrest. One of the reports, they said, was issued before Eser joined Amnesty, while neither of them were authored by Amnesty's Turkey division.
The statement added that one of the activists released on bail—İlknur Üstün of the Women's Coalition—was accused of requesting funds from "an embassy" to support a project on gender equality. Reuters reports that the prisoners have also been suspected having ties to the Muslim preacher Fethullah Gulen, whom the government accuses of instigating the failed coup. The vague nature of these charges makes it unlikely that the activists will be able to challenge their sentences while awaiting trial. Instead, their early release may depend on international pressure. While many western governments, including Britain and the U.S., have called for the prisoners' release, it is unclear whether they will take any concrete action against the Turkish government—often seen as a strategic ally in the Syrian conflict and fight against ISIS.
"Too many Western governments have been locked in a fatal embrace with the Turkish government at the moment it slides into an authoritarian direction," said John Dalhuisen, Amnesty International's director of Europe and Central Asia, at a Tuesday press conference. "Everyone knows this is happening in Turkey, and it needs to be said. These arrests represent a red line, and must be the moment when the terms of engagement with Turkey are reset." Dalhuisen's words echoed a similar call from Amnesty International for "leaders around the world [to] stop biting their tongues and acting as if they can continue business as usual."
On Tuesday, German Chancellor Angela Merkel expressed solidarity with the prisoners, and particularly with German national Peter Steudtner. "The German government will do all it can, on all levels, to secure his release," Merkel said, provoking the nation's already strained relations with Turkey. Earlier this year, a Turkish court formally arrested Deniz Yücel, a German newspaper correspondent who was charged with inciting hatred and spreading propaganda on behalf of a terrorist organization. At the time, Merkel described the arrest—widely seen as an effort to intimidate foreign journalists—as "bitter and disappointing."