Turkey Frees Journalists Detained for Nine Months
Seven out of 17 newspaper staffers were released on Friday after being accused of having ties to terrorist organizations.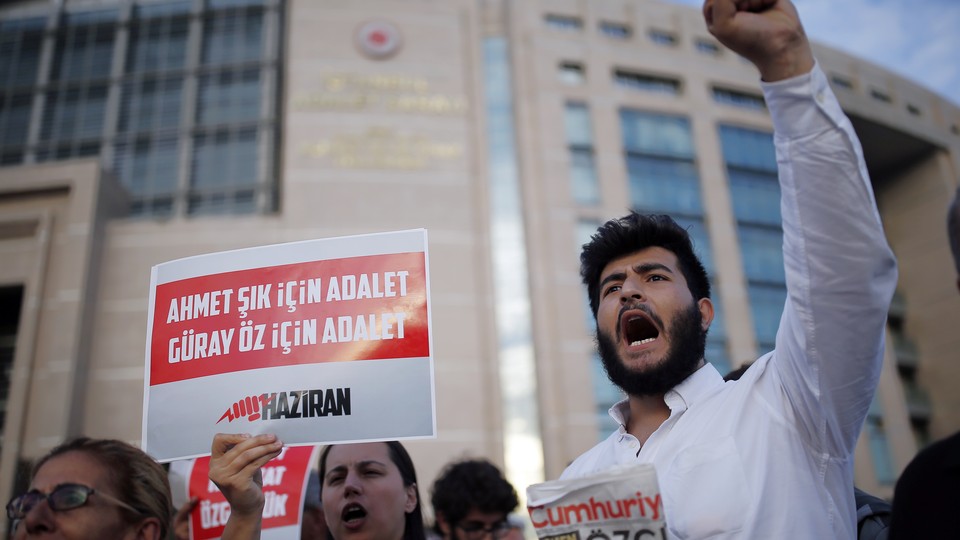 Seven journalists were released from a Turkish jail on Friday after spending nine months behind bars on charges of aiding a terrorist organization. The journalists are employees of Cumhuriyet, Turkey's oldest newspaper and one of the nation's few remaining independent news outlets. Their court case represents that largest trial of journalists in Turkey since a failed coup against the Turkish government in July of last year. All together, 17 Cumhuriyet staffers have been detained on terrorism-related charges. On Friday, an Instanbul court ruled that five of the staffers, including the paper's top executive, would remain in detention ahead of a second court hearing.
In the wake of last year's attempted coup, the Turkish government, led by President Recep Tayyip Erdogan, instated a nationwide crackdown that has led to the arrest of more than 50,000 people and the dismissal of around 150,000 civil servants. These detentions and arrests typically target police officers, military personnel, court officials, teachers, and journalists, who are frequently accused of threatening national security, belonging to a terrorist group, or plotting to kill Erdogan. All together, the Turkish government has detained more than 150 journalists, making it the world's leading jailer of journalists and intellectuals. Erdogan has denied these statistics, claiming that all but two of the detained journalists are terrorists.
While seven journalists were released from prison on Friday, they remain under judicial supervision and await another hearing on September 11. If found guilty, they could face between 22 to 43 years in jail. Among other charges, the journalists are accused of having ties to the Kurdistan Workers' Party, or PKK, and a Turkish preacher named Fethullah Gulen, whom the government accuses of instigating the coup. Both movements have been branded terrorist organizations, with the government claiming that Cumhuriyet staffers aided the groups through their reporting and on social media. The journalists insist they were simply doing their jobs.
Kadri Gursel, a senior columnist at Cumhuriyet, testified this week that he had communicated with a few people connected to Gulen, but that all of the conversations were strictly professional.  "Our job is to present different perspectives to the public," he said. "That is journalism." In the past, Cumhuriyet has published articles directly related to the charges brought against its staffers, including criticism of Erdogan's stance toward the PKK and of the government's post-coup crackdown, which it called a "witch hunt." Last May, two senior Cumhuriyet staffers were sentenced to nearly six years in prison after they revealed that Turkey's national intelligence agency had provided Syrian rebels with weapons disguised as humanitarian aid.
During the five-day hearing leading up to Friday's decision, one lawyer compared the treatment of journalists in Turkey to the McCarthy era in the U.S., when thousands of Americans—many of them government employees, entertainers, educators, and activists—were accused of having Communist ties based on scant evidence. While Erdogan has insisted that his government crackdown is a necessary security measure, many have criticized him for pushing Turkey toward, if not over, the edge of dictatorship. "If our friends are released Friday then I will begin to believe in the judiciary in Turkey," a senior columnist at Cumhuriyet told The New York Times this week. With less than half of the paper's detained employees released on Friday, faith in Turkish democracy continues to wane.