Turkey Dismisses Thousands of Police, Civil Servants, and Academics
The announcement comes ahead of the one-year anniversary of an attempted coup against the Turkish government.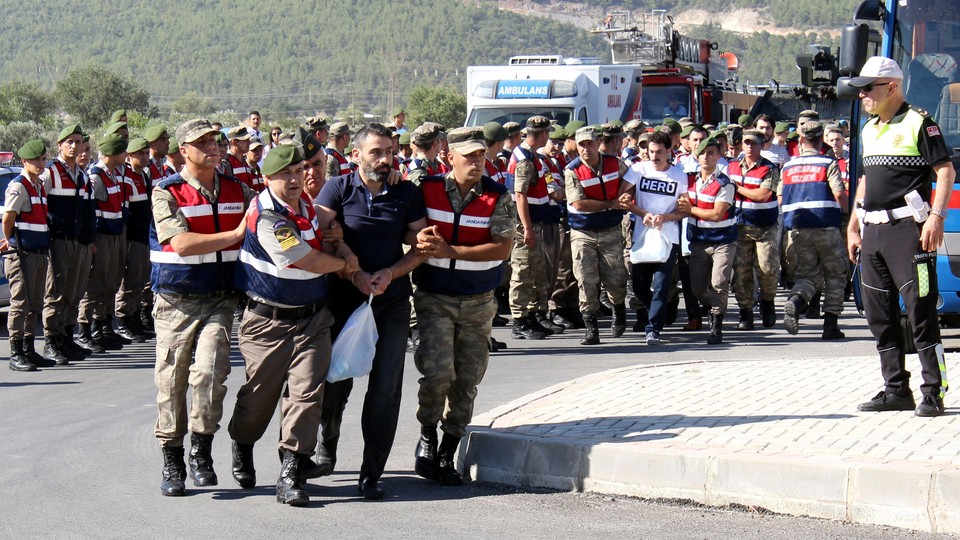 More than 7,000 police officers, civil servants, and academics in Turkey have been dismissed from their jobs according to a new executive decree published on the government's Official Gazette website. The decree was reportedly authorized on June 5, but did not become public until Friday. The announcement comes a day before the one-year anniversary of a failed coup against the government of Turkish President Recep Tayyip Erdogan. In the wake of the coup, around 150,000 officials have been dismissed from their posts and more than 50,000 people have been jailed. Recent arrests have targeted police, military personnel, court officials, teachers, and journalists.
Friday's decree represents the latest purge of state institutions—an act Erdogan claims is necessary to control security threats and prevent another insurgence. Meanwhile, many members of the international community argue that the dismissals and arrests are a way for Erdogan to silence political dissidents. In total, 7,563 people were dismissed on Friday, including 2,303 police officers and 302 university academics. Another 342 retired army personnel were also stripped of their ranks, the state-owned Anadolu news agency reported. According to the decree, the employees either acted "against the security of the state" or were deemed "members of a terrorist organization."
Since 2016, numerous state employees, and even foreigners, have been accused of belonging to a terrorist group or plotting to kill President Erdogan. Earlier this month, eight human-rights activists and two foreign trainers were detained in Istanbul on suspicion of belonging to an "armed terrorist organization." A month earlier, the chairman of Amnesty International's Turkey branch, Taner Kilic, was arrested for his suspected ties to Fethullah Gulen, a Turkish preacher whom the government accuses of instigating the coup. The Turkish government has since branded Gulen's social and religious movement as a terrorist group, known as the Fethullah Gulen Terrorist Organization, or FETO. In April, The New York Times reported that Turkish authorities use several pieces of evidence to determine whether someone is a member of FETO, including employment at a Gulen-affiliated institution, sending children to a Gulen-affiliated school, subscribing to the Gulen newspaper, or owning Gulen's books.
A year after the violent coup, which killed more than 250 people, this climate of suspicion shows no sign of slowing down. On Friday, Erdogan announced his plans to extend the nation's state of emergency for another three months, citing "the current outlook" in Turkey as grounds for continued security. Under a state of emergency, the Turkish government can introduce executive orders without parliament's consent. While there are few limitations to the government's power during this time, extending the state of emergency does require parliamentary approval. With Erdogan's Justice and Development Party (AKP) maintaining a firm majority in parliament, however, the president's request is unlikely to be challenged.
In the past, Erdogan has said the state of emergency will not be lifted "until the situation reaches welfare and peace." In April, an opposition leader formerly charged with terrorist affiliations told GQ that "the protest movement is, if not dead, still licking its wounds," adding that "people have had enough of tear gas and police violence." But, on Sunday, hundreds of thousands of people gathered in Istanbul for the largest anti-government protest since 2013. At the same time, the government prepared to celebrate the anniversary of its victory over political dissidents with huge rallies and festivities. On Saturday, Erdogan is scheduled to take part in a march over the Bridge of the Martyrs, where bloody fighting took place last year. Later on, he will address parliament at the exact time it was bombed during the coup.