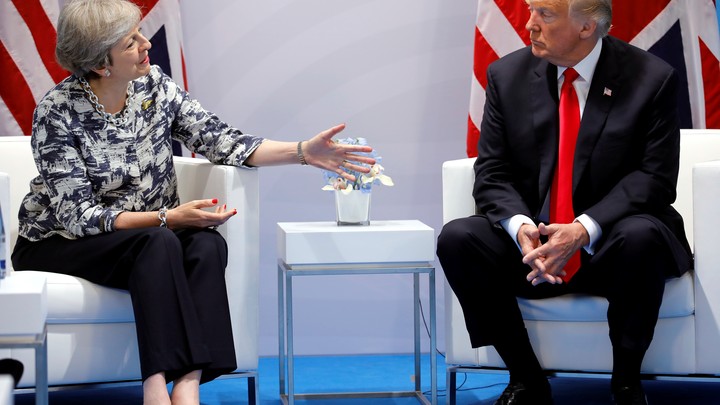 Donald Trump's visit to the U.K. has been postponed to next year, the BBC reports, citing growing opposition to Prime Minister Theresa May's invitation to the U.S. president to visit her country.
The BBC reported the U.K. and U.S. governments "are believed to be looking at options for the visit." May invited Trump to the U.K., on behalf of Queen Elizabeth II, when she became one of the first world leaders to visit Washington, D.C., in January following Trump's election.  
At the time, May was viewed in the U.K. as a steadying hand in a country still coming to terms with Brexit and what its future relationship with the European Union would look like. May was seen as best positioned to navigate the difficult negotiations with the bloc's remaining members while crafting free-trade deals with countries such as the United States. Although President Obama had famously warned that the U.K. would go to the "back of the queue" if it voted for Brexit—a statement he was pilloried for even by his supporters—Trump, who is skeptical of the EU, has said a free-trade deal with the U.K. remains a priority; he repeated the remarks last week in Hamburg, Germany, where he met with May on the sidelines of the G20 summit.
But in the time since May first invited Trump to visit, the U.K. prime minister has seen an adverse change in her political fortunes: Her popularity has fallen and her call for early elections backfired spectacularly when her Conservatives emerged the single-biggest party, but with no parliamentary majority. (They are governing in an alliance with the Democratic Unionist Party.) Add to this Trump's comments after the recent London attacks; his renewed feud with Sadiq Khan, the popular London mayor; and his massive unpopularity in the U.K. More than half of Britons polled in a recent survey said he was a threat to global security, and more than 2 million signed a petition that said he should not be invited to the country.  
Trump is reported to have considered visiting the U.K. during last week's trip to Europe. It was also reported that he might visit in the fall. But the president reportedly was concerned about protests over his visit, though, as The New York Times reported last month:
[H]e has told his staff that he wants to avoid a marathon overseas trip like his nine-day trek to the Middle East and Europe, which he found exhausting and overly long.

One other factor leading to his reluctance, said one of the officials, is his preference for having foreign leaders visit him—not the other way around.
The U.S. president is scheduled to visit Paris this weekend for the annual Bastille Day celebration.
We want to hear what you think about this article. Submit a letter to the editor or write to letters@theatlantic.com.