Trump Threatens Venezuela With Sanctions
In a Monday night statement, the president called Maduro a "bad leader" while praising Venezuela's symbolic referendum vote.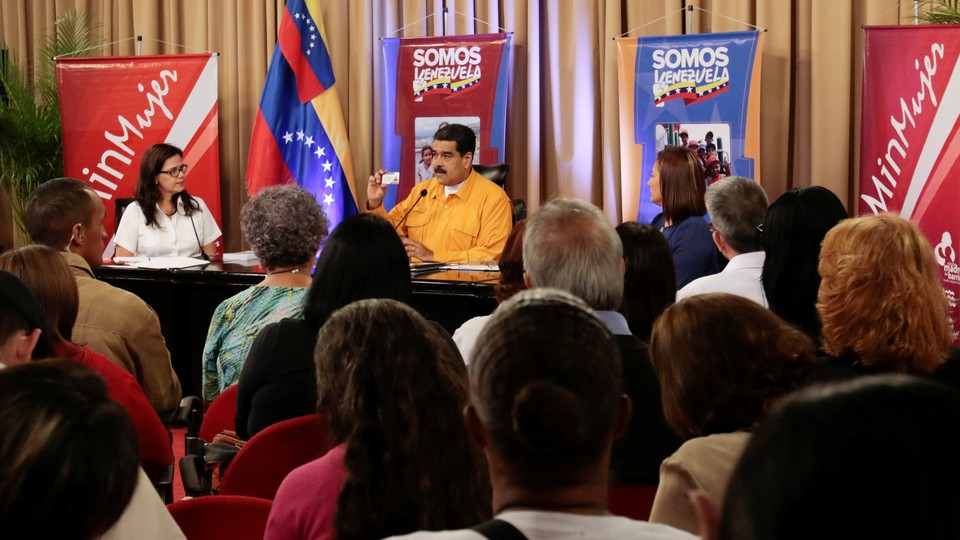 In a statement released Monday night, President Trump threatened to impose economic sanctions on Venezuela should the nation's president, Nicolas Maduro, follow through on his pledge to create a "constituent assembly" capable of rewriting Venezuela's constitution. The warning comes a day after more than 7 million Venezuelans participated in a symbolic referendum vote to reject Maduro's plan, which many see as a ploy for the president to retain control of Venezuela following the end of his term in 2019. On Sunday, an estimated 98 percent of the nation's opposition supporters voted against the proposed assembly.
"Yesterday, the Venezuelan people again made clear that they stand for democracy, freedom, and rule of law," President Trump said on Monday. "Yet their strong and courageous actions continue to be ignored by a bad leader who dreams of becoming a dictator." Trump's statement echoes the sentiment of Venezuelan opposition leaders, who branded Maduro a dictator back in March when Venezuela's Supreme Court, which remains loyal to Maduro, annulled the nation's democratically elected congress. The decision—widely seen as an attempt to authorize Maduro's oil joint ventures—prompted opposition protesters to storm the streets of Venezuela, waving signs that read "No to Dictatorship."
Despite being democratically elected in 2013, Maduro has been accused of carrying out an authoritarian regime by jailing opposition leaders, censoring news outlets, postponing the nation's free elections, and ruling by decree since the opposition took control of congress in 2015. Many also blame Maduro for doing little to curb Venezuela's failing economy and humanitarian crisis, which has resulted in severe shortages of food and medicine. On Monday, opposition leaders called for a 24-hour nationwide strike on July 20, which could bring the nation's economy to a temporary halt.
In his latest statement, Trump warned that "the United States will not stand by as Venezuela crumbles," adding that "if the Maduro regime imposes its Constituent Assembly on July 30, the United States will take strong and swift economic actions." That same evening, Maduro said he "won't be intimidated" by international pressure, and plans to move forward with the election in late July. In addition to having the authority to rewrite Venezuela's constitution, Maduro's assembly would be able to dissolve public powers and convene general elections. Maduro has also been accused of "stacking the deck" with loyal voters to ensure his government receives majority representation.
Should the U.S. decide to impose a new round of sanctions on Venezuela, it's possible that Trump might target the nation's energy sector, including its state oil company, PDVSA. Last month, senior White House officials told Reuters that the Trump administration was considering a "sectoral" sanctions package, but feared that a severe hit to Venezuela's oil industry could exacerbate the nation's economic and humanitarian crises. Sanctioning the nation's energy sector could also have economic repercussions for the U.S., which relies on Venezuela for a significant share of its oil supply. In the past, the U.S. has instead chosen to sanction individual politicians—including Venezuela's vice president, Tareck El Aissami, and eight members of its Supreme Court.