Trump, in Warsaw Speech, Criticizes Russia's 'Destabilizing' Role in Ukraine, Syria
The president also reaffirmed his commitment to NATO's mutual-defense pact.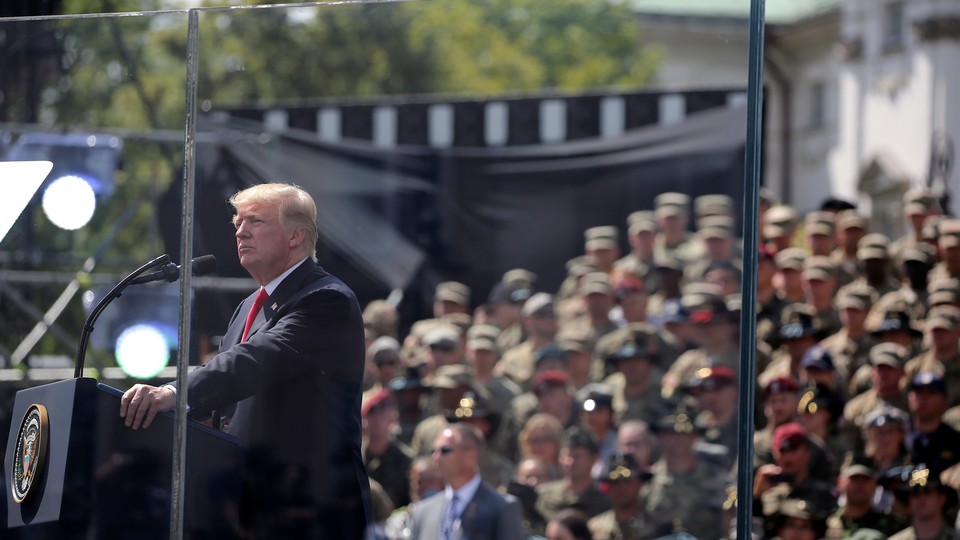 President Trump called Russia a "destabilizing" influence in Europe and the Middle East, and urged it to "join the community of responsible nations," in his strongest remarks yet against the regime of Vladimir Putin, whom he is scheduled to meet Friday in Hamburg for the first time.
His remarks in Warsaw's Krasinski Square, which marks the 1944 Warsaw uprising against the Nazis, came after the U.S. agreed to sell Patriot missiles to Poland. The president also used the opportunity to reiterate the NATO commitment to mutual defense, a declaration he did not make during the NATO summit in May, prompting consternation among U.S. allies wary of Russia's ambitions.
"To those who would criticize our tough stance, I would point out that the United States has demonstrated—not merely with its words but with its actions—that we stand firmly behind Article 5, the mutual-defense commitment," Trump said Thursday. "Words are easy, but actions are what matters. And for its own protection, Europe, and you know this, everybody knows this, everybody has to know this, Europe must do more."
Trump has repeatedly said NATO members must spend more on defense—a position in line with past U.S. administrations. But he has been criticized because he appeared to suggest U.S. commitment to mutual defense was predicated on its allies' defense spending.
Although Trump chided Russia for its role in Ukraine and Syria, he was more circumspect about the role Moscow played in interfering in the U.S. election.
"I think it was Russia, and it could have been other people in other countries," he said at a news conference with Andrzej Duda, the Polish president, earlier Thursday. "Nobody really knows for sure."
In fact, U.S. intelligence agencies say Russia almost certainly interfered in the 2016 election with a view to favor Trump, though they also say there's no evidence Moscow's efforts succeeded.
Trump, in his remarks in Krasinski Square, laid out his vision of the threats faced by the West, and cited Poland's historic experience, where for centuries it was alternately invaded by Russia and Germany, as a reminder that "the defense of the West ultimately rests not only on means but also on the will of its people to prevail."
"The fundamental question of our time is whether the West has the will to survive," Trump said. "Do we have the confidence in our values to defend them at any cost? Do we have enough respect for our citizens to protect our borders? Do we have the desire and the courage to preserve our civilization in the face of those who would subvert and destroy it?"
Trump has long viewed terrorism as the main threat facing the West and the Western way of life, and has wanted a coalition among like-minded nations to fight it. In this call, he has also criticized Europe's open-borders policy on Syrian refugees and criticized the EU, in general, and Germany, in particular, on everything from trade to regulation. But in Thursday's remarks, Trump reserved his most pointed criticism for Russia: He condemned its actions in Ukraine, which is a major concern for Poland and other Eastern and Central European nations that are wary of Moscow's attempt to reassert its dominance in its historic sphere of influence, as well its support of Syrian President Bashar al-Assad in that country's civil war, and he urged Russia to "join the community of responsible nations in our fight against common enemies and in defense of civilization itself."
In Moscow, Dmitry Peskov, the Kremlin spokesman rejected the idea Russia was destabilizing the region. He added that Russia was keenly awaiting Trump's first meeting with Putin on Friday on the sidelines of the Group of 20 meeting in Hamburg.
Trump's visit to Europe is being closely watched and provides the president an opportunity for a reset in relations with America's closest allies, which have been labeled as tense since he attended the G7 meeting in Italy in May over, in part, his comments about NATO and climate change.