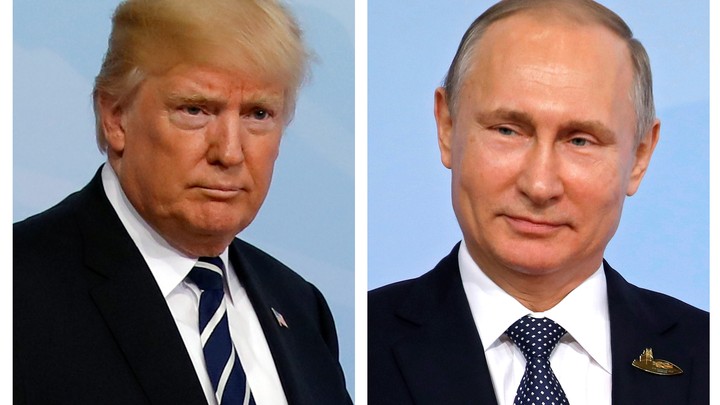 Updated at 2:40 p.m. ET
Donald Trump and Vladimir Putin met Friday for the first time in the U.S. leader's young presidency, an encounter that was marked by differing accounts of the issues discussed, some common ground, and areas of disagreement.
The meeting, which was held in Hamburg, Germany, on the sidelines of the G20 summit, was scheduled to last 35 minutes, but went on for more than two hours. Rex Tillerson, the U.S. secretary of state who attended the meeting along with his Russian counterpart, Sergey Lavrov, said Melania Trump, the first lady, entered the room after an hour to try break the meeting up, but the conversation continues. It's what was discussed, however, that remains an open question. Only four men—Trump, Tillerson, Putin, and Lavrov—and their translators were in the room, and the accounts after the meeting on the nature of the most contentious issue between the two nations at the moment—Russian interference in the 2016 election—were divergent.
Tillerson said the two leaders had a "very robust and lengthy exchange" on cyber threats and election interference, with Trump pressing Putin "more than once" on its interference in 2016 election. Russia has repeatedly denied any such action. Tillerson said the U.S. and Russia held "intractable disagreements" on the Russian involvement, and were now focused on moving forward. "The relationship is too important not to move forward," he said.
State-run Russian media reported that Trump told Putin the issue was being exaggerated in the U.S. Lavrov said Trump accepted Putin's assurances that Moscow didn't meddle. Lavrov also said the two countries agreed to set up a joint working group on cybersecurity.
The two leaders agreed to set up a cease-fire in southern Syrian that starts Sunday. Tillerson said it was the "first indication of the U.S. and Russia being able to work together in Syria." Lavrov said Russian military police, working with the U.S. and Jordan, will provide security around de-escalation zones.
Tillerson said there "was a very clear positive chemistry between the two" men, adding there "was not a lot of re-litigating things from the past."
Putin, speaking before his meeting with Japanese Prime Minister Shinzo Abe, said they discussed "terrorism and cybersecurity," among other issues.
"I had a very lengthy conversation with the President of the United States, there were a lot of issues such as Ukraine, Syria, other problems, some bilateral issues," Putin said.
G20 leaders are gathered in Hamburg, Germany, city to hash out differences and commonalities over trade and other issues. Their presence was met with sometimes-violent protests by far-left groups, but it was Trump's meeting with Putin that gathered most of the headlines. They shook hands earlier Friday when the G20 leaders met, smiled, and exchanged what Dmitry Peskov, the Kremlin spokesman, described as pleasantries. Trump tweeted:
I look forward to all meetings today with world leaders, including my meeting with Vladimir Putin. Much to discuss.#G20Summit #USA🇺🇸

— Donald J. Trump (@realDonaldTrump) July 7, 2017
In a photo-op before their meeting, Trump said it was his "honor" to meet with Putin. The Russian leader, speaking through a translator, said: "I am delighted to be able to meet you personally." The two men have previously spoken by phone.
In their meeting, the two men discussed forging a common path in Syria, where Putin supports President Bashar al-Assad and the U.S. backs several rebel groups opposed to Assad' rule. Trump has said he wants to make eliminating ISIS the centerpiece of the U.S. strategy in Syria and the surrounding region—a task Putin is likely to be amenable to. Their agreement on the de-escalation zones is a reflection of their common approach. Lavrov said the two sided also found common ground on Ukraine, which Moscow regards as part of its sphere of influence and where Russia-backed rebels are waging an insurgent campaign in the country's east against the pro-Western government. Lavrov said the two leaders would establish a communication channel to resolve the crisis.
Where they could not find common ground was on the issue of two Russian compounds in the U.S. seized by the Obama administration that Putin wants returned; as well as on North Korea, which this week tested a long-range missile. Russia and China want the U.S. and South Korea to take steps in parallel with North Korea to defuse the tensions on the Korean Peninsula.   
Trump's relationship with Putin has been the subject of much speculation since the mogul mounted an ultimately successful insurgent campaign for the presidency. As far back as 2007, Trump said the Russian leader is "doing a great job in rebuilding the image of Russia and also rebuilding Russia period." Soon after he announced his presidential run, Trump said he believed he'd "get along very well with" Putin. Trump has even defended Russia's crackdown on journalists, saying: "I think our country does plenty of killing also."
The Russian leader, who never hid his disdain for the Obama administration, had previously called Trump "a very talented person." But Trump's call for Russia to hack his Democratic rival Hillary Clinton's email during the 2016 presidential election, combined with the fact it was, in fact, hacked, as well as the U.S. intelligence estimation that Russia successfully interfered with the 2016 election, and the links various Trump's campaign aides are known to have had with Russian officials and businesses, have become a distraction for Trump's young administration to the point of apparent paralysis. (Putin has denied any Russian election interference, pointing instead to historic U.S. election interference around the world.)
Lately, Trump has been more circumspect about his praise for Putin and Russia.  In a speech Thursday in Warsaw, he went as far as to call it a "destabilizing force" in Ukraine and Syria, and urged it to join like-minded nations to fight terrorism. But during a news conference earlier in the day, Trump was asked if he thought Russia interfered with the election. He replied: "I think it was Russia, and it could have been other people in other countries. Nobody really knows for sure."
We want to hear what you think about this article. Submit a letter to the editor or write to letters@theatlantic.com.