Trump Discusses the North Korea 'Menace' With China's President
On the last day of the G20 summit, the U.S. President sat down with Xi Jinping talk about ending Pyongyang's missile program.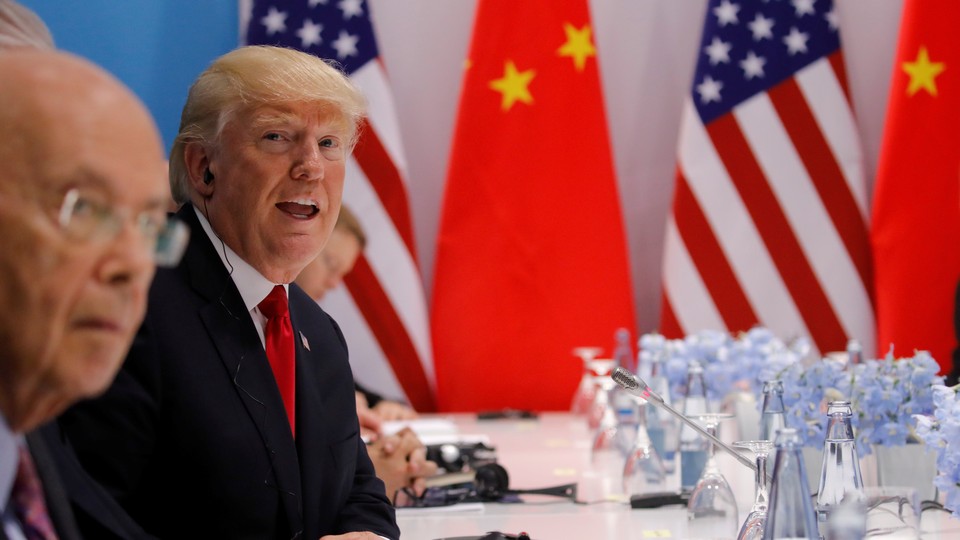 As the Group of 20 summit in Hamburg, Germany, wrapped up, Trump met with Chinese President Xi Jinping to talk trade and about North Korea. It was the second time the two leaders have met in person, the first being the "citrus summit" earlier this year at Trump's Mar-a-Lago resort in Florida. "Something has to be done about it," Trump said Saturday, also referring to Pyongyang as "the problem and menace."
Trump has become increasingly frustrated with China's role in negotiating an end to North Korea's missile and nuclear programs. Despite international sanctions placed on Pyongyang, China still trades heavily with North Korea. It was a main issue at the Florida meeting in April, in which Trump called Xi a "good man" and the two appeared to hit it off. After that meeting Trump's rhetoric toward China calmed, but as North Korea has fired more missiles, most recently an intercontinental ballistic missile that some experts say could reach Alaska and parts of the U.S. West Coast, Trump's angry tone has returned.
Late last month, Trump said efforts to get China to negotiate with North Korea had "not worked out" and that trade between the Pyongyang and Beijing had increased. "So much for China working with us, " the President tweeted. He has also alluded to possible military action.
While I greatly appreciate the efforts of President Xi & China to help with North Korea, it has not worked out. At least I know China tried!

— Donald J. Trump (@realDonaldTrump) June 20, 2017
Trade between China and North Korea grew almost 40% in the first quarter. So much for China working with us - but we had to give it a try!

— Donald J. Trump (@realDonaldTrump) July 5, 2017
Indeed, Trump's tone and actions toward China have vacillated wildly. His administration has made arms deals with Taiwan, put China on a global human trafficking list, and accused a Chinese bank of laundering money for Pyongyang. Prior to winning the election, Trump harangued China as a currency manipulator, a remark he later retracted. Except, shortly after he met with Xi in Florida, Trump tweeted a message insinuating he might hold the label of currency manipulator over China's head if it didn't do more to intervene with North Korea.
At the meeting with Xi Saturday, the last day of the G20 summit, Trump was cordial and friendly. "It's an honor to have you as a friend," Trump told Xi. It was not clear if the meeting had brought any change in policy toward North Korea, or if any breakthroughs with China had been reached.  Japan and South Korea are pushing for a new United Nations Security Council resolution against Pyongyang with additional sanctions meant to starve the country of funds. But bringing China on board is key to this plan. Xi on Saturday said the U.S. and China had made "new progress" in some areas of their relationship, and that he'd built a "close contact" in Trump. Xi also said China's navy would join next year in the U.S.-led Pacific Rim military exercises.
After the meeting, Trump also appeared much more optimistic about China's help, saying, "As far as North Korea is concerned, we will have, eventually, success. It may take longer than I'd like. It may take longer than you'd like. But there will be success in the end one way or the other."