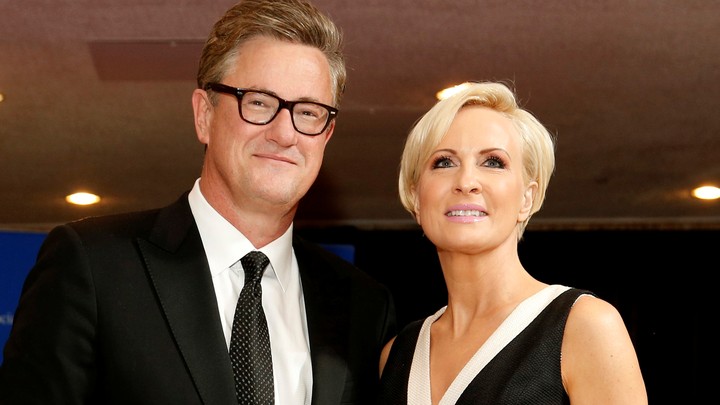 Updated on July 1 at 6:20 p.m. ET
President Trump again attacked MSNBC hosts Mika Brzezinski and Joe Scarborough on Saturday morning, dragging out a feud that has been criticized by both Republicans and Democrats. The President is spending the Fourth of July weekend at his golf club in Bedminister, New Jersey, and he began a series of tweets by congratulating Canada on its 150th birthday. But he quickly returned to his familiar hobby of trashing the media.
Crazy Joe Scarborough and dumb as a rock Mika are not bad people, but their low rated show is dominated by their NBC bosses. Too bad!

— Donald J. Trump (@realDonaldTrump) July 1, 2017
Trump's tiff with the two hosts, who have often been critical of him on their show, Morning Joe, started earlier this week when the President tweeted several crude comments. He called Brzezinski "low IQ Crazy Mika" and said she'd been "bleeding badly from a face-lift" at a meeting in Mar-a-Lago, the President's Florida resort. Both hosts have denied the meeting ever took place.
Trump's comments about Brzezinski appearance were condemned by political leaders on boths sides, and the White House brushed the comments off. Spokeswoman Sarah Huckabee Sanders told reporters that Americans "knew what they were getting."
After the President's tweets, the two hosts wrote an op-ed published in The Washington Post Friday that accused Trump of pressuring them into apologizing to him in exchange for axing a negative story set to run in the National Enquirer tabloid. The Enquirer is controlled by Trump's good friend and supporter David Pecker, and the story was about Brzezinski and Scarborough's then-secret relationship. The two have since announced they are engaged to be married, and in their column they accused Trump of blackmail. They said Enquirer reporters had called and harassed their families, and that top White House staffers demanded they apologize for critical coverage of Trump. On Friday, New York magazine's Gabriel Sherman cited three anonymous sources saying Jared Kushner, husband to Trump's daughter Ivanka and a senior adviser, told Scarborough this spring that he would need to personally apologize to Trump.
"The Donald Trump we knew before the campaign was a flawed character but one who still seemed capable of keeping his worst instincts in check," the two hosts wrote in their op-ed.
In his other tweets Saturday morning, Trump declared victory over CNN, which had accepted the resignation of three journalists involved in a story that accused a Trump associate of meeting with the head of a Russian investment fund. CNN later retracted the story, saying it did  not meet the network's editorial standards. Trump tweeted: "I am extremely pleased to see that @CNN has finally been exposed as #FakeNews and garbage journalism. It's about time!"
Trump also criticized NBC and Comcast over a letting Greta Van Sustern, a former Fox News host who joined MSNBC just six months ago. "Word is," he tweeted, "that Greta van Susteren was let go by her out of control bosses … ."
Later Saturday evening, Trump continued with his attack on the media, saying:
....the 2016 election with interviews, speeches and social media. I had to beat #FakeNews, and did. We will continue to WIN!

— Donald J. Trump (@realDonaldTrump) July 1, 2017
I am thinking about changing the name #FakeNews CNN to #FraudNewsCNN!

— Donald J. Trump (@realDonaldTrump) July 1, 2017
We want to hear what you think about this article. Submit a letter to the editor or write to letters@theatlantic.com.