Trump Awards Medal of Honor to Army Medic
71-year-old James McCloughan is the award's first recipient under the Trump administration.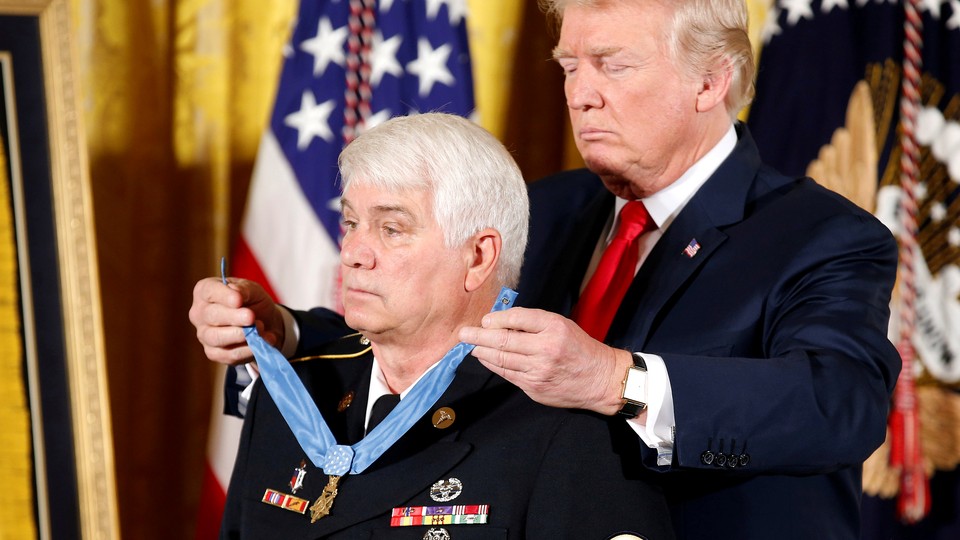 President Trump awarded his first Medal of Honor on Monday to 71-year-old James McCloughan, a former army medic who served during the Vietnam War. At a Monday ceremony at the White House, McCloughan accepted the military's highest honor for his "conspicuous gallantry and intrepidity" during a bloody, 48-hour battle in 1969. He joins a group of more than 3,500 U.S. service members who have received the award since its inception in 1861.
As a 23-year-old private first class combat medic in the U.S. Army, McCloughan fought in the Battle for Nui Yon Hill, where he willingly entered the "kill zone" to rescue ten wounded men—a few of whom were present at Monday's ceremony. Although he suffered from his own serious injuries after being hit with shrapnel from a grenade, McCloughan is credited with risking his life on nine separate occasions to pull the men to safety. A White House statement adds that McCloughan refused evacuation and medical attention in order to stay with his unit, quoting him as saying: "I would have rather died on the battlefield than know that men died because they did not have a medic."
Following the war, McCloughan returned home to South Haven, Michigan, where he taught psychology, sociology, and geography at a local high school, in addition to coaching football, wrestling, and baseball. Over the course of his coaching career, McCloughan was inducted into the Michigan High School Coaches Association Hall of Fame and the Olivet College Athletic Hall of Fame. He is now retired after serving nearly 40 years as an educator.
"To many people in this room, [McCloughan] has always been their friend 'Jim,'" Trump said at Monday's ceremony. "To others, he's been 'Coach.' To those who bravely served with him in Vietnam, he's still called their 'Doc.' …  But today, [to] 320 million grateful American hearts, Private McCloughan carries one immortal title—and that title is 'hero.'" Trump added that McCloughan represents "America's unbreakable spirit" in the face of "tyranny, fascism, communism, and every threat to our freedom."
Shortly after the Battle for Nui Yon Hill, McCloughan was considered for the second highest military award, the Distinguished Service Cross, but ultimately received a lower honor—the Bronze Star with a special distinction for valor—in 1970. Later that year, his ranking was upgraded to Specialist Second Class. It was not until 2016 that former Secretary of Defense Ash Carter recommended McCloughan for the Medal of Honor, despite an existing rule, which stated that Medal of Honor candidates must have committed their acts of valor within five years of receiving the award. That same year, former President Obama signed a defense bill waiving the requirement, allowing McCloughan to be eligible nearly five decades after his service.
While the award's verification was delayed for several months due to the presidential transition, McCloughan received the call on May 25 that Trump had authorized the medal. Calling the ceremony a "humbling" experience, McCloughan also expressed his sympathy for those families who had lost a loved one in Vietnam. "This medal is about love—a love so deep in the soul of 89 men who fought the Battle for Nui Yon Hill that it is impossible to measure," he told reporters, adding: "I shall do my best to represent those men as the caretaker of this symbol of courage and action beyond the call of duty."