The Murder of Miosotis Familia
An NYPD officer was shot and killed as she sat in a truck early Wednesday morning, in what officials called an "unprovoked" attack.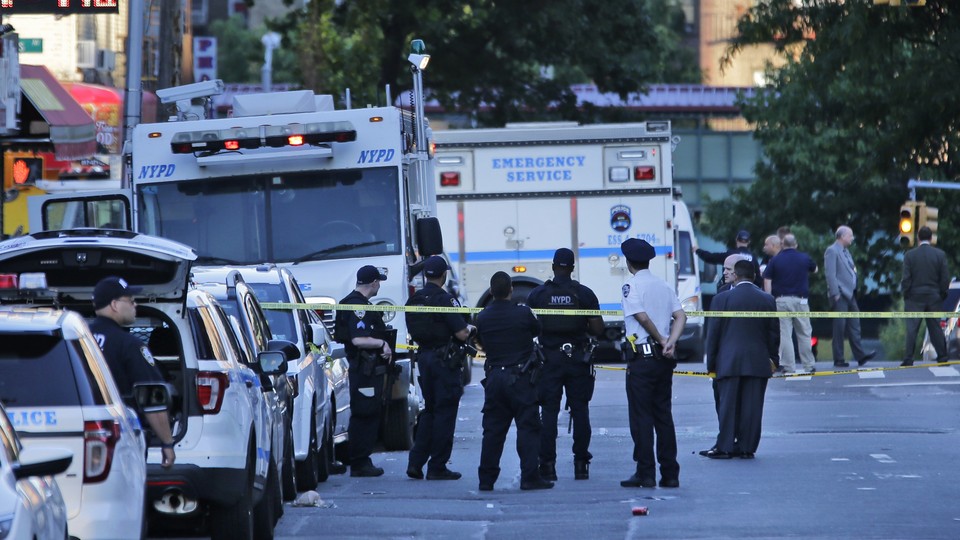 Miosotis Familia, a 48-year-old New York Police Department officer, was shot and killed Wednesday morning by a man who had expressed anger at police in the past.
Authorities called the shooting in the Bronx, in which Familia was killed while sitting in a police truck, an "unprovoked" attack. The alleged shooter, Alexander Bonds, was shot and killed by other officers near the scene. Bonds, a former convict, posted a video on Facebook last year in which he didn't quite threaten violence against police, but said he wouldn't shrink away from confrontations.
"I'm not hesitating. It ain't happening. I wasn't a bitch in jail and I'm not going to be a bitch in these streets," Bonds said in the video, which The New York Times reported. The paper said police had reviewed the video.
In any case, authorities say Familia seems to have had no interaction with Bonds when he walked up to the vehicle she was in and fired one shot through the passenger-side window with a revolver shortly after midnight. Familia was taken to a hospital, where she died.
Colleagues, politicians, and friends mourned Familia, a mother of three, including a 20-year-old and twin 12-year-olds. A trained nurse, she spent 12 years as an NYPD officer after previously working for the Red Cross.
"Oh my God," a neighbor told the Daily News. "How horrendous. I'm shocked out of my mind. I just spoke with her three days ago—our life, our kids, whatever."
In December 2014, in the heat of a national debate over relations between police and citizens, particularly citizens of color, two NYPD officers, Rafael Ramos and Wenjian, were shot and killed in their car in Brooklyn by an assailant, Ismaaiyl Abdullah Brinsley, who then killed himself. That incident set off a sniping match between Mayor Bill de Blasio and police unions, who charged that the mayor had "blood on [his] hands" for having criticized police violence.
De Blasio paid tribute to Familia in a news conference Wednesday morning. "She was on duty, serving this city, protecting people, doing what she believed in and doing the job she loved," he said. "And after this shocking and sudden attack, her fellow officers came to her aid immediately."
Familia is the 24th officer to be fatally shot in the line of duty this year, according to National Law Enforcement Officers Memorial Fund, which tracks such deaths. That's slightly up from this time in 2016, when 22 officers had been shot and killed. As activists and politicians call for reforms to reduce police violence, some critics (including former FBI Director James Comey) have argued that the police-reform movement encourages crime and endangers officers. Overall, however, the last few years have seen a general decrease in the number of officers to die on the job. While no federal statistics exist for the number of people fatally shot by police, an ongoing Washington Post investigation found that officers shot 492 people in the first six months of 2017, almost exactly the same as the number for the first six months of 2016.