The 'Horrific' Human-Smuggling Tragedy in Texas
The driver of the tractor trailer could face the death penalty.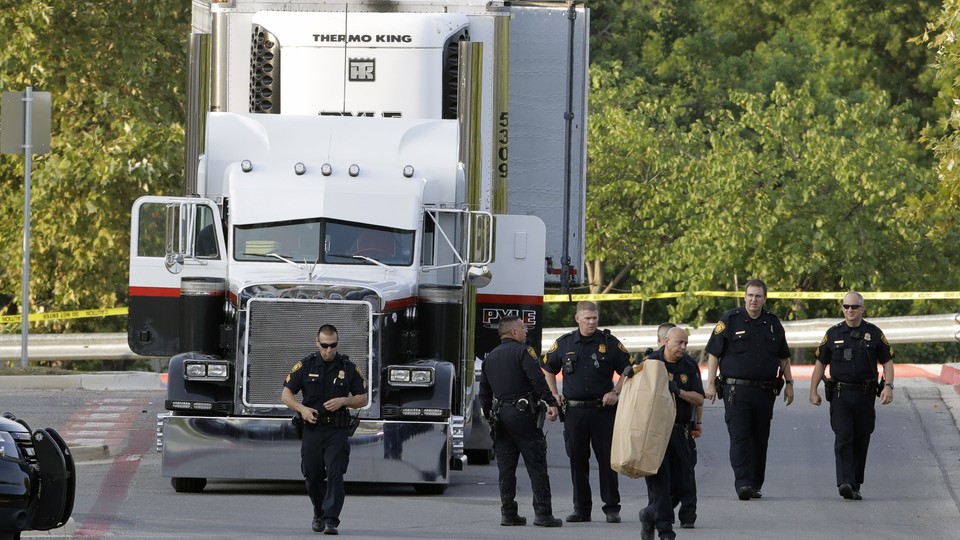 A 10th migrant has died after being smuggled over the weekend to San Antonio inside a tractor-trailer truck with no air conditioning as temperatures touched the 100s. On Monday, the truck's driver appeared in federal court and was reportedly told he faced the death penalty.
James M. Bradley Jr., the driver, faced federal charges of illegally transporting immigrants for financial gain, resulting in death. He waived his right to remain silent, according to The New York Times, and told investigators he was unaware the truck was full of people. He said he was only delivering it to a new owner, and that when he stopped in a Walmart parking lot in San Antonio, he "heard banging and shaking in the trailer." Thirty-eight people were found inside the vehicle. Bradley also acknowledged he knew the air-conditioning unit in the trailer didn't work.
This incident is the worst of its kind in the U.S. since 2003. San Antonio Police Chief William McManus called it "horrific." Texas Governor Greg Abbott called it a "heartbreaking tragedy." Many of those inside the vehicle are still in the hospital, recovering from severe heat stroke.
Police responded to a call from a Walmart worker at about 12:30 a.m. Sunday. The employee had been checking the parking lot and was asked for water by a migrant who'd somehow escaped the trailer. When police arrived, they found dozens of migrants in the back, eight of them already dead. It's not known how long the migrants were trapped inside, but video surveillance showed several vehicles pull up and unload groups of migrants during the night.
San Antonio Fire Chief Charles Hood said many of the migrants were "hot to the touch." Their heart rates were above 130 beats per minute and an emergency responder said most suffered from heat exhaustion. At extreme temperatures like this, vital organs in the body begin to shut down. The brain swells, and Hood said it's likely many of the migrants will suffer irreversible brain damage. Authorities have not released the identities of the victims, or their countries of origin. Immigration and Customs Enforcement, which is leading the investigation, said most of the migrants were in their 20s and 30s; four were teenagers. Authorities said that as many as 100 migrants could have been squeezed into the trailer at one point.
San Antonio is about 150 miles from the U.S.-Mexico border and is a frequent stopover for smugglers. Migrants typically cross the border on foot in small groups and are then taken by smugglers to stash houses. From here they're sometimes loaded into large tractor-trailers to avoid immigration checkpoints as they travel north. Then, in places like San Antonio, they're divided into smaller units depending on what part of the country they're headed for.
The worst mass migrant deaths in recent history occurred about 100 miles away. In 2003 a dairy-truck driver carried a group of migrants to Houston, but forgot to turn on the truck's air-conditioning unit; temperatures inside reached 173 degrees. Nineteen migrants died of dehydration and suffocation. That driver, Tyrone M. Williams, was sentenced to 34 years in prison. Another 13 people in the smuggling ring were also indicted.
Although deaths from smuggling have long been a concern, what has changed recently is the number of deaths and where they occur. As migration along the southern border has fluctuated depending on factors such as the U.S. economy and enforcement, the average number of deaths has risen. In the Arizona desert, stronger enforcement has pushed migrant smugglers to increasingly more dangerous routes, leading to a spike in deaths per 10,000 apprehensions in the state's busiest immigration corridor. That pattern has kept even though the majority of migration has shifted from Arizona to Texas, which last year accounted for two-thirds of the 322 migrant deaths along the border.
In the past, these types of deaths opened conversations about how to both enforce the border and protect migrant safety, but that may not occur in the present political environment. Immigration skeptics blamed weak enforcement and sanctuary cities for drawing migrants to the U.S. Immigrant-rights advocates, meanwhile, blamed increased enforcement for making smuggling routes more dangerous.
Melissa I.M. Torres, the director of the Human Trafficking Research Portfolio at the University of Texas at Austin, told me there aren't easy ways to prevent this type of incident from happening again. "We can't just say this is what happens and they know the risk they were taking," Torres said. "They might have the risks, it doesn't mean they deserve what happened to them."
It's not clear what will happen with the migrants in the hospital. Some have been claimed by Mexico, and some by Guatemala. Investigators are working to find their families, and it's not clear if they'll be deported or allowed to remain in the U.S. while federal agents investigate.