Taliban Car Bombing Kills 26 in Pakistan
The explosion occurred just hours after a similar attack from the Afghan Taliban, which killed at least 29 people.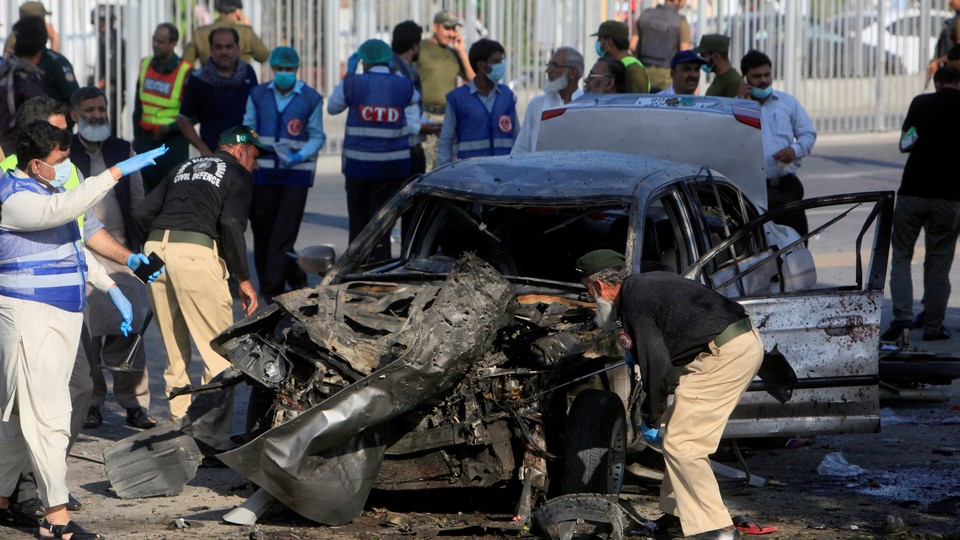 At least 26 people were killed and more than 50 others wounded in a Monday car bombing in Pakistan's eastern city of Lahore. The Pakistani Taliban has since claimed responsibility for the attack, confirming reports that the explosion was caused by a suicide bomber on a motorcycle. Local officials said the attack likely targeted the city's police, who were attempting to clear illegal street vendors from a crowded main road. On Monday, a senior police official said at least nine officers were among the dead.
While describing the incident, witnesses in the area reported hearing a "deafening" sound near a vegetable market and large office tower in southern Lahore. Footage from scene shows a smashed vehicle and windows blown out of nearby buildings. Police said that rescue workers have transported the wounded victims to a local hospital while investigation teams inspect the site.
In the wake of the attack, multiple Pakistani officials, including the nation's president and prime minister, have shared their condolences. "No words can express the grief which grips my heart right now. [The] blast destroyed many families, but terrorists can never destroy our resolve," said the chief minister of Pakistan's Punjab province, Shehbaz Sharif. The chairman of Pakistan's Tehreek-e-Insaf (PTI) political party also lamented "another cowardly, condemnable terrorist attack," and called on his party's members in Lahore to "suspend all political activities [and] focus on providing assistance/support."
On Monday evening, United Nations Secretary-General António Guterres expressed his condolences for the victims and support for Pakistan's efforts "to fight terrorism and violent extremism with full respect for international human rights norms and obligations." In February, Pakistan rolled out a nationwide counter-terrorism operation entitled "Radd-ul-Fasaad," or "elimination of discord," which aims to coordinate local law enforcement and military action. The operation launched just days after a suicide attack on a Sufi shrine in Pakistan's Sindh province killed around 90 people.
Despite Pakistan's efforts to reign in terrorist groups, the city of Lahore continues to suffer from a spate of violent activity. In February, around a dozen people were killed at a protest rally in Lahore after a member of the Taliban detonated a suicide bomb. Less than two months later, six people were killed in a Taliban-enforced suicide attack that targeted census workers in Lahore. The city also witnessed one of the deadliest attacks in Pakistan's history when an explosion at a public park in 2016 killed more than 70 people, many of whom were children.
In addition to the Pakistani Taliban, the loosely-affiliated Afghan Taliban continues to ramp up its attacks in neighboring Afghanistan, where civilian deaths have reached a record high. According to the UN, the Taliban contributed to 43 percent of this year's civilian casualties caused by anti-government forces in Afghanistan. On Monday morning, the group set off a car bomb in Kabul, killing at least 29 people and wounding at least 40 others. While the explosion was said to target Afghan intelligence staff, the nation's Interior Ministry spokesman said all of the victims were civilians.