Syrian Fighters Breach a Historic Wall in Raqqa
U.S.-backed forces blew two holes in the Rafiqah Wall, which ISIS used as a defensive position.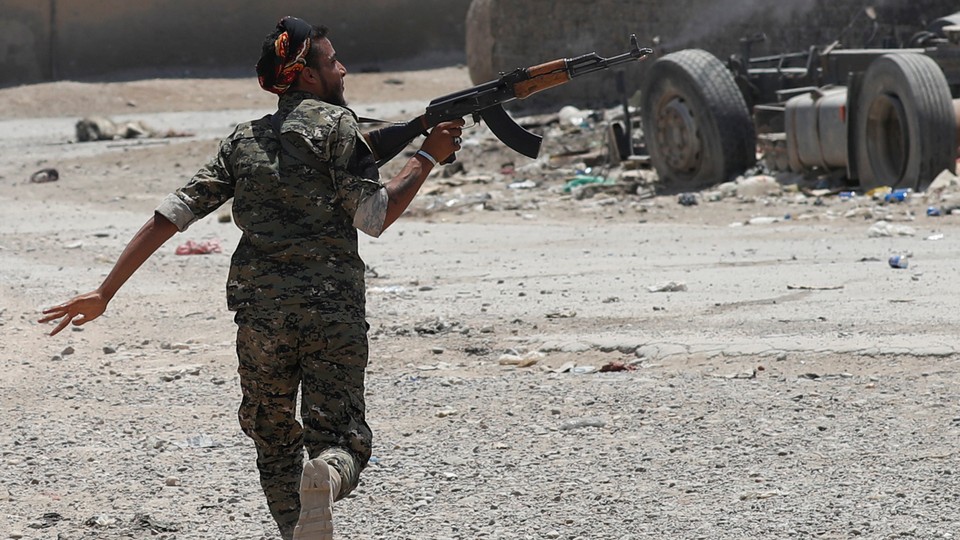 U.S.-backed Syrian Democratic Forces (SDF) blasted two openings in a historic 7th century wall in Raqqa on Tuesday as they advanced on ISIS fighters. The U.S. military said ISIS had used the Rafiqah Wall as a defensive position, and that the group had placed mines and improvised explosives in the existing openings of the wall, which serves as a portal to Raqqa's Old City. The breach was called the most important advance in the battle against the terrorist group so far.
SDF forces, made up mostly of Kurdish fighters, launched their assault on Raqqa last month when they surrounded the countryside. After they fought through and secured the outside villages, on Sunday they crossed the Euphrates River and entered the southern edge of the city, which lies about 65 miles south of the Turkish border. Raqqa, ISIS's de-facto capital, was once home base to several ISIS leaders, and it is one of the terrorist group's last remaining strongholds. ISIS's hold on Mosul, in northern Iraq, has almost slipped. The loss of Raqqa would be devastating.
The Rafiqah Wall was built in the 7th century partly as a garrison to house the army of al-Mansur, the second Abbasid caliph, who helped found Baghdad and turned the city into a capital of knowledge. The breach in the historic wall was called necessary to protect SDF fighters, the U.S. military said, because ISIS had placed snipers atop the wall and booby-trapped existing entrances with a new type of mine that uses motion sensors. Fighters targeted two openings, about 80 feet each, in the more than 1.5-mile long wall. The Associated Press reported that after the breach, fighters took two portions of the Old City, including the historic  Qasr al-Banat quarter.
Between 50,000 and 100,000 civilians still live in Raqqa, and U.N. officials said ISIS has attacked those who try to escape, or has used them as humans shields in the fighting.