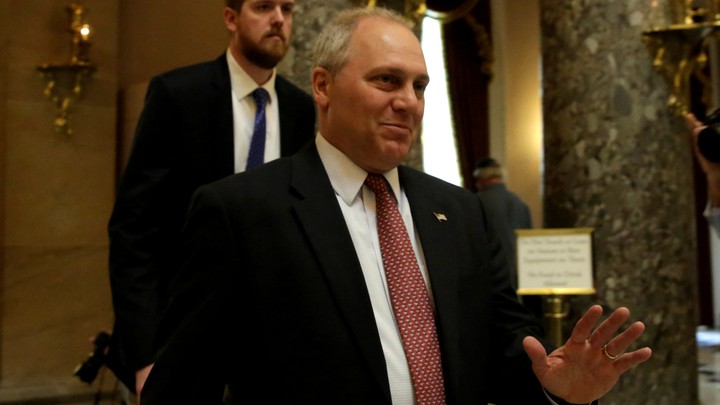 Six weeks after incurring a life-threatening gunshot wound at a congressional baseball practice in Alexandria, Virginia, House Majority Whip Steve Scalise has been discharged from the Washington, D.C. hospital where he received treatment. On Wednesday, MedStar Washington Hospital Center released a statement saying Scalise had made "excellent progress in his recovery" and would begin a period of "intensive" inpatient rehabilitation. "He is in good spirits and is looking forward to his return to work once he completes rehabilitation," the hospital said.
Scalise was originally admitted to the hospital on June 14 after sustaining a bullet wound to the hip, which caused severe bleeding and damage to his bones and internal organs. In the immediate aftermath of the shooting, he was said to be in critical condition before undergoing several surgeries that seemed to improve his health. While Scalise was transferred out of the ICU at the end of June, he was readmitted on July 5 because of an infection. After receiving two additional surgeries, he was discharged from the hospital on Tuesday.
On Wednesday, House Speaker Paul Ryan, along with other Republican and Democratic members of Congress, shared their delight at Scalise's recovery on Twitter:
Awesome news. Can't wait to have you back to work, @SteveScalise. https://t.co/arVbvNocNZ

— Paul Ryan (@SpeakerRyan) July 26, 2017
Happy to hear my friend @SteveScalise was released from the hospital today. I wish him a speedy recovery. #GeauxSteve

— Rep. Gene Green (@RepGeneGreen) July 26, 2017
Although the shooter, 66-year-old James Hodgkinson, fired more than 60 shots at GOP legislators, staffers, and police, Scalise was the only congressman to be shot and one of four people wounded in the incident. The three remaining gunshot victims—a Capitol Police officer, legislative aide, and Tyson Foods lobbyist—sustained less severe injuries. After a ten-minute shootout with police forces, Hodgkinson was pronounced dead at a local hospital. An FBI investigation later revealed that he carried a list of several Republican representatives in his pocket at the time of the incident. Among those named were Arizona Representative Trent Franks, Alabama Representative Mo Brooks, and South Carolina Representative Jeff Duncan.
Following the shooting, Duncan told reporters that Hodgkinson had asked him whether the Republican or Democratic team was practicing on the field. "I responded that it was the Republican team … and he proceeded to shoot Republicans," Duncan said. Based on the shooter's public records and social media activity, he has been identified as a supporter of former Democratic presidential candidate Bernie Sanders and a critic of President Trump. In a 2015 Facebook post, Hodgkinson also described Scalise as "a Republican that should lose his job."
Earlier this week, Mo Brooks incited heavy criticism for featuring audio of the Scalise shooting in his campaign ad for Attorney General Jeff Sessions's vacant Senate seat. The ad opens with the text, "June 14: A Bernie Sanders supporter fires on Republican Congressmen," and goes on to detail how Brooks gave "his belt as a tourniquet to help the wounded." Brooks is then seen reaffirming his support for the Second Amendment in the wake of the shooting. On Monday, Scalise's chief of staff, Brett Horton, responded to the ad on Twitter, writing: "This makes my stomach turn."
We want to hear what you think about this article. Submit a letter to the editor or write to letters@theatlantic.com.
Aria Bendix
is a frequent contributor to
The Atlantic
, and a former editorial fellow at
CityLab
. Her work has appeared on
Bustle
and
The Harvard Crimson
.