Donald Trump Jr. to Sean Hannity: 'I Can't Help What Someone Sends Me'
In an interview on Fox News, Trump downplayed his decision to meet with a Russian lawyer once believed to have incriminating information about Hillary Clinton.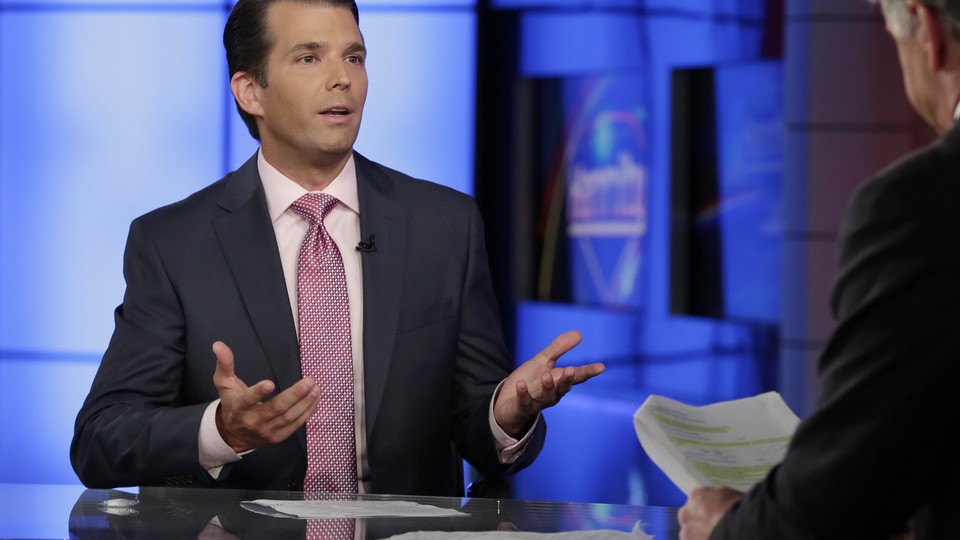 In his first televised comments since revealing his meeting with a Russian lawyer based on the suspicion that she held damaging information about Hillary Clinton, Donald Trump Jr. downplayed the incident, telling Fox News's Sean Hannity that the meeting was nothing more than "a wasted 20 minutes." "There was nothing to tell," the president's eldest son told Hannity. "I wouldn't have even remembered it until you started scouring through this stuff."
For the most part, the chain of events has stayed relatively consistent: On June 3, 2016, Trump Jr. received an email from Rob Goldstone, a British music publicist, asking to arrange a meeting with a Kremlin-connected Russian lawyer, Natalia Veselnitskaya. Goldstone believed that Veselnitskaya possessed incriminating documents and information that could be used against Hillary Clinton in the 2016 U.S. presidential election. When Trump Jr. arrived at the meeting with his brother-in-law, Jared Kushner, and the Trump campaign's then-chairman, Paul Manafort, he realized that the lawyer had no insider scoop, and instead wanted to discuss the Magnitsky Act, an American law that sanctions top Russian officials suspected of human rights abuses. According to Trump Jr., Kushner left the meeting after about five or ten minutes, while Manafort was on his phone for most of the time.
Of greater concern is why Trump Jr. met with Veselnitskaya in the first place. In his interview with Hannity, he cited a few reasons. First, he claimed that the meeting was "a courtesy" to Goldstone, whom he described as "an acquaintance." Theirs was a "casual relationship," he told Hannity, adding that he hadn't had much contact with Goldstone since the meeting. When Hannity asked Trump Jr. for his initial reaction upon receiving the tip-off, Trump Jr. described his thinking: "Hey, wait a minute," he said, "I've heard about all these things, but maybe this is something. I should hear them out."
In addition to doing Goldstone a favor, Trump Jr. said he saw the meeting as "opposition research" for the campaign. "My takeaway when all of this was going on is that someone has information on our opponent," he told Hannity, adding: "This was 13 months ago, before I think the rest of the world was … trying to build up that narrative on Russia, so I don't even think my sirens went up." He had been reading about Clinton-related scandals "that people were probably underreporting for a long time," he said, and thought the lawyer might be able to confirm one of the rumors. "I didn't know if there was any credibility," he added. "I didn't know if there was anything behind it. … Someone sent me an email. I can't help what someone sends me."
Had he heard any illegal or compromising information, Trump Jr. said, he would have alerted the proper authorities. "In retrospect, I probably would have done things a little differently," he told Hannity, citing the chaos of the campaign as another reason for his decision. Whether the meeting—or the events leading up to it—will result in any legal repercussions remains to be seen. But some experts argue that Trump's actions could easily qualify as a violation of federal law, which prohibits Americans from knowingly soliciting or receiving valuable campaign contributions or donations from a foreign national.
As of Tuesday night, Trump has refrained from commenting extensively on the incident, tweeting that his son "is a great person who loves our country." At an off-camera briefing earlier in the day, White House Deputy Press Secretary Sarah Huckabee Sanders read a similar statement from the president: "My son is a high quality person and I applaud his transparency," Trump said. Sanders then directed any remaining questions to Trump Jr.'s lawyer and the president's outside counsel.