Qatar Crisis: No End in Sight
Rex Tillerson, the U.S. secretary of state, was in Saudi Arabia on Wednesday to find a possible pathway to a settlement.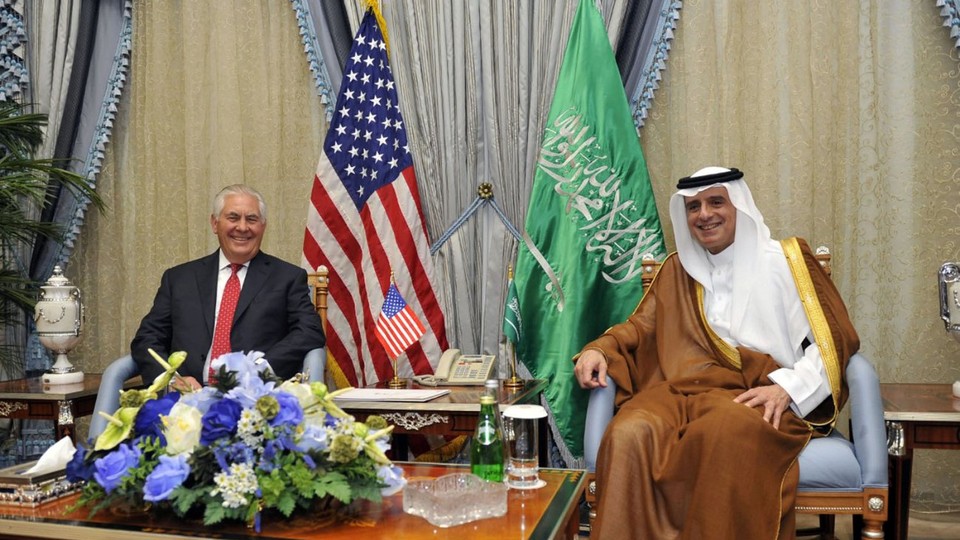 Saudi Arabia and three other Arab countries that have imposed a blockade on Qatar say the terrorism-financing agreement signed between the U.S. and Qatar on Tuesday "is not enough," as the impasse among the countries shows no signs of abating after more than one month.
"It must be stressed that this step is not enough and the four countries will closely watch how serious the Qatari authorities are in their fight against all forms of funding, supporting and embracing terrorism," Saudi Arabia, Bahrain, Egypt, and the United Arab Emirates said in a statement Wednesday after U.S. Secretary of State Rex Tillerson visited Jeddah to find a possible pathway to a settlement.
Tillerson was in Doha on Tuesday to sign the terrorism-financing agreement. On Monday he was in Kuwait, whose leaders are mediating among the countries. As I wrote Tuesday:
In June, Saudi Arabia, the United Arab Emirates, Egypt, and Bahrain severed ties with Qatar, accusing it of, among other things, supporting terrorist groups. They expelled Qatari citizens who lived in their countries and ordered their citizens in Qatar to return—in may cases separating families. They also cut all transportation ties with Qatar, which relies on supplies trucked in through its land border with Saudi Arabia.

Qatar, which denies the charges against it, turned to Iran and Turkey for support. The U.S. finds itself caught in the middle. Qatar is home to the largest U.S. military base in the region, and it's from where the U.S. military strikes ISIS. The U.S. also has close ties to Saudi Arabia and other other countries involved in the blockade. Tillerson, who as CEO of Exxon developed close relations with Qatar's emir, has called for the blockade to be lifted.

Saudi Arabia and the others sent Qatar a list of 13 demands, including the closure of Al-Jazeera, the Qatari-owned Arabic language broadcaster; the severing of links with Iran, which Saudi Arabia views as its main regional rival; the closure of a Turkish military base in Qatar; and the severing of links with Hamas and the Muslim Brotherhood. Qatar has rejected the demands. The U.S. says some of the demands could be met. Saudi Arabia and the others say the offer no longer stands.
The four countries have also vowed further action against Qatar, including, possibly, its expulsion from the Gulf Cooperation Council (GCC). But Qatar is a regional actor that has long punched above its weight. It's one of the world's largest energy producers and its natural-gas exports are an important source of energy across much of the region, including Dubai, which is part of the United Arab Emirates, one of the countries that have imposed the blockade on Qatar.  Qatar is also an important cultural, media, educational, and business hub in the region.
Tillerson, who on Tuesday said Qatar's positions "have been very reasonable," met with Saudi King Salman in Riyadh before meeting his counterparts from the four Arab countries in Jeddah. The U.S. has warned that a solution may be months away.
Saudi Arabia's relations with Qatar have been tense for years. In 2014, some of the same countries pulled out their diplomats from Qatar citing similar concerns. That dispute took nearly a year to resolve. Saudi Arabia also withdrew its ambassador to Doha from 2002 to 2008.