Qatar Given Another 48 Hours to Meet Arab Demands
Saudi Arabia and its allies will discuss its response Wednesday.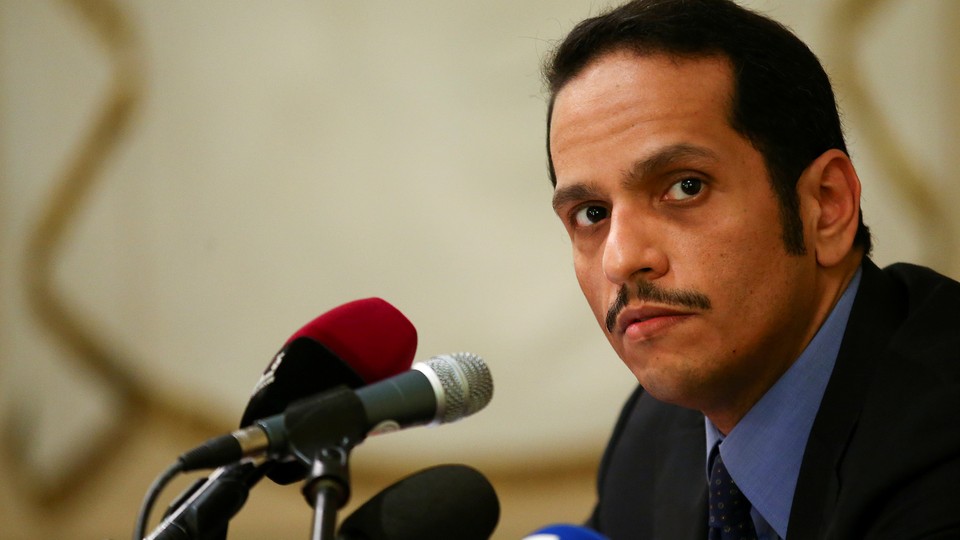 Saudi Arabia and its Arab allies have given Qatar another 48 hours to respond to a list of demands or face further sanctions, as the diplomatic spat between the two sides showed no sign of ending.
A statement carried by the state-run Saudi Press Agency said the deadline extension was made in response to a request from the emir of Kuwait, who is mediating the crisis, after the original deadline for Qatar to meet a list of demands expired Sunday.  Al Jazeera, the Qatar-owned Arabic-language TV station, reported that Qatari Foreign Minister Mohammed bin Abdulrahman Al Thani was meeting Monday with Kuwait's Emir Sheikh Sabah Al Ahmad Al Sabah to discuss the demands, which include the closure of Al Jazeera and for Qatar to sever its links to the Muslim Brotherhood.
The crisis erupted last month when six Arab countries—Saudi Arabia, Egypt, Bahrain, the United Arab Emirates, Libya, and Yemen—cut relations with Qatar over its alleged support of terrorism. The move included the closure of the vital land border between Qatar and Saudi Arabia, as well as air and sea links. Qatar dismissed the allegations against it, but turned to Iran, with which it has strong commercial ties, and Turkey, which promised to send troops to Qatar, for help. The U.S. State Department urged a swift resolution of the dispute which involves close U.S. allies; Qatar is home to the largest U.S. military base in the region. But President Trump appeared to send mixed messages on the conflict, complicating the role of U.S. diplomats. On Sunday, Trump spoke separately with the leaders of Saudi Arabia, Abu Dhabi, and Qatar, the White House said, and "underscored that unity in the region is critical to accomplishing the Riyadh summit's goals of defeating terrorism and promoting regional stability."
Late last month, Saudi Arabia and its allies submitted a list of 13 demands to Qatar, including the closure of Al Jazeera; the severing of links with Iran, Saudi Arabia's main regional rival; and the withdrawal of Turkish troops. It is not known how Qatar will act, but the Saudis and their allies will discuss its response on Wednesday. Qatar's failure to meet the demands could lead to its expulsion from the Gulf Cooperation Council and other steps.