Pentagon Says ISIS Leader in Afghanistan Is Dead
U.S. forces reportedly killed Abu Sayed during an airstrike earlier this week.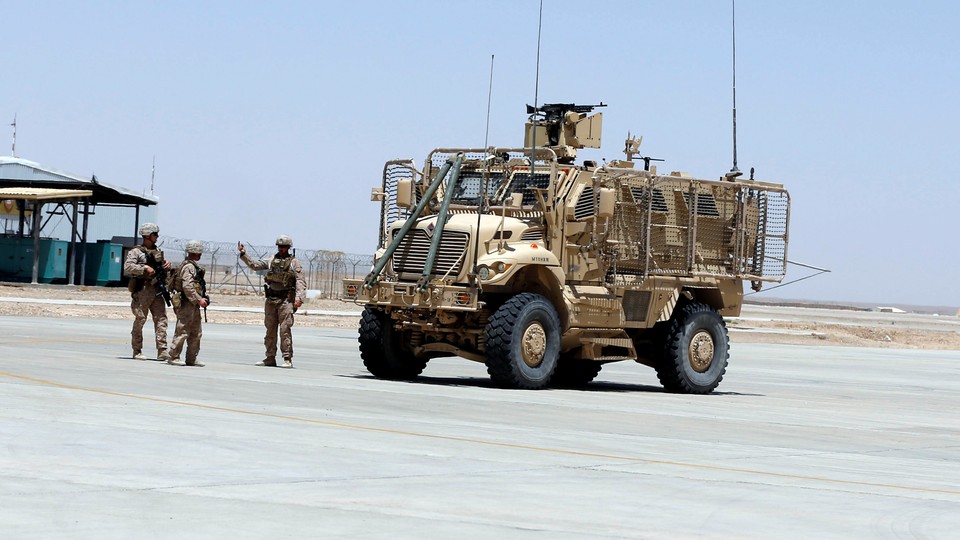 U.S. troops killed the head of ISIS's Afghanistan branch, known as Islamic State Khorasan (ISIS-K), during a June 11 airstrike on the group's headquarters in the Kunar province, the Pentagon announced Friday. Abu Sayed took over as leader of the group after his predecessor, Abdul Hasib, was killed by Afghan and U.S. forces during a joint raid in April. Before Hasib, ISIS-K was run by Hafiz Sayed Khan, who died in a drone strike in late July 2016. In a statement, Pentagon spokeswoman Dana White said Tuesday's strike had "also killed other ISIS-K members and will significantly disrupt the terror group's plans to expand its presence in Afghanistan."
Sayed's death marks a significant advancement in the U.S. effort to drive ISIS out of Afghanistan by the end of this year. While ISIS is predominately based in Iraq and Syria, the militant group extended its operations to Afghanistan in 2015. For now, ISIS retains limited territory in Afghanistan, with major strongholds in Kunar and the eastern province of Nangarhar. While the Pentagon estimated that around 2,500 ISIS fighters were stationed in Afghanistan in 2015, they have since reported that ISIS-K is now down to less than 1,000 militants. In addition to battling U.S. and Afghan forces, ISIS-K has also clashed with the Taliban, which maintains a much larger presence in the nation.
In June, an anonymous U.S. administration official told the Associated Press that the Pentagon was planning to send an additional 4,000 troops into Afghanistan to train and advise Afghan forces, who many argue have reached a stalemate in their operations against the Taliban. There are currently around 8,500 U.S. troops deployed in Afghanistan, who are divided between fighting against the Taliban and conducting counterterrorism missions against al-Qaeda and ISIS. The AP reports that the additional troops would be engaged in both operations.
In June, U.S. Secretary of Defense James Mattis told Congress that "we are not winning in Afghanistan right now," adding that he plans to "correct this as soon as possible." The comments followed criticism from Senate Armed Services Committee Chairman John McCain, who said Mattis lacked a concrete strategy for victory. The death of Abu Sayed comes at a critical time in the war in Afghanistan—especially considering that battles against ISIS have diverted resources away from Taliban-focused operations.
"It is obviously a victory on our side in terms of setting [ISIS-K] back. It's the right direction," Mattis told reporters on Friday, though he struggled to say how long the group would be thrown off by the loss of their leader. Mattis speculated that a death like Sayed's would place ISIS-K at a disadvantage "for a day, a week, a month," depending on "what kind of people are below [him]." On the same day, John Nicholson, the top U.S. commander in Afghanistan, said the deaths of three ISIS-K leaders in a single year emphasized that "there is no safe haven for ISIS-K in Afghanistan."