Palestinians Suspend Official Contact With Israel
Tension over new security measures at the Al-Aqsa Mosque have caused violent mass protests.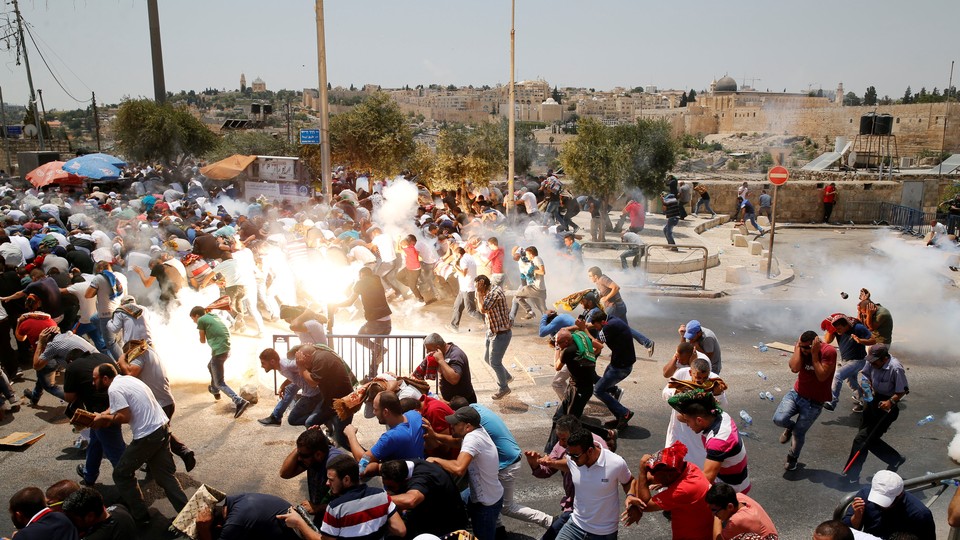 Palestinian President Mahmoud Abbas suspended all official contact with Israel on Friday until it removes new security enforcement at the Al-Aqsa Mosque. Abbas announced the decision after a week of sometimes violent demonstrations that have imperiled relations between Israel and the Palestinians. More than 450 people have been injured, mostly by police, and several demonstrators have died.
The two sides are fighting over a series of security escalation as the Al-Aqsa mosque, one of Islam's most sacred sites; the same compound is known to Jews as the Temple Mount, the holiest site in Judaism. Israel recently installed metal detectors at the site after three Palestinian militants attacked police officers guarding the mosque, killing two of them. Israel has said the detectors are a necessary security measure, but Palestinians see it as a violation of a pact according to which Muslim leaders control the compound and Jews are allowed to visit, but not pray inside.
"I declare the suspension of all contacts with the Israeli side on all levels until it cancels its measures at Al-Aqsa mosque and preserves the status quo," Abbas said on television late Friday evening.
The Waqf, the Muslim organization that controls the site, had called on Palestinians to boycott the mosque, and also directed them to hold mass prayers on the streets in Jerusalem's Old City. They were intended to be peaceful, but have turned violent in many cases. The clashes between Israeli police and protesters are most focused in the West Bank. There, some 2,000 protesters, some of them throwing rocks, battled with officers. Earlier Friday, police fired live rounds, tear gas, and rubber bullets into a crowd. Three people were killed, and hundreds were injured. Later in the evening, the Israeli government said a Palestinian man snuck into a home in the West Bank and killed three Israelis—two men and a woman eating dinner.
All of this has occurred in a context of growing tensions. Last month Israel cut power to Gaza in order to put pressure on Hamas. But in doing so it also disrupted vital services like hospitals. The United Nations has urged compromise on both sides. United Nations deputy spokesman Farhan Haq urged an end to the violence, saying: "Ultimately, what is important is for all of the people at the holy sites, including all the worshippers at the holy sites, to feel that their religious liberties are being respected."