Pakistan's Prime Minister Quits After Supreme Court Decision
The court disqualified him from office over allegations detailed in the Panama Papers.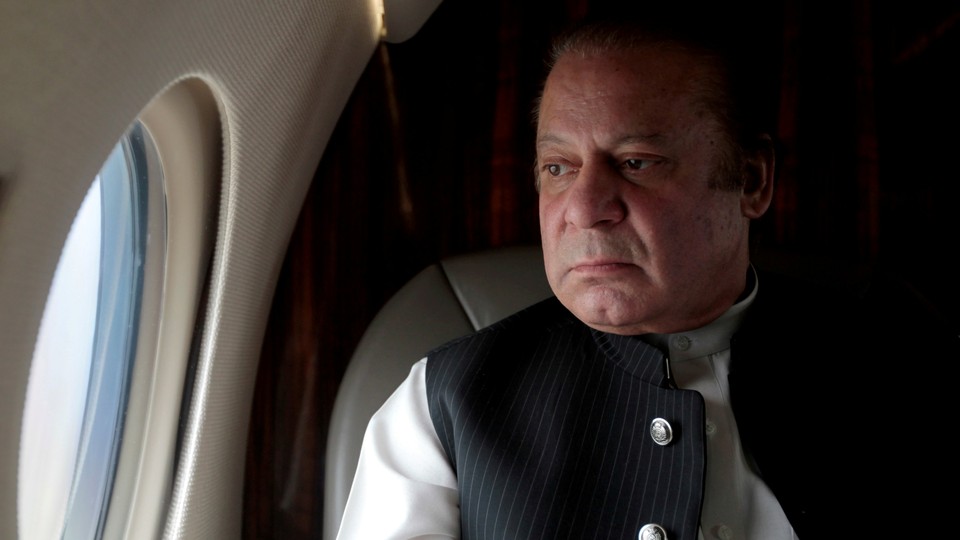 Pakistani Prime Minister Nawaz Sharif resigned Friday, hours after the country's Supreme Court unanimously ruled to disqualify him from elected office, a move that is likely to spark political uncertainty in the South Asian country that has struggled with democracy for nearly seven decades.
The court ruled Sharif "is not honest … [and] therefore, he is disqualified to be a Member of" parliament," and, consequently, the Prime Minister of Pakistan. In Pakistan's parliamentary system, the leader of the largest party in parliament is elected prime minister. Sharif said Friday that despite his "strong" reservations" at the verdict, he would abide by the court's decision. A spokesman for his Pakistan Muslim League (Nawaz) party said the bloc would use all legal methods to challenge the decision.
The court's decision was linked to the revelations in the Panama Papers, the documents leaked from Mossack Fonseca, the Panamian law firm, in 2016. The documents alleged that three of Prime Minister Nawaz Sharif's four children—Maryam Safdar, Hasan Nawaz, and Hussain Nawaz Sharif—used shell companies to buy property in London. Sharif, whose party was democratically elected in 2013, has denied any wrongdoing.
Sharif was advised Friday by his interior minister, Chaudhry Nisar Ali Khan, to accept the court's verdict, prompting his move. Ayaz Sadiq, the parliamentary speaker, was named interim prime minister, Dawn reported.
Sharif was in his third term as prime minister. He previously served from 1990 to 1993, when he was dismissed by the president on corruption charges, and again from 1997 to 1999, when he was ousted in a military coup. This would have been his first five-year term as prime minister; elections are scheduled for 2018.
Safdar, his daughter who is known locally as Maryam Nawaz, tweeted:
Another elected Prime Minister sent home, but only to see him return with greater force & support & soonest Insha'Allah. Stay strong PMLN.

— Maryam Nawaz Sharif (@MaryamNSharif) July 28, 2017
But the opposition celebrated the court's verdict and Sharif's resignation.
The court also recommended anti-corruption cases against Sharif, Maryam Nawaz, her husband, Safdar; Ishaq Dar, Pakistan's finance minister, and others.
Sharif's resignation means not one of Pakistan's 18 prime ministers have completed their full five-year term, victims of military coups, corruption, and, even, death. The BBC adds about Friday's Supreme Court verdict:
The case hearings—spread over nearly 15 months—have been marred by controversy. The case belongs in a criminal court. The Supreme Court, which is an appellate body, initially refused to hear it. But then it not only admitted the petition for hearing, it also took the unusual step of instituting its own investigation into the case, with a dominant role for military intelligence services.

Many believe that while across-the-board action against corruption may remain a pipe dream, this verdict will open the gates of power for a new set of politicians - as has often happened in the past.
Sharif has long been linked to corruption, but the leak of the Panama Papers added a fresh level of scrutiny to his actions and those of his family members. The papers detailed unlisted assets owned by Sharif's children overseas. Money from those assets was allegedly used to buy property in the U.K. That's when Maryam Nawaz released a trust deed dated February 2006 that showed that she was merely a trustee of the U.K. properties, and that, in fact, the properties were owned by her brothers. But that documents was later determined to be fake because the font used on it, Calibri, was not commercially available until the following year. With that revelation, Sharif's political fortunes began quickly unraveling—culminating in Friday's court decision and his resignation.