One Dead, Many in Critical Condition After Ohio State Fair Accident
A ride malfunction caused multiple passengers to be ejected around 20 to 30 feet in the air.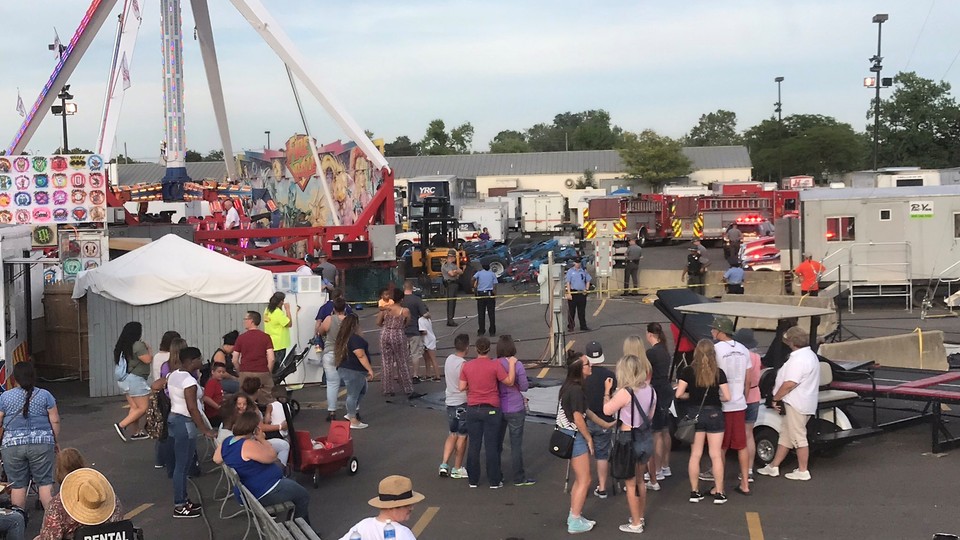 A ride malfunction at the state fair in Columbus, Ohio resulted in the death of at least one passenger on Wednesday. Locals officials report that at least seven others were wounded, with five of them in critical condition and two others expected to recover. The incident occurred at around 7:24 p.m. local time when passengers on the Fire Ball ride were ejected around 20 to 30 feet into the air at a high speed, before falling to the ground. Witnesses have since reported that a passenger row detached from the ride while in motion—an account that is corroborated by online video footage.
In a statement released on Twitter, Ohio Governor John Kasich said he had ordered a full investigation into the incident and asked for all of the fair's rides to be shut down pending additional safety inspections. "I am terribly saddened by this incident," Kasich said. At a press conference on Wednesday, he again lamented the loss of life and declared that "we will get to the bottom of this." "The fair is about the best things in life and then tonight, with this accident, it becomes a terrible, terrible tragedy," Kasich said.
Despite clear evidence of a malfunction, Michael Vartorella, the chief ride safety inspector for the Ohio Department of Agriculture, said the Fire Ball was inspected multiple times by both his team and a third-party. At the time of the fair's opening on Wednesday, a number of rides had not passed inspection and were not yet operational. The Fire Ball, Vartorella said, was inspected three or four times at different stages and was cleared for operation on Wednesday. "We take this job very serious, and when we have an accident like this … it hits us really hard," Vartorella told reporters. "My children, my grandchildren ride this equipment. Our guys do not rush through this stuff. We look at it, we take care of it, and we pretend it's our own."
Described as an "aggressive thrill" ride, the Fire Ball swings back and forth like a pendulum and seats around 24 passengers, divided among sections with four seats each, The Columbus Dispatch reports. In the video, it appears as if two people were catapulted into the air as the ride ascended. At no point during the assembly or testing of the ride did inspectors find problems with its structure or mechanics, Vartorella said. Still, he added, there are "no guarantees" that a ride won't malfunction, since not all issues can be detected by sight. Vartorella also told reporters that inspectors were forced to work long nights ahead of the fair's opening and were delayed by heavy rain.
While the rides remain closed for now, the fair is still open to the public. Following the incident, three of the victims were taken to the OhioHealth Grant Medical Center, while four were taken to Ohio State University's Wexner Medical Center. The victims' names have yet to be released, but the Columbus Fire Division said their ages range from 13 to 41 years old. The department also confirmed that the deceased victim, an 18-year-old male, was killed on impact.