Officer in DuBose Murder Case Won't Be Tried Again
Two separate trials resulted in a hung jury, leading prosecutors to doubt the success of a third.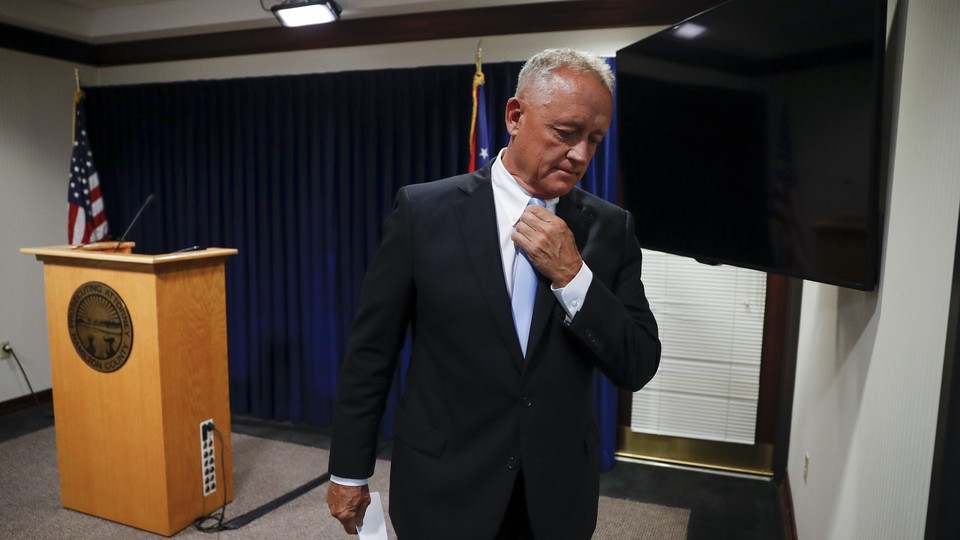 Former University of Cincinnati police officer Ray Tensing will not face a third trial for the fatal shooting of an unarmed black man during a traffic stop in 2015, Hamilton County Prosecutor Joe Deters announced Tuesday. Both of Tensing's previous hearings ended in a mistrial, with jurors unable to agree on whether the officer was guilty of murder or voluntary manslaughter. Following the latest trial in June, the judge gave the prosecution until July 24 to decide whether to try Tensing again. On Tuesday, Deters said his decision not to pursue the case further "rips my heart out," but added that a third trial was unlikely to be any more successful than the last two.
"After discussing this matter with multiple jurors—both black and white—they have, to a person, said to us that we will never be able to get a conviction in this case," Deters said. "After two trials and a million dollars, the best lawyers I could come up with were unsuccessful at conviction. I've concluded we cannot win a trial on this case in these facts." Deters added that the family of the victim—43-year-old Samuel DuBose—was deeply upset after being privately informed of the decision. "It was horrible," he said, describing their response. "It was the reaction I would have if it was my brother."
Deters has now handed the case over to federal authorities, who will assess whether there is enough evidence to constitute a civil rights violation. An attorney for the DuBose family announced Tuesday that the family had prepared a letter and other materials for authorities to review. Later that day, Benjamin Glassman, the U.S. attorney for the southern district of Ohio, said that federal authorities "take seriously this opportunity to hold the officer accountable when the state system couldn't." While Tensing's attorney, Stew Mathews, said his client was "somewhat relieved" that he would not be tried a third time, he recognized that the case was "still not over."
In the wake of the second trial, some predicted that Deters would file lesser charges against Tensing, such as reckless homicide, to increase the odds of a conviction. While Deter claimed earlier this month that his legal window to do so had expired, he argued that it was "absolutely idiotic" to accuse Tensing of anything less than murder. "When someone says I intentionally shot someone in the head, that's purposeful," Deters said. "That's murder, unless it's justified." But the court proceedings—and two mistrials—point to a far more complicated legal scenario.
In July 2015, Tensing pulled DuBose over because his car was missing a front tag and was registered to a driver with a suspended license. The situation soon escalated as DuBose attempted to drive away, with Tensing claiming that he was dragged with his arm still inside the vehicle. Video footage from the officer's body camera seems to contradict this account, revealing that Tensing was able to quickly chase after the car. In the video, Tensing can be heard yelling "Stop! Stop!" before shooting DuBose in the head. Both the Mayor of Cincinnati and the Cincinnati division of the NAACP have since argued that DuBose was unjustly murdered.
On Tuesday, Deter expressed his belief that race was a major factor in preventing a conviction. "There are two visions of what is going on in the country," he said. "It's not just Hamilton County, it's the country … And in this case, we have jurors who will not vote to convict a police officer." Although Tensing is not the first white officer to escape a conviction for killing an unarmed black civilian, he is the first Cincinnati officer to be charged with murder for his actions on duty. While convictions in police shootings are rare, victims' families have had far more success with civil rights lawsuits, which often result in multimillion-dollar settlements.