Tillerson Backs Policy of 'Peaceful Pressure' on North Korea
But the U.S. secretary of state warned "we don't have many good options left" if it fails.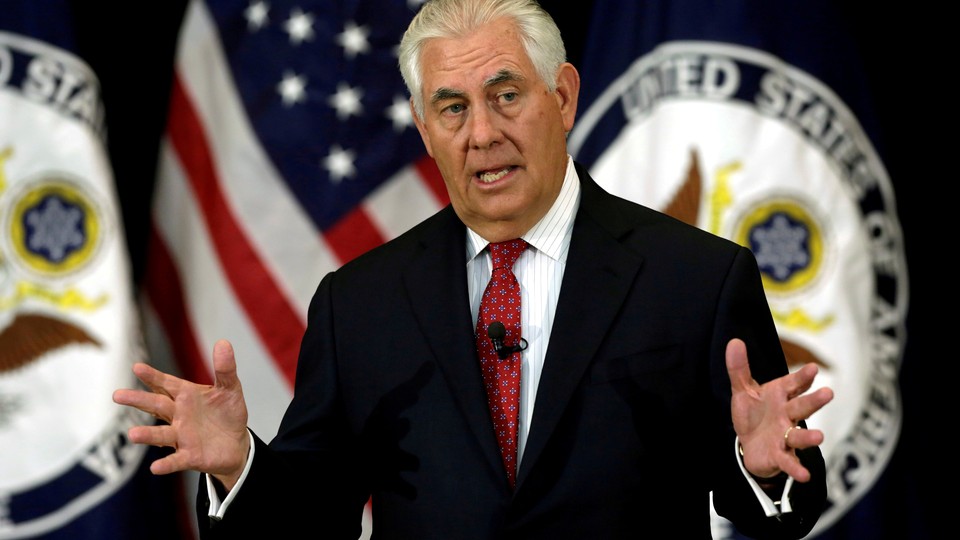 U.S. Secretary of State Rex Tillerson said Friday the U.S. policy of "peaceful pressure" on North Korea "takes a little time," but if it fails, "we don't have many good options left."
His comments were made in Hamburg, Germany, following a meeting between President Trump and Vladimir Putin, the Russian leader, on the sidelines of the G20 summit. Tillerson said the "peaceful pressure campaign … requires calculated increases in pressure, allow the regime to respond  to that pressure, and it takes a little time for these things to happen.  … It's going to require some level of patience."
"We're going to follow this all the way to its conclusion," he said, but warned: "If this fails, we don't have very many good options left."
The remarks come days after North Korea test-fired a long-range missile that experts say could reach Alaska. Both Pyongyang and the Trump administration say the weapon was an intercontinental ballistic missile, though other experts doubt this. Still, the potential of North Korea possessing the ability to ultimately reach the U.S. with an ICBM armed with a nuclear warhead—its stated goal—is seen as a real possibility during Trump's first term in office. The Trump administration's stated goal is a nuclear-free Korean Peninsula, a position with which it is in agreement with China and Russia, the two countries that have the most influence on Pyongyang.
Tillerson said that while Trump and Putin discussed the crisis, "the Russians see it a little differently than we do." Russia and China both say only diplomatic concessions by both sides can resolve the issue; Tillerson said: "There is a difference in terms of view  around tactics and pace, and so we will continue to work with them to see if we can't persuade them to see the urgency we see."
He added that the U.S. experience with China is "a bit uneven."
"China has taken significant action and then, I think, for a lot of different reasons, they paused, and they didn't take additional actions," Tillerson said. "They've then taken some steps, and paused. … In our own view, I think, there are a lot of explanations for why those pauses occur, but we've remained very closely engaged with China … about the situation in North Korea. … There is a clear understanding between the two of us of our intent."
China, which fears a destabilized North Korea as well as a collapsed regime in Pyongyang, has long maintained that the West overstates its influence over decision-making in Pyongyang. But Western experts agree China does possess levers to pressure North Korea, even if it is unable to affect outcomes. Last month, the Trump administration imposed sanctions on a Chinese bank with ties to North Korea, in an attempt to increase pressure on Beijing to sway its client in Pyongyang. Trump is likely to raise the issue Saturday in his meeting with Xi Jinping, the Chinese president.
North Korea's nuclear and missile programs have been a concern of successive U.S. presidential administrations. The Clinton administration held talks with Pyongyang, a policy that was continued by the Bush administration, which held multilateral talks with North Korea and called for a "complete, verifiable irreversible dismantlement" of Pyongyang's nuclear program. Those attempts ended when the North was discovered to be cheating on its international obligations. The Obama administration adopted a policy of "strategic patience" that did not involve talks (a brief attempt at dialogue failed). None of the approaches have yet yielded tangible results. In September 1999, a U.S. national intelligence estimate said North Korea will have the ability to deliver an ICBM armed with a nuclear warhead to the U.S. mainland by 2015. In 2017, that estimate looks quite accurate.
Tillerson pointed out that the history of engagement with North Korea over the past 25 years ends the same way: "North Korea went ahead and proceeded with its program." He said if North Korea wants to talk, it needs to come to the table with the understanding that it must seize and roll back its nuclear program.
"That's what we want to talk about," he said. "We're not interested in talking about how do we stop where you are today. Stopping where they are is not acceptable to us."