North Korea Launches Another ICBM
Preliminary data suggest the projectile can travel farther than the missile launched earlier this month.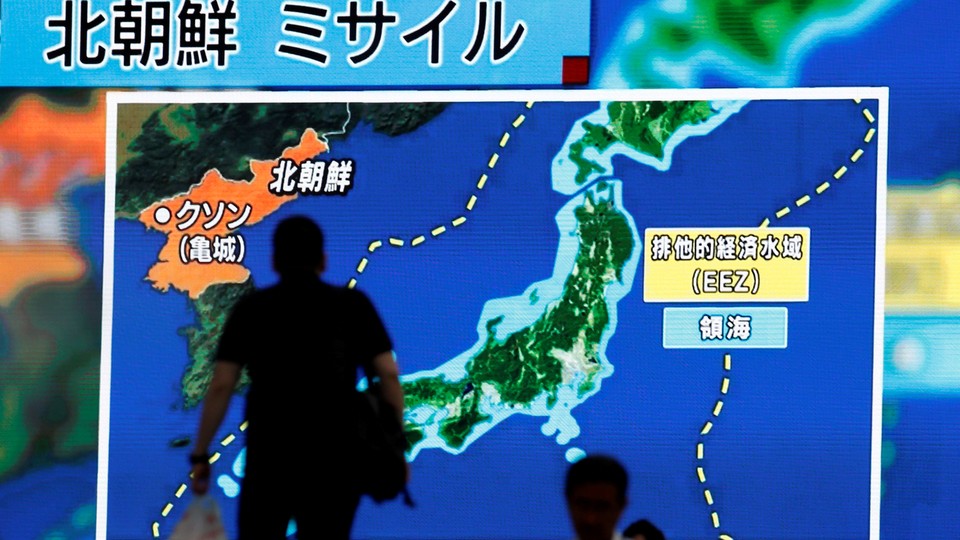 Updated at 1:42 p.m.
North Korea has launched another intercontinental ballistic missile (ICBM), the Pentagon said Friday, an action that is likely to increase tensions with its neighbors and the U.S., and result in international pressure on Pyongyang over its missile and nuclear programs.
The test comes three weeks after North Korea tested an ICBM that expert said could reach Alaska. At the time, experts said the missile had a range of about 7,000 kilometers. Based on preliminary data, experts said, Friday's missile could travel farther, potentially putting the contiguous U.S. well within its range.
Yoshihide Suga, Japan's chief cabinet secretary, said Friday the projectile was fired at 11:42 p.m. local time, flew for about 45 minutes, and landed in Japan's exclusive economic zone. The Pentagon said the ICBM traveled about 1,000 kilometers before splashing down in the Sea of Japan.
Jeffrey Lewis, who runs the website Arms Control Wonk, said on Twitter: "A 45 minute flight time means were looking at 10,000 km range missile, give or take," which would mean Friday's missile could potentially fly farther than the one launched earlier this month. South Korea's Joint Chiefs of Staff said the missile was launched from the northern Jagang Province. Recent tests have been from Kusong Province, which is southwest of Jagang. Yonhap, the South Korean news agency, reported the South Korean president convened an emergency security meeting over the test.
Melissa Hanham, a senior research associate at the Middlebury Institute of International Studies in Monterey, California, said the data made public so far is preliminary, but if it holds, then the missile "flew much longer than their July 3 ICBM launch."
The test wasn't unexpected. News reports suggested North Korea was planning another test in the coming days. The test is North Korea's 14th this year, in line with its launches in recent years. Hahman said the reason for the North's increased pace of testing is that a lot of its new technology is coming to fruition and Pyongyang is technically satisfied with some of their more simple missiles as well.
"This past year has been a combination of testing new technologies and practicing with the unit in the field," she said. "I think they have just had a lot in the pipeline and it's all sort of coming together now."
The launch came hours after the Japanese Cabinet approved additional sanctions against the North for its July 3 test, a move that violated Pyongyang's international obligations. The move was part of coordinated international pressure on the North over its missile and nuclear programs. Earlier this month, the Trump administration also announced sanctions against the North, which included actions against Chinese banks that deal with the North. The Japanese sanctions announced Friday also target Chinese banks, which are seen as providing an economic lifeline to North Korea. South Korea meanwhile had tried another approach.  President Moon Jae-in has called for closer ties with Pyongyang, and earlier this month offered talks with the North. That appears to have stalled for now. Moon reportedly ordered talks with the U.S. on deploying additional THAAD anti-missile units—a system whose deployment he had opposed while a presidential candidate.
Any coordinated international action against North Korea will need the support of China and Russia, both veto-wielding members of the UN Security Council. While, in theory, the two countries say they support a denuclearized Korean Peninsula, they say their impact on the North is limited, and they want the U.S. to take steps they believe will allay some of North Korea's security concerns. This is especially true of China, which provides the North with both political and economic support. Beijing says it has limited influence over Pyongyang's behavior, and while that may be true, it's also equally true that China has little incentive to change the status quo on the Korean Peninsula: The last thing Beijing wants is an ally, however unstable it is, be supplanted by a unified Korea that is pro-U.S.