North Korea Crisis: U.S. and South Korea Respond
The two allies conducted a ballistic-missile drill in the Sea of Japan in response to Pyongyang's test of an ICBM.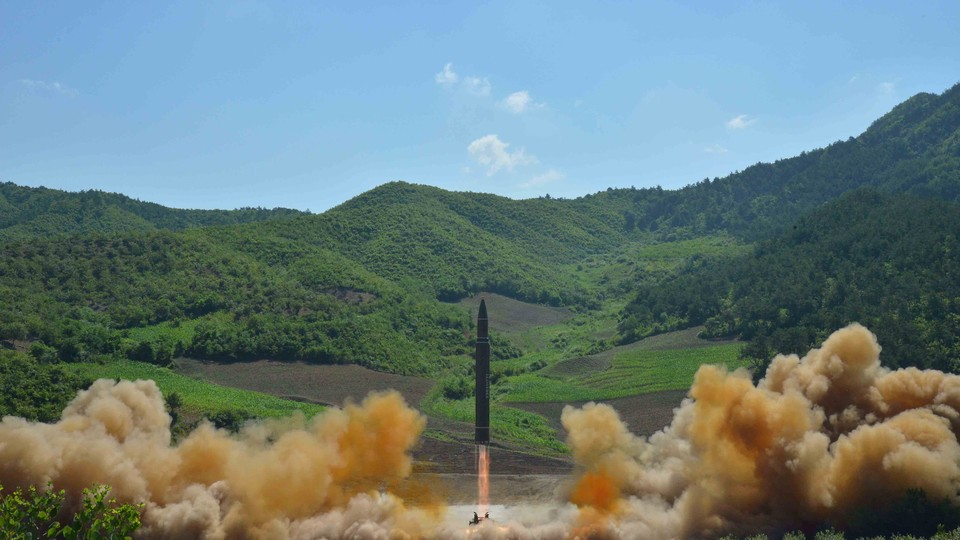 The U.S. and South Korea conducted a ballistic-missile drill Wednesday, a day after North Korea tested a missile that experts say could reach Alaska.
"Self restraint, which is a choice, is all that separates armistice and war,"  General Vincent Brooks, commander of U.S. forces Korea, said in a joint statement with  General Lee Sun Jin, the chairman of South Korea's joint chiefs. "As this Alliance missile live fire shows, we are able to change our choice when so ordered by our Alliance national leaders. It would be a grave mistake for anyone to believe anything to the contrary."
As we reported Tuesday, North Korea said it tested an intercontinental ballistic missile, making it, in the words of its state-run television, "a full-fledged nuclear power … capable of hitting any part of the world." The announcement said the Hwasong-14 missile reached an altitude of 2,802 kilometers (1,731 miles) and traveled 933 kilometers (580 miles) for 39 minutes before hitting a target in the Sea of Japan. South Korean and Japanese officials said the missile traveled 578 miles (930 kilometers), "greatly exceeded" an altitude of 2,500 kilometers (1,500 miles), and flew for around 40 minutes.
ICBMs, which are fitted with nuclear warheads, have a minimum range of 5,500 kilometers (3,400 miles), and many experts said Tuesday that while North Korea's test was its best ever, the missile may not have technically been an ICBM—though the U.S. State Department in its statement condemning the test referred to it as an ICBM. Still, David Wright, co-director and senior scientist at the Union of Concerned Scientists, said in a blog post that the missile could "reach all of Alaska." Unnamed intelligence officials later told U.S. media that the rocket launched Tuesday was likely to have been a two-stage ICBM, a dramatic increase in North Korea's military capabilities.
There are a number of reasons the U.S. and its allies in the region are worried by North Korea's actions: North and South Korea are technically still at war because the 1950-53 Korean War ended in an armistice not a peace treaty; in the decades since, North Korea has increased its military capabilities with a particular emphasis on its missile and nuclear-weapons programs; attempts to negotiate with Pyongyang over the years have failed, with the North Korean leadership repeatedly shown to cheat on its international obligations; and Pyongyang's ultimate goal, an ICBM that would firmly place the continental United States in its crosshairs, has over the years resulted in missile and nuclear tests that have worried South Korea and Japan, not to mention the U.S. military, which has a large presence in both those countries.
The joint U.S.-South Korean ballistic-missile fire exercise in the Sea of Japan was intended to demonstrate the alliance's commitment against North Korea's military ambitions. U.S. Secretary of State Rex Tillerson said in a statement Tuesday that the U.S. "will never accept a nuclear-armed North Korea" and he said "any country that hosts North Korean guest workers, provides any economic or military benefits, or fails to fully implement UN Security Council resolutions is aiding and abetting a dangerous regime." Although he didn't specifically name them, thousands of North Koreans work in China, Russia, and other countries, and are a valuable source of foreign exchange for the leadership in Pyongyang, which is the target of myriad international sanctions. On Wednesday, the UN Security Council will meet to discuss Pyongyang's latest action.
China and Russia are seen as pivotal to any diplomatic solution to the North Korean crisis. Both are veto-wielding members of the UN Security Council; they are both close to the North Korean leadership; and while both want to see a de-escalation of tensions on the Korean Peninsula, they are wary of both chaos in North Korea and an ascendant U.S.-South Korea-Japanese alliance in the region. President Trump, who has gone from saying China, North Korea's main diplomatic and financial backer, wasn't doing enough to resolve the crisis to saying China's leadership was helping, on Wednesday said:
Trade between China and North Korea grew almost 40% in the first quarter. So much for China working with us - but we had to give it a try!

— Donald J. Trump (@realDonaldTrump) July 5, 2017
Trump has previously said that North Korea's plans to develop a nuclear weapon that can reach the U.S. "will not happen"—though its not exactly clear what steps the U.S. will take to prevent what many security experts say is all but inevitable.