North Korea Says it Tested ICBM
The move would mark a dramatic improvement in Pyongyang's military capabilities.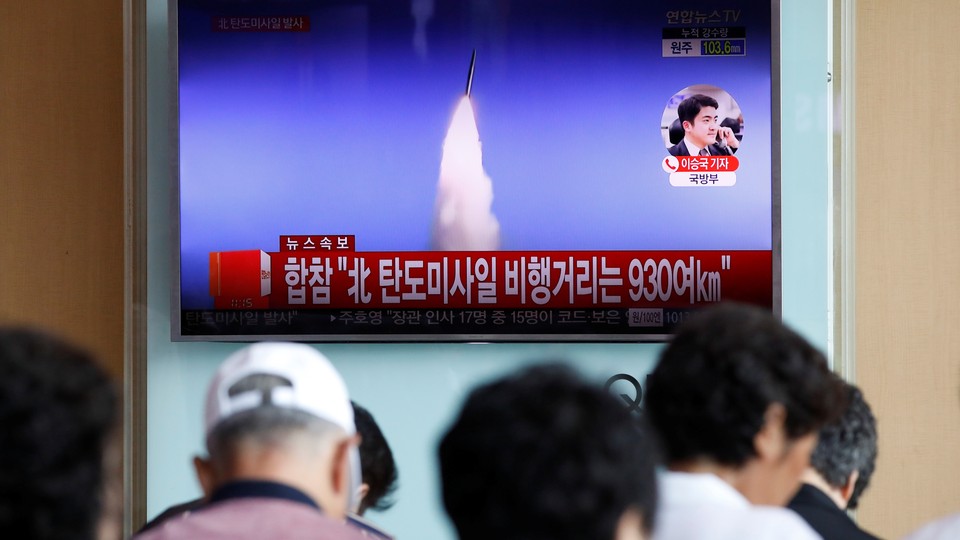 Updated at 1:55 a.m. ET
North Korea says the missile it tested earlier Tuesday was its first intercontinental ballistic missile (ICBM), a claim that would put the continental United States within its range.
North Korea is "a full-fledged nuclear power that has been possessed of the most powerful inter-continental ballistic rocket capable of hitting any part of the world," a North Korean television announcement said.
The announcement said the Hwasong-14 missile reached an altitude of 2,802 kilometers (1,731 miles) and traveled 933 kilometers for 39 minutes before hitting a target in the Sea of Japan. Earlier reports from both South Korea and Japan said the missile traveled 578 miles (930 kilometers)  and flew for around 40 minutes. Japan's Defense Ministry said the missile "greatly exceeded" an altitude of 2,500 kilometers (1,500 miles). The Japanese government said the missile landed in its exclusive economic zone, prompting Japanese Prime Minister Shinzo Abe to tell reporters the launch "ignores repeated warnings from the international community" and constitutes an increased threat.
North Korean leader Kim Jong Un oversaw the launch, the North Korean TV report  added. International experts initially dismissed the claim, but later Tuesday upon reviewing data, intelligence officials told CNN and NBC News that the rocket was likely to have been a two-stage ICBM. David Wright, co-director and senior scientist at the Union of Concerned Scientists, said in a blog post:
Assuming a range of 950 km, then a flight time of 37 minutes would require it to reach a maximum altitude of more than 2,800 km (1700 miles).

So if the reports are correct, that same missile could reach a maximum range of roughly 6,700 km (4,160 miles) on a standard trajectory.

That range would not be enough to reach the lower 48 states or the large islands of Hawaii, but would allow it to reach all of Alaska.
North Korea is widely believed to be developing an ICBM capable of reaching the U.S. mainland, though President Trump had said on Twitter in January that "will not happen"—though its not exactly clear what steps the U.S. will take to prevent what many security experts say is all but inevitable. The reality, General David Petraeus, the former CIA director, said last week is that Kim "could have a nuclear device that could actually strike Los Angeles or San Francisco" during Trump's first term.
"This is the potential problem that could confront the president of the United States with that most awesome and awful of problems: which is to use a really significant amount of force knowing that there really is no good option," Petraeus said at the Aspen Ideas Festival, which is co-hosted by The Aspen Institute and The Atlantic.
North Korea's test, one of several recent ones by North Korea in violation of its international treaty obligations and in defiance of the UN, prompted international outrage.
The White House said Trump had been briefed on the issue. Around the same time, the president took to musing on Twitter: "Does this guy [Kim] have anything better to do with his life?" He added it would be "hard to believe" that South Korea and Japan would continue to tolerate North Korea's continued missile tests, and speculated whether China, North Korea's only major ally, would "end this nonsense once and for all."
North Korea has just launched another missile. Does this guy have anything better to do with his life? Hard to believe that South Korea.....

— Donald J. Trump (@realDonaldTrump) July 4, 2017
....and Japan will put up with this much longer. Perhaps China will put a heavy move on North Korea and end this nonsense once and for all!

— Donald J. Trump (@realDonaldTrump) July 4, 2017
The Trump administration has repeatedly called on China to exert greater pressure on North Korea to curb its nuclear and missile programs. On Sunday, Trump spoke separately with the leaders of China and Japan, with both leaders reportedly affirming their commitment to a denuclearized Korean Peninsula. "Certainly we would like to see a deescalation of tension," China's UN ambassador, Liu Jieyi, told reporters, adding "if tension goes up, and goes up only, then sooner or later it will get out of control and the consequences will be disastrous."
Trump also met with South Korean President Moon Jae In on Friday, where he declared that "the era of strategic patience" with North Korea had come to an end—a reiteration of his administration's policy that it was departing from the Obama administration's policy toward North Korea. Moon, who was elected on a platform of increased dialogue with North Korea, added the U.S. and South Korea would "strengthen" their defense measures, while urging North Korea "to promptly return to the negotiating table." Still, he warned, "threats and provocations from the North will be met with a stern response." A few days later, Moon told Obama that North Korea was approaching its "last opportunity" to engage in peaceful negotiations. After learning of North Korea's latest missile test on Tuesday, Moon called for an urgent national security council meeting.
Despite repeated international warnings, the timing of Tuesday's missile test comes as little surprise. The United States, China, Japan, and South Korea are all scheduled to attend the G20 summit in Hamburg, Germany, on Friday and Saturday, where they will likely discuss North Korea's escalating nuclear and missile programs. Reuters reports that North Korea often conducts missile launches to coincide with diplomatic events, international meetings, or even the Fourth of July holiday in the U.S.