Nine Killed, Dozens Abducted in Suspected Boko Haram Attack
The attack signifies a larger struggle to contain the militant group's eight-year insurgency.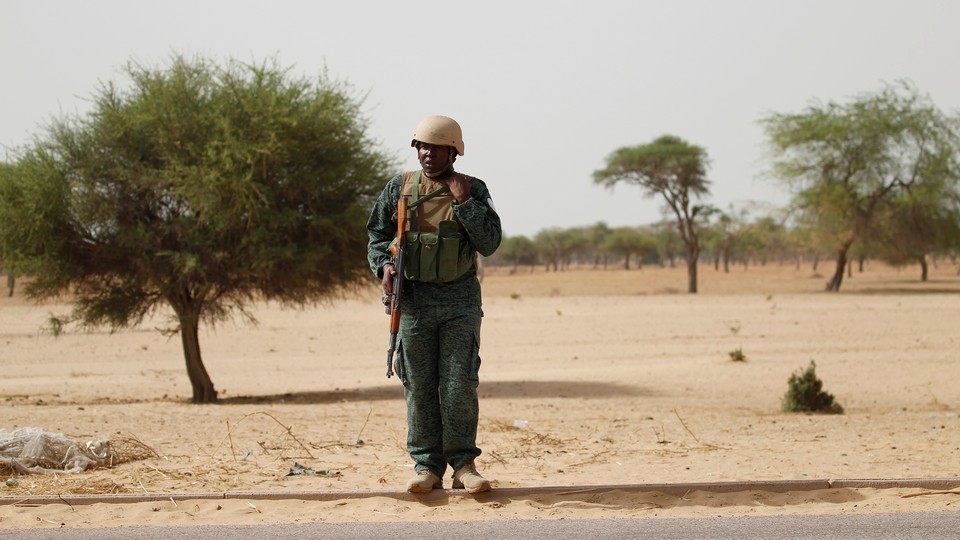 At least nine people have been killed and around 40 people taken hostage after gunmen attacked a village in southeast Niger. The fighters are said to belong to the Islamist militant group Boko Haram, which often wages attacks in Nigeria and its neighboring countries. Local residents told the Associated Press that the attackers arrived late Sunday on camels and horses before firing in all directions. The majority of those abducted were women and children, according to Abba Gata Issa, a mayor from the southern Diffa region.
While Boko Haram has yet to claim responsibility for the attack, Diffa has long been a target for the militant group. Less than a week ago, two female fighters bombed a refugee camp in the region, killing two and wounding 11. Since February 2015, Niger has maintained a state of emergency in Diffa, allowing the governor to enforce a curfew and local troops to search suspicious homes without a warrant. Even with these regulations in place, Boko Haram conducted more than 50 attacks in Diffa in 2016.
Following Sunday's attack, a local resident told the AP that fighters threatened to keep women and children hostage until their fellow extremists were released from prison. Amnesty International reports that more than 1,4000 suspected Boko Haram members are being held in prison, with the majority of them having been arrested in Diffa. Most of the prisoners face a lengthy detention sentences, poor conditions, and, in many cases, torture.
In 2015, Nigeria and its neighbors—Cameroon, Niger, Chad, and Benin—pledged to form a multi-national task force to combat Boko Haram. While the president of Nigeria has insisted that the militant group is near defeat, experts remain skeptical of these claims. Since launching a military campaign to overtake northeast Nigeria in 2009, Boko Haram has killed more than 20,000 people. In recent months, the group has ramped up its suicide bombings in Nigeria and elsewhere. On June 7, suspected Boko Haram fighters carried out the group's deadliest attack this year, killing 17 and injuring 34 in a targeted assault on Nigerian mosques.