Nigeria Suicide Bombings Kill At Least 17
Four female bombers, likely deployed by Boko Haram, targeted security forces near the city of Maiduguri.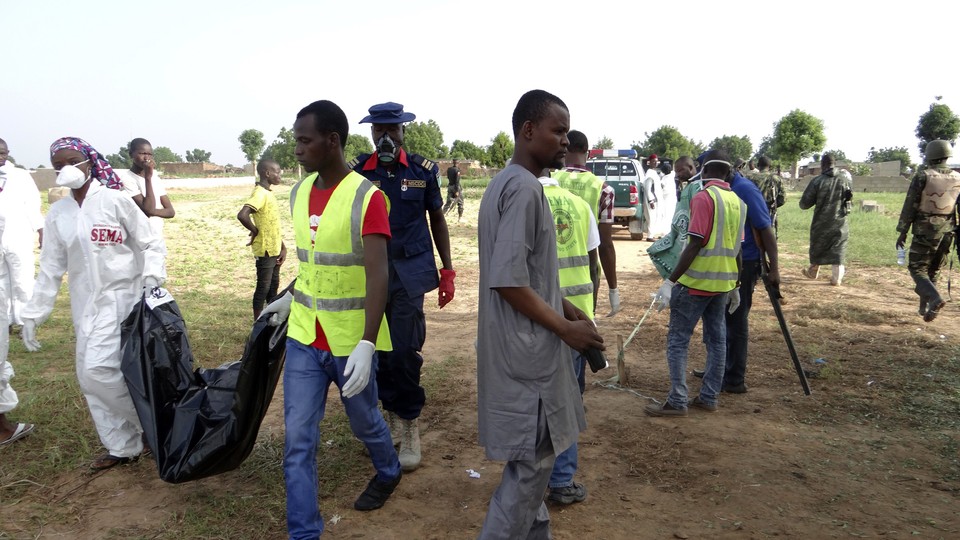 At least 17 people were killed and 21 others wounded in a series of suicide bombings on Tuesday night in Borno state, Nigeria, the Borno police commissioner confirmed Wednesday. The bombings took place around 10 p.m. local time near the northeast city of Maiduguri and were orchestrated by four female suicide bombers. The Borno police commissioner, Damian Chukwu, told reporters that most of the dead were civilians, with the bombers included in the final death count.
While no group has claimed responsibility for the attacks, they are likely the work of the Islamist militant group Boko Haram, which stages frequent bombings in Nigeria and its neighboring countries, and is known for deploying female suicide bombers. For the last eight years, Boko Haram has carried out a military insurgency in northeast Nigeria, beginning with an armed rebellion against Nigerian security forces in 2009. In the years since, more than 20,000 people have been killed and millions more have been internally displaced. While Boko Haram typically targets local police or military forces, it has also waged attacks on "soft targets" such as mosques, villages, or crowded markets.
On Wednesday, two of the suicide bombers detonated their explosive devices at security checkpoints monitored by the Civilian Joint Task Force (JTF), a vigilante group founded in Maiduguri to assist the military in combating Boko Haram. Many of the group's vigilantes monitor checkpoints, while others fight directly alongside the Nigerian army. A spokesperson for JTF, Bello Danbatta, told reporters on Wednesday that his men were targeted by the latest attacks. "In all, we lost 12 of our gallant JTF," he said, adding that "civilian JTF have sacrificed their lives to protect their people and the life and property of the citizens of Borno state." While the group has lost hundreds of its members over the course of the insurgency, it has also been accused of its own human rights abuses.
Although Nigeria's president has insisted that Boko Haram is near defeat in the region, the group continues to conduct scattered attacks and suicide bombings in remote areas of Nigeria, Chad, Niger, and Cameroon. Earlier this month, at least nine people were killed and around 40 people taken hostage in a remote village in southeast Niger. At the end of June, another nine people were killed in a series of back-to-back attacks in Maiduguri. Two of the attacks took place at the University of Maiduguri, a recent target for Boko Haram, which opposes the institution's "western" education.
While the Nigerian military has managed to oust Boko Haram from many of its northeast provinces, the militant group is still said to control a small portion of territory in Nigeria. Earlier this week, Boko Haram released a graphic video of its fighters publicly executing eight villagers in northeast Nigeria. The video also included footage of stonings, beheadings, and amputations for charges like theft, drug dealing, and adultery. According to Agence France-Presse, the video intends to counter the Nigerian military's claims that Boko Haram no longer holds sway in the region. Indeed, the latest footage seems to clearly reveal local civilians under the control of violent militant forces.